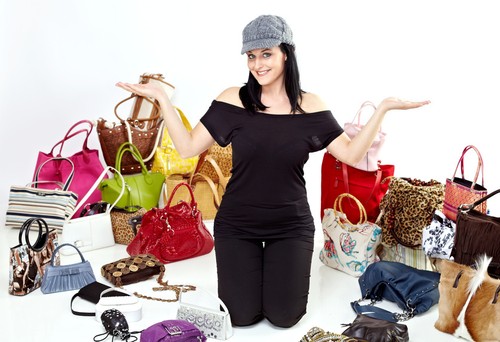 Accessorising a handbag usually means to dress it up in order to make it prettier, more fashionable, and even unique. Many women choose accessories as a way to style their handbags to match their personality and fashion trends. Others use accessories to 'bling' a basic handbag bought from a cheap retail store, usually in order to make the bag look different than the other thousands of similar styles. Accessories for handbags include simple tie-on decorations including scarves, handkerchiefs, clips, charms, and ties, and also more elaborate craftwork done to the bag itself including studs, sequins, embroidery, and imitation gemstones.
It is useful to know what are the different styles of accessorising a handbag, how to choose and add accessories to a bag, how to make modifications to a handbag, and how to find appropriate accessories. With this information, you can then create a variety of styles or looks, try to copy a famous look, or simply make a bag more fashionable.
Why You Should Accessorise Your Handbag
There are many reasons for accessorising a handbag, but most women do so for fashion reasons. Other reasons include personalisation, creating a unique bag, and showing off personal style. However, depending on why the handbag is being accessorised, it may need different accessories. For example, anyone trying to keep up with fashion using handbag accessories has to pay attention to what is popular, what is in the media at the moment, and what can be easily removed when fashion changes.
Women interested in fashion can also consider finding accessories that match a dress or shoes they plan on wearing the bag with. For example, when going to parties, women can add silk and taffeta bows to a handbag and pair with shoes in a similar style. The other major reason that women decide to accessorise handbags is personal taste. Women who prefer alternative styles and want something unique, or are interested in a personal look, can choose to modify bags purely to their own taste.
Tie-On Accessories
The easiest accessories to add to a bag are tie-on or clip-on accessories. These include everything from scarves, handkerchiefs, ties to clip-on feathers and animal tails. A common look includes a polyester or silk neck scarf tied into a bow around the front strap on the bag. Depending on the colour, pattern, and design of the scarf, you can create different looks that range from cute and feminine to glam-rock and alternative.
Bows are a popular tie-on accessory that can be added via the same scarves listed above, or via a silk tie for a smaller bow. In either case, you can tie the bow, glue it in place if necessary, and then tuck the ends out of the way if necessary. In this case, it's important to match colours to the colour of the bag. For example, a brightly-patterned bow does not flatter a brightly-coloured bag. However, you can find matching patterns, or very similar ones, to add a similar bow to a purse or handbag. For example, a flower print bag can look attractive with a bow in a similar pattern. On the other hand, a basic black handbag is more flattered by a bow in a contrasting colour such as leopard print, polka dot, or even flowers. In this case, the bow usually looks better on a large handbag than on a clutch or shoulder bag.
Other popular clip-on accessories for handbags include key chains, feathers, and animal tails. Animal tails are generally popular in fashion. Tails can be imitation or real, and both can be found readily in high-street stores, online stores, and on eBay. Tails can also come in a variety of colours, sizes, and patterns, so you can choose a look that suits your bag. Usually lighter-coloured tails are more prevalent in fashion, while darker tails are more common in alternative fashion. Feathers of all colours are quite popular for clipping to handbags; however, they usually come with chains, beads, and sometimes charms. Lastly, keychains of all types are often used to create a minimal personalisation to the bag and can include anything from keys, electronic devices, to key-chain charms and sets.
Crafting Accessories
Another popular form of handbag accessorising is to actually add crafts to the handbag. Depending on your crafting skills, you can make a variety of additions including spikes and studs, pouches, custom straps, and even embroidery. Most women choose simple additions, especially if they are not fully acquainted with crafts.
For adding spikes and studs, you should purchase a kit including a leather punch, the desired studs or spikes, and usually a pair of pliers. Studs attach in different ways and can include simple pin-on, screw-on, or rivet-style studs. You should decide where on the bag you would like the studs and the pattern you want to create before installing the studs. From there, you can use a simple stencil to make an outline to ensure the studs go in the right place, and you can either punch the holes as necessary or install according to instructions. Studs with prongs simply have to be pushed into place and squeezed together using pliers or other tools. If you want to use imitation gemstones instead of studs, you need to use glue to make the attachments. In this case, you should purchase high-quality crafting glue along with the decorations.
Custom straps are often a great way to blink up a handbag because they can be changed to a variety of lengths and updated as necessary. Popular options include adding spikes to the top of the strap, gluing stones to the strap, or even adding embroidery. In the case of embroidery, the customisations are usually made using cross stitch, although in some cases the strap can actually be knitted or crocheted by hand to create a truly unique and bohemian look.
Charms and Jewellery
Many women find that charms and jewellery make an easy yet fun accessory to handbags. The most common addition to a handbag is a simple charm bracelet,, usually looped around one end of the strap to hang down over the side of the purse. Because charms are very easy to personalise, they make an excellent way to add decoration to a handbag quickly and easily. You can use key rings, heavy chains, and charms to change the look of a bag. Chains can include one or more that either loop around the strap, go from strap to strap to dangle over the purse, or are sewn or clipped onto the top of the strap. The chain can then either be left as-is or decorated with charms as desired.
Choosing Accessories Based on Style
You should choose your handbag accessories based on your personal preferences. As a general rule, a cute pink bow probably looks out of place on a woman who wears hi tops, skinny jeans, and a rock band T-shirt. By the same consideration, covering a handbag with long spikes may look out of place on a business woman who takes her handbag to work every day. Most women can consider their everyday style and then choose accessories that go well with that. For special occasions, women can choose styles that might not go well with their everyday style, but instead match their outfit or other accessories.
Women interested in fashion should usually aim for 'cute' and 'trendy' options. Women more interested in personal style should invest in options that reflect their style. Good ideas include simple scarves and bows for businesswomen, studs and spikes for alternative styles, and embroidery, fringe, and knitting for bohemian styles. Charms and jewellery options usually go well with almost any style, mostly because there are hundreds of different ways to apply the jewellery for different looks. Finally, animals and feathers can create a variety of looks, but might not be appropriate for all occasions.
Buying Accessories for Your Handbag on eBay
If you want to accessorise your handbag, you can look on eBay for both a suitable handbag and all of the accessories you need. You should first decide what type of styles you are looking for, whether you want to do it yourself or buy a simple tie or clip on, and then begin your search on the home page. From there you can search for any type of accessory that you like including crafting kits, jewellery, chains, feathers, tails, scarves, and even bows made specifically for purses and handbags.
On eBay, you can search for any type of accessory that you like. Good search options include "fox tail&", "leopard neck scarf&", "clip on charms&", or any of a number of different searches. You can also choose to search for "stud craft kits&" for a complete kit for installing studs. Once you find what you are looking for, you can either check the details to make sure it is exactly what you want or contact the seller to find out more information about the item.
Conclusion
There are numberless ways that women can personalise their handbags, but most are purely up to personal choice. Fashion decorations update constantly but can be seen on runways and on models around the world. Women can also use a search engine to look for pictures of modified handbags that suit their style, either for inspiration or for exact ideas.
Handbags can be accessorised with bows, ribbons, chains, charms, tails, feathers, studs, gemstones, sequins, and key chains, but mostly the limitations apply to what looks good, what is available, and what skills the person making the modifications has. For extreme accessorising, such as with crafting a unique strap or adding outer modifications to the handbag, women should know how to knit, crochet, and sew.
Accessories for handbags range from basic to complex, but can usually be purchased on eBay and in craft stores. Most accessories are simple clip-on or tie-on additions that can be easily removed. Some women choose to add spikes and glued-on decorations as well, which, while harder to remove, can make a bag unique.