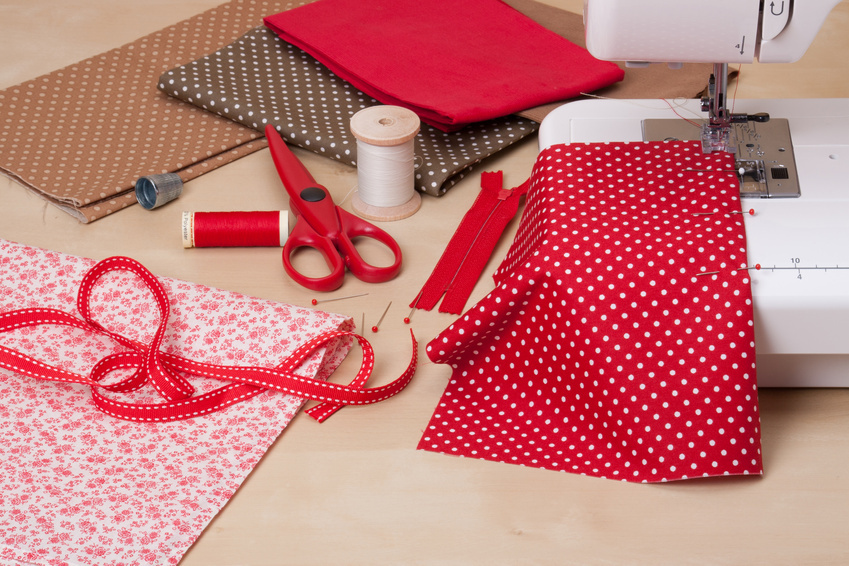 Once people arrive at your home's threshold, they may not want to leave after seeing how successfully you transformed your living space. Vintage fabric gives a face-lift to items you already own, and requires minimal effort on your part to revive every nook and cranny. Once you get the hang of fashioning a new look using vintage fabric, ideas may overtake you faster than you can finish the next craft.
Give the Space a Designer Look

Start in one room, redecorate to your heart's content, and move on; all the while noticing what furniture and accessories benefit the most from a vintage makeover. Get your creative juices flowing with the generous selection of vintage upholstery fabric available to cover a footstool and a nearby lamp shade. Upholstery fabric remnants are the perfect size to give these objects a much-needed overhaul. Be selective with the objects of restoration, so that the room looks put together instead of a hit and miss effort. Your craft project should add to and not take away from the total decorating scheme.
Drape a Handmade Quilt Over a Sofa or Chair

If you decide on a welcoming and cosy theme, nothing gives a homey feel more than a patchwork quilt. Cotton vintage fabric remnants sold in patchwork squares are ready for you to sew together into any finished dimension you desire. Choose a Laura Ashley print, denim squares, and pretty pastels. Cotton blends tend to create a more pleasing finished product which you simply throw into the washing machine when soiled.
Add Some Colour to Draw Attention to Your Windows
Renovating a sampling of smaller items in one room gives rise to carrying the design on a larger scale to an adjoining room. This decorating scheme works for open-concept floor plans so you see the same fabric or a coordinating one while standing in either room, giving your design a cohesive feel. A vintage curtain fabric such as shabby chic, gingham checks, or bold stripes enlivens or quiets a room. A sitting room benefits from a jump start of window colour whereas bedrooms, meant for sleeping, need subdued tones for retreating in quiet spaces. Purchase a curtain fabric roll when needing large volumes of material.
Tackle Harder Projects
So far, tackling small items and sewing straight seams for vintage curtains is not as challenging as making slipcovers for your furniture. This is when your decorating skills go into high gear. Purchase a slipcover pattern and familiarise yourself with how to go about covering your furniture. Your pattern gives the amount of fabric necessary for the specific project and a listing of sewing notions. Then, select a designer upholstery fabric that coordinates with your furniture, walls, accessories, and flooring.