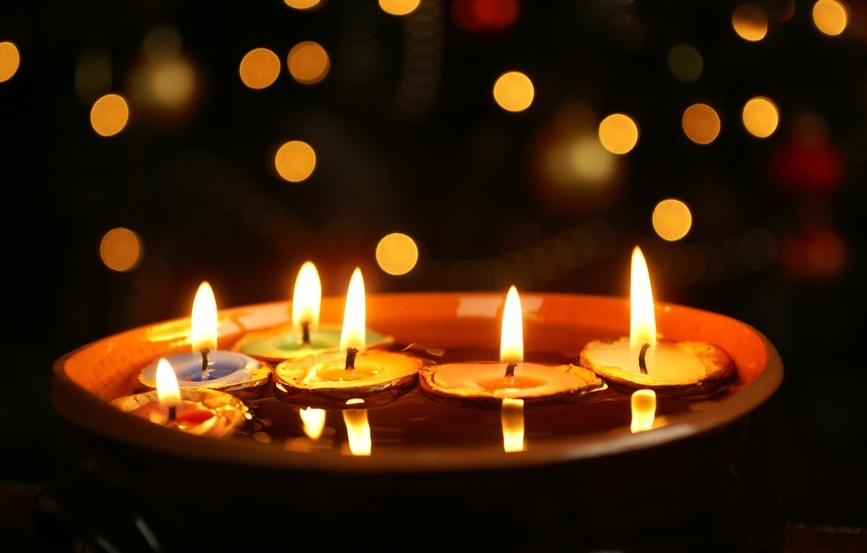 Tea lights are small candles, and they provide many ways for you to accessorise and decorate your home. Versatile tea lights are affordable and come in a variety of scents and colours for all occasions. Purchase tea lights and holders on eBay and add soft candlelight to your home for a warm, inviting atmosphere.
Centrepieces

Tea lights make beautiful and inexpensive centrepieces. Place several tea lights on a silver tray, or float them in glass bowls with flowers for a dramatic look. Burn them inside seashells for a beach-themed centrepiece, or group them in the centre of the table inside colourful holders of different shapes and sizes. Nestle them in glasses filled with coffee beans, pearls, or sand, or place them in pieces of wood with small holes cut out of it for a rustic centrepiece.
Windows

Add the glow of tea lights to your windows. Line up many tea lights along a living room windowsill, inside the curve of a bay window, or in your kitchen windowsill. Another idea is to suspend tea lights in hanging candle holders and hang them in the windows to provide just the right amount of relaxing light with the flames reflecting off of the glass, creating a beautiful sight. Place one or two tea lights in the bathroom window.
Lamps
Create eye-catching lamps with tea lights, wine glasses, and vellum paper. Use scissors to cut a lampshade out of the vellum, and decorate it with die-cut punches to create decorative edges. Place the tea lights inside the wine glasses, and top them off with the shades. The lamps make cute table centrepieces, or light up a mantel, windowsill, or coffee table with a warm glow.
Stairways and Floors
Use tea lights to add soft light to your home, and provide an elegant, decorative touch. Place groups of tea lights on each step inside your home. Line up the tea lights across each step, or simply place one tea light on each step. Pick cool tea light holders to enhance the decoration even more, and ensure they match your existing home decor. Stairway tea lights are perfect for parties and add low lighting while decorating your home. Another option is to place tea lights along the wall on the floor of your home, or group several tea lights in corners.
Luminaries
Luminaries light up the walkway or footpath leading up to your home, making an impression on visitors. To make simple luminaries, use paper bags, sand, and tea lights. Decorate the paper bags with punches, or use colourful paper bags and add stencils or stickers to them. Another option is to place each tea light in a glass holder, and tape vellum paper around the holders to reflect the light. Get creative with luminaries and use aluminium holders or Mason jars filled with stones to hold your tea lights in place.