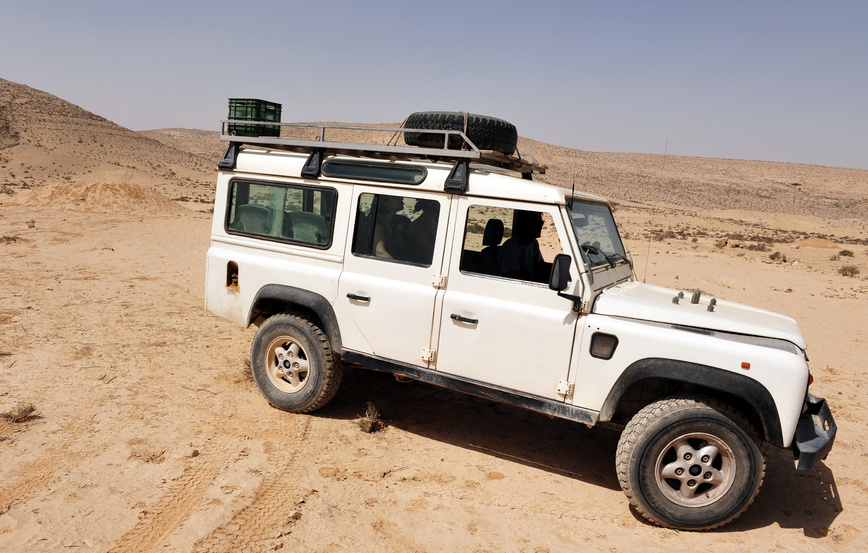 Automobiles are arguably one of the most innovative aspects of modern society. Whether a person is in need of a car for the transportation of family members or simply for personal enjoyment, cars of all models and sizes can provide a range of usage. One such vehicle that has proven popular with consumers is the Land Rover. With its stylish appearance and tough, outdoorsy build, these British cars make up a line of luxury SUVs that can be taken anywhere from the streets of the city to the rocky dirt roads of the backcountry.
Even the toughest cars can sometimes use a few accessories here and there to increase the drivers' enjoyment. There is an incredibly wide range of accessories available for usage with Land Rovers, varying from simple, stylistic add-ons to accessories that enhance the car's abilities. Accessories for a Land Rover can be bought in numerous locations, including auto shops and online sites like eBay. Just as shopping for a car involves navigating through a great number of options, looking for the proper accessories for a Land Rover can involve a lengthy consideration process, as well. By understanding the basics of a Land Rover, identifying how the car is used, and recognising the different types of accessories, any owner can successfully find a range of accessories for a Land Rover.
Understanding the Basics of a Land Rover
One of the first steps in understanding which accessories are best suited to a Land Rover is to fully understand the structure and background of the vehicle. The popular SUVs are manufactured by the British company of the same name. There are several different types of Land Rover vehicles, including the Land Rover Defender, Land Rover Discovery, and Land Rover Freelander. All the Land Rover vehicles are equipped with four-wheel drive, off-roading capabilities, and a sleek, stylish appearance. The cars have five doors, seat at least five people, and have significant boot space. Land Rover comes out with new and improved versions of vehicles virtually every year, and the vehicles have been consistently popular with consumers who want a balance between functionality and style.
Identifying a Land Rover's Uses
After a driver has become accustomed to the general abilities of his or her Land Rover, the intended uses of the car should be identified. Common weather and climate conditions, the type of driving terrain, and the typical towing load, if any, are just a few of the important considerations for usage. Questions of this sort should be thoughtfully considered and answered in detail in order to decide which accessories are practical.
Weather and Climate
If a Land Rover is driven in an area where there are seasonal weather changes that range from blazing heat to intense wind and snow, it is a good idea to consider accessories that were created to lessen the impact of weather on the car's exterior and under the bonnet. The following chart outlines examples of accessories that are ideal for specific types of driving conditions.
| Snow, Rain, and Cold | Off-roading | City Driving |
| --- | --- | --- |
| Car covers to keep vehicles protected from the elements when not in use | Wheel covers to lessen the risk of damage done to wheels from rocks and other objects | Auto detailing kits for quick fixes for problems like scratches to the car's exterior |
| Wiper blades to maintain a clean and clear windshield when driving in poor visibility in rain or snow | Floor mats to protect the car's interior carpeting from dirty feet and equipment | Sun shades to keep the car's interior at a decent temperature when it is left parked in the sun |
| Amplified lights to increase the car's visibility to other drivers when driving in poor conditions | Calliper covers assist in eliminating dust on the vehicle's wheels | Roof racks enable the transport of bulkier loads even on cramped city streets |
The items in the chart are just a few of the possibilities that come in handy in particular weather conditions and driving situations. They can all dramatically improve the performance of the Land Rover while maintaining the car's unique appearance.
Choosing Exterior Accessories
If a driver is interested in protecting a Land Rover's exterior or simply amplifying its appearance, he or she can search through a number of exterior accessories. There are a number of additions available, all suited to the functionality of a Land Rover.
Car Covers
As mentioned above, car covers can protect a Land Rover from harsh conditions, such as rain, cold, and snow. A cover can also keep pollen off the vehicle, prevent small scratches from children, pets, and passersby when left in the street, and maintain the car's paint job by keeping it out of the sun's harsh rays. One of the most beneficial uses of a car cover is that it keeps passersby from seeing the car under the cover, and this can help reduce the risk of a popular car being stolen.
Grilles
Grilles for Land Rovers do not bring as much working usage to the SUV as other accessories do, but they are often well liked for the improvement to the car's stylish appearance. Grilles are often made of high-quality, steel materials with a high-gloss finish. They are installed over the front grille of the vehicle and can amplify the SUV's appearance by giving it a tough yet luxurious upgrade.
Spoilers
As with grilles, spoilers for Land Rovers do not provide much improvement to the car's functionality, but they certainly create a new, unique appearance for the SUV. They are often preferred by drivers who are looking for a more sporty look for their vehicles, as spoilers were originally derived from racing cars. Spoilers can be made from any number of materials, including plastic and fibreglass.
Choosing Interior Accessories
Once a driver has determined what exterior additions would suit his or her needs for a Land Rover, he or she can decide on interior accessories they would like to include, as well. Whether they provide improved functionality or simply a better driving experience, these accessories are enjoyed by countless drivers.
Seat Covers
Much like their larger sibling, the car cover, seat covers have a wide range of uses in a Land Rover. In terms of functionality, seat covers protect the original, high-quality leather of the Land Rover's seats from things like food and drink spills, dirt, and general wear and tear. In terms of appearance, seat covers are a fantastic way for a driver to personalise a Land Rover. Various colours and styles of seat covers are available for purchase, and drivers simply have to decide which styles suit them and their vehicles. Seat covers also come in a wide range of materials, from leather to soft cotton.
Dash Kits
Dash kits provide another way for drivers to personalise the look of their Land Rovers. These special accessories do not provide much improved functionality, but they can create a unique finish for the car's dashboard. Dash kits come in a wide range of finishes and colours, including different types of wood or sleek metals. These kits are simply installed over the Land Rovers' original dashboards to immediately amplify the luxuriousness of the cars.
Choosing Storage and Transport Accessories
Besides the plethora of functional and aesthetic improvements that accessories can bring to a Land Rover, there are a number of specific accessories that are especially useful when it comes to transporting and storing larger, bulkier items, including bikes, camping equipment, and boats.
Running Boards
Running boards are one of the simplest additions to a Land Rover that can greatly improve its day-to-day usage. The boards are easily installed on the sides of the vehicle right underneath each of the doors, and they provide an additional step for getting into the vehicle. These boards are especially useful for families with small children, who might otherwise need to be lifted into the vehicle or risk injury. If heavy objects are frequently being lifted into the Land Rover, having that one extra step for entry and exit can make frequent use of the vehicle significantly easier and safer.
Roof Racks
One of the most popular accessories for all types of SUVs is the roof rack. These additions are easily installed onto the roof of the SUV, and they can be used to hold bikes, kayaks, furniture, baggage and more safely on top of the vehicle. Placing luggage on the roof instead of inside the vehicle opens up a great deal of space, and larger items that would never fit inside the Land Rover can safely be transported.
Trailer Hitches
One of the advantages of owning a Land Rover is the tough functionality of the vehicle that enables it to transport large and heavy loads through rough environments. Because of Land Rovers' capabilities, trailer hitches are popular accessories to add on to the SUVs. By attaching the hitch to the back of the Land Rover, the driver can then pull anything from a small camper to a boat or another car, all with minimal installation and attachments. Trailer hitches are especially good for owners who need to take large loads from one location to another without having to make multiple trips or use several vehicles.
How to Buy Land Rover Accessories on eBay
As wonderful as it is to have so many accessories to choose from, browsing through all the possibilities can seem a little overwhelming. Drivers can avoid some of the hassle of long shopping trips by searching for Land Rover accessories on eBay. Shoppers can most effectively begin their search by simply entering the necessary information into the main search bar on the eBay homepage. From there, shoppers can use the various filters or navigate to any number of categories and subcategories to refine their searches.
eBay provides a number of options, such as cost limitations, colours, and quality to narrow down the results. For example, the site is especially helpful when it comes to shopping for used Land Rover accessories because the online marketplace allows potential buyers to refine their results according to whether products are new or used. Because quality and appearance are defining factors of Land Rovers, some shoppers may only be interested in new items, and they can immediately refine their searches to only include new products that fit their needs.
Conclusion
Land Rovers are one of the most stylish SUVs on the market, but these luxury cars are not all about looks. In fact, they provide a great balance between sleek appearance and sporty functionality. The capabilities of Land Rovers are incredibly far reaching, and drivers can take their vehicles through crowded city streets or out splashing through the mud for some off-roading. This increased functionality of the Land Rover not only makes it a great vehicle for car owners with many driving needs, but it also allows owners to accessorise their vehicles in a variety of ways. Virtually any need that a driver has for a Land Rover, whether it is improved handling while driving or purely aesthetic upgrades, accessories can be found to handle the job.
Picking and choosing from all these accessories should not be a painful process. In fact, headaches such as these can be avoided by shopping for Land Rover accessories on eBay, or buyers can stick to shopping locally. A shopper simply needs to know the background of his or her Land Rover, along with the specific functions of some of the most popular and useful accessories, in order to uniquely and efficiently accessorise this popular vehicle.