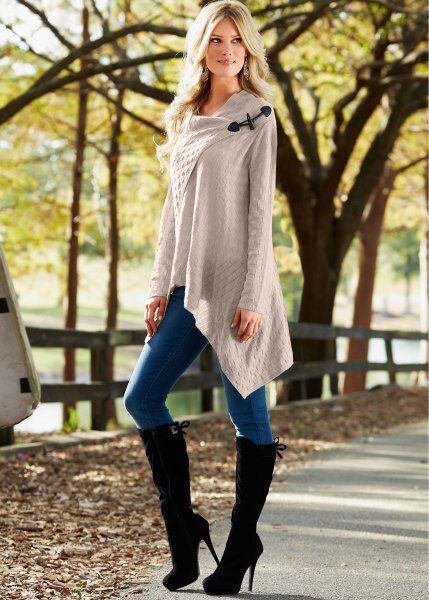 Capes are designed to fall down the wearer's back. They are usually fastened at the front part, in particular, at the throat area. Most capes are made out of luxurious materials. Capes can be worn in any season and still look fashionable. They come in different styles, designs, colours, and sizes. They are also made from different materials. Unlike cloaks, capes fall partially on the back. Capes have a simple basic design but more and more designers are creating capes in more sophisticated looks. Capes have for the longest time been associated with superheroes, legends, and fantasy. Women who wear them appropriately look elegant and classy. Apart from being worn in public, they continue to grace catwalks and fashion shows. Women's capes are not just accessories. They have practical applications, like helping to keep the wearer warm on cold autumn or winter days. Capes are making a resounding comeback of late. They come in a variety of designs, lengths, and fabrics, and can easily be paired with an array of women's outfits. Women's capes are sold in high-end fashion shops, retail outlets, and departments and clothing stores. Possibly the biggest range of women's capes is to be found on eBay.
Types of Women's Capes
Most people think that of cape as just a sheet of material attached at the shoulders and falling down the wearer's back. This may be true of the capes worn by superheroes, but women's capes of today can include hoods and be made of materials like velvet and wool.
Hooded Capes
Hooded capes are also referred to as stole capes. The most common materials used to make these types of capes are cashmere, rayon knit, and wool. Hooded capes are mostly worn in cold weather and a lot of them come with fur accents. The common varieties of the furs associated with hooded caps are beaver and mink. Many hooded capes are also accented with faux fur.
Evening Capes
This type of cape is mostly worn in the evening. Evening capes are made from materials that are lush such as velvet, satin and silk, making them stylish and elegant additions to any wardrobe. Some of these fashion capes are made from crocheted or knitted lace patterns.
Oxford Hood Capes
These hood capes are also known as simple hoods. This is because this type of hood does not have an ornamental draping called a tippet. For centuries, these hoods have been a part of the academic regalia.
Cycling Cape
These capes are worn by cyclists in inclement weather. Just like the other capes, it covers the upper body and it usually has a hood to cover the head.
Wool Cape
Wool capes can be worn with denim jeans, turning a casual outfit into a chic and stylish outfit.
Military Capes
Military capes as well as coats are trending. Fashionable capes as well come in military themes and look trendy as well as classy.
How to Choose a Cape
In order to create the right look with a cape, a woman must ensure that the cape she wears is the the right cut and colour. This way a woman can accessorise outfits in interesting interesting ways that will catch the eye. Before buying a cape, a woman should be certain that she is comfortable with the volume that the cape is going add to her upper torso. She also needs to balance out her lower body by wearing tight pants, skinny jeans or narrow skirts, since the upper body will be that much fuller with a cape.
Consider Body Shape
Women have to consider the their body shapes before buying capes. This can help them look their best in whichever cape outfit that they have on. Any woman can wear a cape as long as she gets the right cut and the cape is the appropriate one. Curvy women can emphasise their best features by accessorising the cape with a belt tightened to enhance their hourglass shape.
For women wanting to tone down the appearance of a fuller bust, their best bet is to choose a cape that fits as opposed to a loose one that adds a lot of volume to the upper torso.
Short women should be careful when shopping for capes as a cape can trim down their height even further. For them to add a bit of height, they should pair their cape preferably with skirts or shorts that are tight or pair the capes with nicely fitting tights and platform sandals.
Styling a Cape
Because of the cape's versatility, it can be used to create different looks. To create a casual look, the cape can be paired with skinny jeans, boots that are knee high, and a cute top. The cape can also be used for romantic weekend out when paired with a flirty doll dress. The whole outfit can look glamorous, stylish as well as elegant. The cape can be part of an evening wear. A wool cape can bring out a look of classic elegance. It makes the evening wear look conservative and stylish at the same time. Choosing a cape that is properly cut and made with fine fabric ensures that the wearer stands out from the crowd for all the right reasons.
There are a number of ways to flaunt capes and transform them into trendy outfits for all seasons and occasions. Capes have a wide variety of designs so wearers should choose a style that benefits their personal sense of style.
Winter Fabulous
A cape that has an elegant shape is perfect smart casual, semi-formal and formal gatherings. A woman can layer under the cape with a blouse that is long sleeved and in a cool, complementary colour. To complete the winter look, they can pair the cape with trendy, black skinny jeans and some high-heeled ankle boots.
Doing It Chic
To project that unmistakable aura of an uptown lady, the wearer needs to carefully select what she wears with her cape. She should pair a trendy pencil skirt and a stylish blouse to go with the cape. To elevate this already sophisticated outfit, a woman should consider throwing on a neutral-coloured belt. They can also add a few funky accessories to give the cape some pizzazz.
Keeping It cool
A cape adds a sophisticated cool touch to an otherwise casual winter outfit. Capes decorated with fur can give an outfit a polished overall look. Choose overly large designer sunglasses to put the finishing touch on this look.
Going All Out
A nicely cut and fitted cape that has a clean lines and a modish look can heighten the charm of any pretty dress. The cape's well-cut silhouette can further enhance an already striking dress. A simple belted cape that is grey in colour, would be ideal for a dark-knitted, chunky dress. To get a cute look that is also flirty, women can pair a checkered cape with a simple-cut dress. If the outfit has to be accessorised, then the accessories have to match at least one of the colours that are on the checkered cape.
Consider Tartan
A nicely fitting tartan cape provides an eye-catching contrast to a grey long-sleeved blouse with a nice black skirt.
Going Bold
Capes that are brightly coloured make a statement. They are trendy and such a cape gives the wearer a contemporary look.
Finding a Cape on eBay
Women can find a wide variety of capes on eBay. These capes come in different designs, and come in different sizes. Buyers can choose from the different types of materials available. The prices too, are reasonable. Finding capes on eBay is quite easy. On the eBay home page, you will find a search bar where buyers can type in a number of keywords to describe exactly what it is that that they are looking for. After keying in the specifics, the next thing is to hit the 'Search' button. For example, just type in the words double breasted cape and all the listings for this type of cape will be displayed. Each item description will include a photo of the cape and detailed description of the cape offered for sale.
You should take careful note of any policies the seller may have related to exchanges and returns. You should find out whether it is possible to return a cape in exchange for another or for a refund. If this information is not clear in the item description, then you should visit the profile of the seller and contact them directly by clicking on the contact link. While you are visiting their profile, you should take note of the seller's feedback score.
Conclusion
Capes are still a part of the military uniform. Nurses as well as the Catholic clergy wear capes too. Capes have a distinct timeless appeal which is largely the reason why after all this time they still remain fashionable. Capes are not only fun but also elegant. A functional yet versatile cape is an essential addition to any woman's winter wardrobe. All women need to do is know how to choose and wear them properly. Celebrities and famous people have been spotted in capes and it would be a plus for any modern woman to get the look as well. Capes are a good way for women to break out of their routine looks and create whole new and exciting ensembles. If and when worn the right way, capes help create that classic look that also has a subtle and romantic touch to it. For one to look their best in capes, they need to ensure that they choose the appropriate colours that can match their skin tones and get the right cut go with their body shape.