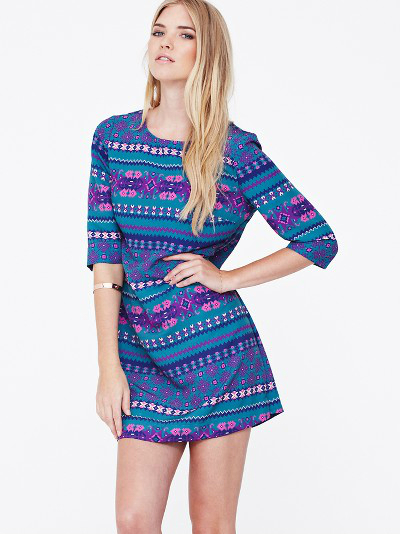 Year after year, models stalk the fashion runways, clad in intriguing, eye-catching patterned dresses. Patterns can be bold, interesting, artistic, or delightful. They offer a unique opportunity for fashionistas to stand out from the crowd and be noticed. The right patterned dress can become a staple of a woman's closet, a go-to piece when she wants to look amazing.
Unfortunately, dresses with patterns can be difficult to accessorise. The bolder or more complex the pattern, the harder it may be for women to decide which accessories really work with it and which ones constitute a fashion faux-pas. This guide provides advice for women wondering which belt, earrings, necklace, shoes, hat, jacket, bracelets, or rings they should wear with their favourite patterned dress. It will also suggest some local shops and some websites like eBay where buyers can pick up a new patterned dress or find unique accessories to complement a dress they already own.
Floral Patterned Dresses
Floral patterns have been around for hundreds of years, but for a time they were considered too girly and feminine for the strong, modern woman. However, floral patterns have recently experienced a resurgence in popularity. This new prominence is due in part to new colour combinations and to the bold accessories that some designers and celebrities have paired with their floral prints, which come in such a wide variety that buyers are likely to find one for every conceivable occasion.
Considering Pattern Size
Women should remember that larger floral prints tend to make the body look larger, while smaller prints generally have a minimising effect. Some say that the size of the print should match the wearer's body type, with small women wearing a small floral pattern, medium-sized women wearing a small-to-medium pattern, and larger women opting for slightly larger flowers.
Creating Lines
Since the busy flower print will likely add bulk to the body shape, women will want to choose a dress style that balances that effect by creating flattering lines. A short dress with a cinched waistline, a strapless dress with a sweetheart neckline, or a long dress that is beautifully tailored around the torso and bust provides the necessary lengthening and slimming lines. Belts typically work well with floral patterns and help define the waist. Women will want to choose one of the colours within the floral print and match their belt to that colour. For instance, a red, yellow, and blue print might look good with a blue belt. An exception to this rule is the black and white floral print. These type of dresses work well with most accessory colours, but they are especially amazing when combined with vivid red. If women own a short dress in a black and white floral pattern, they may want to have a shiny black belt and a bright red belt to go with it.
Choosing Shoes
When choosing the shoes to wear with their floral patterned dress, women should think about the style of the dress as well as the activity or occasion to which they will be wearing it. A fun, form-fitting mini-dress in a small floral pattern can be worn with strappy wedge heels for a spur-of-the-moment shopping spree. Paired with colour-coordinated heels and an attractive jacket, a knee-length floral dress could fit in well in at the office. A long, loose-fitting maxi dress in a floral pattern would be an ideal match for a favourite pair of sandals.
Selecting Jewellery
Simplicity is key when accessorising a floral patterned dress. Floral prints are visually dominant, and too much jewellery can cause the overall look to seem busy or loud. Women wearing a floral dress may want to choose a simple vintage locket and silver studs, or they may skip the necklace altogether and opt for a simple bracelet or two and a pair of earrings. If the earrings have beads or other embellishments, they should pick up one of the colours in the dress.
Other Accessories
Women should feel free to experiment with their floral patterned dresses. In autumn, they could pair their favourite floral dress with a bold leather jacket, coloured tights, boots, and a scarf for a feminine look with a rocker edge. They could take their floral maxi dress from the beach to the workplace by adding heels and a fitted blazer in a solid, coordinating colour. If women are unsure if a particular look works for their figure or for a particular activity, they can ask a fashion-savvy friend for confirmation.
Animal Print Dresses
Animal prints are beautiful and primal, yet they can be particularly difficult to accessorise. With a leopard print dress, for instance, wearers have to be careful to stay away from a costume look and keep the outfit classy.
Selecting Jewellery
The spots within leopard print are often sufficient embellishment, so many women choose to keep their jewellery simple when wearing a dress with a leopard pattern. A long gold necklace or a string of chunky, black beads highlight the key tones from the print. Gold or black hoop earrings or gold bangles are good choices as well. Some women choose handmade jewellery like black or tan-coloured wooden beads or leather necklaces with carved pendants. These unique pieces complement the wild, organic feel of the animal print dress.
Choosing a Handbag
Leopard print dresses and other animal prints typically work well with black leather handbags. Depending on the occasion, women might select a business-like purse, a slouchy hobo bag, or an elegant clutch. Another option would be a tan bag with gold fastenings or a simple brown leather bag.
Adding a Dash of Red
Red accents are a more daring complement to animal prints, especially when they come in the shape of patent leather heels or a wide, red belt. Red nail polish or scarlet lipstick adds a sophisticated yet sultry edge to an animal print outfit. However, too much red can overdo the look and distract the viewer's eye. When sporting a leopard print dress or some other animal pattern, women should limit their red accessories to just one item, such as a clutch, a bracelet, or a pair of heels.
Dresses with Geometric Patterns
Many of the rules for animal prints and floral patterned dresses also apply to dresses with geometric patterns. Simplicity, colour coordination, and balance are all vital to a great overall look.
Highlighting a Colour
Wearers should use their accessories to highlight the colours within the patterned dress. A geometric print that incorporates yellow, black, and grey could be accessorised with a yellow belt, silver jewellery, a grey scarf, and black or metallic heels. A yellow handbag might complete the ensemble.
Keeping It Simple
Many geometric prints are unique and artistic. When correctly accessorised, they draw the eyes of passers-by not only to the dress but also to the woman wearing it. Too much sparkling jewellery or too many competing statement pieces confuses the viewer's eye rather than pleasing it. Women should save their most brilliant and interesting jewellery for plainer clothes and instead choose simple pieces for their glamourous prints. For instance, studs or hoop earrings ornament the ears without detracting from the rest of the outfit. A smaller purse or clutch will escape notice and leave viewers free to notice the beautiful design of the dress.
How to Buy Patterned Dresses and Accessories on eBay
Patterned dresses and related accessories are likely available from a number of shops and department stores in your area. However, eBay is a preferred shopping destination for many buyers due to the sheer variety of products and the low prices. To search on eBay, enter a term such as "patterned dress" or "animal print dress" into the search bar on eBay's homepage.
eBay includes a special Top Rated seller seal on the listings of sellers who have received consistently positive feedback from their former customers. Consider purchasing from a Top Rated seller, especially if they are offering free shipping, a return policy, or a bundle involving a patterned dress and an accessory or two. If you have questions for eBay sellers, you can contact them via the Contact Member link on their profile page or the Ask a Question link on their listing page. Most sellers are willing to supply any information or photos that buyers need in order to facilitate the transaction.
eBay also allows you to filter your search results by price range, condition, seller location, and other options. If you would rather buy from sellers within your area, you can enter your postcode and select the kilometre radius within which you want to shop. eBay will narrow your results to match those parameters.
Conclusion
Some women may find a figure-flattering patterned dress at a bargain price and purchase it without considering their need for accessories. When they bring the dress home, they may find that they have no idea what to wear with it. Buyers should first identify the kind of pattern they are working with, whether it be an animal print, a floral pattern, stripes, or a geometric pattern. Once they have identified the type of pattern, they can choose accessories in the colours and styles that work best with that pattern type.
Most women have more than one set of accessories that work with the dress, so they will be able to dress it up or down for various occasions. With some advance research, a little experimentation, and the purchase of one or two new accessories, women should be able to come up with a number of different ways to wear their patterned dress.