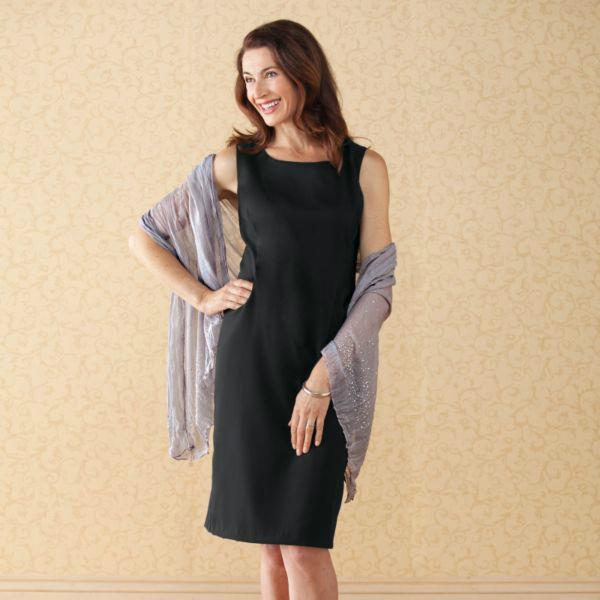 Accessorising any dress is difficult, but shift dresses represent a significant problem because of their simplicity. Luckily, there are a few key fashion rules which help a lady easily pair the perfect accessories with a shift dress.
One key thing for the user to remember which helps with any attempt to accessorise is to remember that she is not only limited to necklaces and bracelets. Belts, shoes, earrings, hair pieces, watches, and even rings are used to thoroughly accessorise. But one should always be careful of going too far. As a handy rule of thumb, one should only use three of those listed potential accessories at a time to avoid overmatching or over-accessorising.
Anyone looking to purchase accessories is able to save a good bit of time and money by using websites such as eBay. Not only can a buyer typically find matched groups of accessories already gathered, but they tend to be less expensive than those found at traditional retail outlets.
Details on Accessorising a Shift Dress
Shift dresses, especially those in plain colours or simple prints, benefit greatly from clever accessorising. The cut of the dress acts as one's guide, pointing out where to accessorise and with what.
Accessorising Based on Elements of the Dress
In most cases, one should select which accessories to wear based on the cut of the dress. A low neckline dress pairs well with necklaces, for example, while short sleeves complement the use of bracelets or a watch.
Accessorising a Shift Dress with a Low Neckline
Dresses with a low neckline practically beg for the addition of a necklace. While one small pendant necklace is a timeless option to consider, it is also popular to wear layered necklaces and several necklaces all worn at once which complement each other. When layering necklaces, one should select necklaces which all have the same metallic finishes, but different chain sizes. Having many necklaces of the same length should be avoided; instead one should pair two or more medium or short length necklaces with one longer necklace.
Accessorising a Shift Dress with a High Neckline
High necklines may be paired with scarves in winter weather, but one should absolutely avoid wearing necklaces over the fabric, as chains and pendants may catch on the fabric. Instead, the user should use a high neckline to help guide eyes toward her face and accessorise with earrings or a headband or hair tie.
Accessorising a Shift Dress with a Long Hemline
Shift dresses with a long hemline, especially if they are in a solid colour, look quite plain. The wearer should break up all that fabric with the addition of a belt or sash. A sash or belt in a solid colour rarely goes wrong, especially when in a lighter or darker shade of the same colour as the dress. Patterned belts or sashes, especially in neutral colours, also pair well, especially if the other accessories worn are quite small.
Accessorising a Shift Dress with a Short Hemline
Shift dresses with a short hemline do not need to be broken up quite so much as those with long hemlines do, and while one may opt to wear a belt, the wearer should be sure to only stick with relatively thin ones. A dress with a short hemline benefits from shoes selected to match the colour of the dress or an accent colour of the ensemble. An easy way to help a normal pair of shoes pop while helping to match the dress is to change the laces to either match the dress' primary colour or the chosen accent colour.
Accessorising a Shift Dress with Short Sleeves
A shift dress with short sleeves benefit from the inclusion of a watch or carefully paired bracelets. Bracelets should display the colour of the dress or an accent colour from the outfit. Any metallic finishes should match, such as silver with silver or gold with gold, for example, to avoid clashing. Mixing wider and smaller bangles helps add another element of interest, if desired.
Accessorising a Shift Dress with Long Sleeves
A shift dress with long sleeves, especially if the dress is a single, solid colour, begins to look boxy. The individual should wear a belt to add interest to the waist and break up the colour, and draw eyes up with a necklace, earrings, or hair accessory.
Matching Accessory Colours and Patterns with a Shift Dress
Picking colours and patterns for accessories which match a shift dress is simple when one adheres to a few easy-to-remember rules of thumb. The qualities of the dress determine which colours and patterns to opt for.
Matching Metallic Finishes
If a dress is a neutral colour, either black, grey, or white, one should stick to silver metal finishes. A warm neutral, such as brown, camel, taupe, or cream warrants using gold. Warm coloured dresses pair better with gold than silver, and vice versa for cool coloured dresses, with notable exceptions: navy blue and darker greens pair as well with gold as they do silver, whereas purple dresses tend to look better with silver accents.
Selecting Accent Colours
If a dress exhibits more than one colour, the second most dominant colour to its primary colours should be chosen as an accent colour, and most accessories chosen should feature this colour. If a dress is only a single solid colour, however, one may need to select an accent colour. To properly select an accent colour for a dress, one should be familiar with the colour wheel. One fashion an individual may select is an accent colour for a shift dress which is the same colour as the dress, but in a significantly darker or lighter shade. Another easy trick is to select an accent colour which is opposite the colour wheel from the dress colour. Yellows pair well with blues, for example.
Matching Accessory Patterns
If one's dress displays a pattern, in general the wearer should shy away from using accessories which also feature a pattern. Too many patterns worn at once, and not selected well, are dizzying to the observer. But when a dress pattern is fairly simple, featuring only two or three colours, a quick way to add interest to an ensemble is to select another accessory, such as a bracelet, for example, which features the same colours in a different pattern. Houndstooth, checks, chevrons, medallion prints, and plaid are all solid options to consider pairing together.
Putting It All Together
When one wishes to accessorise a shift dress, the first thing to do is to establish the primary and accent colours. If the dress is a single, solid plain colour, this is the primary colour, and a separate accent colour should be selected by the wearer. If the dress features a pattern, the two most dominant colours are the primary colour and accent colour. Any accessories worn should ideally feature both the primary colour and the accent colour. All metallic finishes should match wherever possible to achieve the most 'put-together' look possible.
Mixing and Matching
If one has a solid colour dress, or a dress with a fairly simple pattern, accessories should be readily switched out to reflect different accent colour choices. Doing so helps give the same dress a completely different look time and time again.
Buying Accessories on eBay
Buying accessories of almost any kind is a snap with eBay's simple-to-use software. Head to the eBay homepage and find the search bar. Click on the search bar and type in the terms which collectively describe the accessories you wish to find on the website. Some examples could be "pearl accessory set", "blue bracelets" or "red pendant necklace". Pressing enter rewards you with the list of items which match your search terms. In the event you want to begin a new search, or must redo an old one, the eBay search bar is also located on each of the site's internal pages, meaning there is no need to backtrack to the homepage.
If you find a listing which looks good, but you need more details than are available to move forward with a purchase, consider contacting the seller directly. On the individual listing, browse until you find the 'Ask a question' link.
Conclusion
Shift dresses are very simple, and generally need clever accessorising to present the appearance of a well put together outfit. Luckily, a few simply fashion rules help establish what and how to accessorise.
The standard tools used to accessorise include shoes, belts, bracelets, necklaces, scarves, earrings, watches, and hair ties. In general, one should look at accessorising with only three of those options for any outfit and coordinating them with each other and the dress in question. Necklaces and scarves should be paired with dresses with a low neckline, while bracelets and watches pair best with short-sleeved dresses. Use hair ties and earrings to draw eyes up toward the face or belts to add interest to a dress with a longer hemline.
No matter how one ultimately accessorises her shift dress, she may want to consider shopping for accessories at eBay vs. more traditional retail outlets. Not only is eBay often less expensive, but it helps one find pre-matched sets of various accessories.