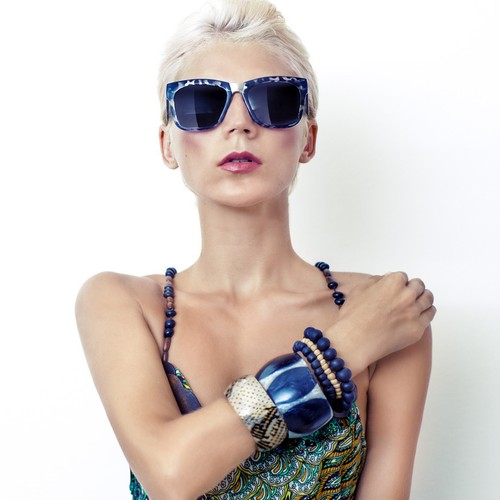 Women know that no outfit is complete without a few accessories. The right piece of jewellery can tie together an entire ensemble. Bracelets are an easy and attractive accessory that comes in a wide assortment of colours, sizes, materials, and styles. Ladies have the option to choose from loose fitting bangles or tight cuffs, and from multi-coloured beaded bracelets to diamond-encrusted tennis bracelets. A gold or silver charm bracelet is a beautiful and creative way to commemorate special events; they are often given to little girls, but there are plenty of options available for tweens too.
Choosing the right bracelet to accessorise an outfit involves more than just colour coordinating. Bracelet wearers can follow a few tips to maximise the accessories effect. While some bracelets are perfect for casual wear, others are reserved for formal occasions. Women should be acquainted with the most popular styles of bracelets and the latest fashion trends to confidently accessorise bracelets with an outfit.
Types of Bracelets
Women have a wide variety of bracelets to choose from, and before accessorising them with an outfit, it is important to be familiar with the most popular styles. Bangles and cuff bracelets may be similar since they are typically single pieces, but many cuffs are designed to be worn tight around the wrist. Beaded bracelets usually are inexpensive and brightly coloured, making them fun and festive accessories. Charm bracelets are made from a variety of materials; elastic and plastic bracelets can options are great costume jewellery for little girls, but big girls can opt for charm bracelets made of precious metals and gemstones. The following subsections offer more details about each listed bracelet as well as other popular models.
Bangle
Bangles are solid, single piece bracelets designed to slide over the wrist, so they are not adjustable. From pink to animal print, plastic bangles come in nearly every shade or pattern and an array of widths. Plastic bangles can have smooth or embossed surfaces.
Metal bangles can be made of inexpensive materials, and more expensive bangles are cast in gold or silver. Metal bangles can be basic or fashioned with twists, braids, and other intricate designs. Moreover, the most exquisite bangles are encrusted with gemstones and other precious materials.
Beaded Bracelet
Beaded bracelets are fun, multi-coloured bracelets favoured for their ability to pull together casual outfits. They can be wide banded or thin. Customers can also choose between how it fits around the wrist although most beaded bracelets are designed to fit close to the wrist, women must decide between elastic models and those with clasps.
Cuff
Cuffs are similar to bangles but are typically more flexible than bangles. They can thick or thin, but there is more variety of available materials. Cuffs can be leather,, plastic,, metal, or wooden.. Whereas bangles are made from a solid piece, cuffs can have snaps, buttons, or clasps. Metal cuffs sometimes are not complete circles, but rather wearer can gently pull apart the two ends and resize it to fit the wrist.
Charm Bracelet
Charm bracelets refer to any type of bracelet that has small, individual charms hanging from the bracelet. There is a wide variety of charm bracelets available, and pricing depends on the materials. The cheapest of charm bracelets are typically plastic and elastic, while the most expensive can be made of gold and silver, and charms often have precious stones embedded in them. Charms are often sold separately, and there are an infinite number of possibilities available. Charms are a great way to commemorate special events, hobbies, and milestones. Jewellers can solder on charms for a nominal fee.
Elastic Bracelet
Elastic bracelets are cheap bracelets that come in a variety of styles; they are designed to slide over the wearer's wrist. Some beaded bracelets are also classified as elastic. Also called stretch bracelets, elastic bracelets are available in thick or thin models, and with nearly every hue available, they are often cheap and easy accessories. Women can wear many thin elastic bracelets at once.
Link Bracelet
Link bracelets,, also called chain bracelets, are a classic style of flexible bracelets with many variations. These metal bracelets are comprised of small, identical metal links; golds and silvers are the most popular metals although there are less expensive models on the market. The most simple chain bracelets are designed to be plain, which makes them great for matching with many outfits, but others are embellished with gems.
Tennis Bracelet
Tennis bracelets are lavish looking bracelets; they are a step up from link bracelets. Both are designed to be flexible and snugly wrap around the wrist, but a true tennis bracelet is encrusted with diamonds and other precious gems. Women who want the tennis bracelet look without the price tag can opt for imitation stones, such as cubic zirconia.
Tips for Accessorising an Outfit with Bracelets
When it comes to wearing bracelets, ladies must make their decision based on several other considerations. Bracelets may be easy to come by, but women should make a conscious effort to employ the following fashion tips to properly enhance and accessorise their outfits.
Colour Coordinate
When it comes to accessorising with bracelets, women must consider colour. They should refrain from mixing metals, unless there is another accessory that ties them together. Additionally, women do not have to wear a bracelet that is the same colour; rather, choosing a complementary shade is much more attractive.
Neutralise the Appearance of Veins
Women who are thin skinned or have noticed the bluish hue of their veins can neutralise their appearance with a simple trick. Gold or yellow coloured bracelets can help minimise the appearance of veins in their wrist and hands.
Consider Sleeve Length
Bracelet wearers must also factor in sleeve length when accessorising. Sleeveless, short sleeves, half sleeves, and three-quarter sleeves are all acceptable lengths for wearing bracelets. Full sleeves and bracelets are discouraged because the elongated sleeve covers them up, thus rendering the accessory obsolete.
Follow the One Wrist Rule
Ladies should keep bracelets confined to one wrist and never both. A bracelet is often a showpiece, and having two different focal points for a single outfit is distracting.
Wear More Than One
Even if women are encouraged to confine bracelets to one wrist, they have the option of wearing several on one wrist. A bunch of thin metal bangles can look quite exquisite if done correctly. Many elastic bracelets achieve a more casual effect. Some women can even pull off a combination of thick and thin bracelets. The secret is that the styles can be different, but the colours must coordinate.
Account for Bone Structure
Not all women are shaped the same, and just like jeans, some styles of bracelets look better on certain bone structures. Women with large wrists should consider wearing thin and dainty bracelets. Petite girls with small wrists are best look best with mid-sized bracelets like leather cuffs. Ladies with long, slender arms can pull of chunky bangles best.
Dress for Comfort
When accessorising the outfit, women should make the same thoughtful considerations with their bracelets and shoes. In addition to matching, comfort should be a top priority. While leather cuffs and elastic bracelets are designed to fit close to the wrist, they should never be too tight. Bracelets too small for the wrist can cut off circulation in the hand. On the other hand, women must be mindful not to wear bracelets that are too big. If wearing them in a professional setting, bracelets should not impede work or be a distraction.
Look for Natural Materials
Not all bracelets have to be fancy or fashion forward. Wood, while relatively popular, is an often underutilised material. They are great for eco-conscious individuals and typically inexpensive. Ladies can opt for the natural wood finish bangles or painted wooden bangles. There are also bracelets made with wooden beads.
Match with Nail Polish
The right nail polish colour paired with bracelets is the ultimate colour coordination. Like pairing bracelets, they do not have to match exactly but should complement each other. If wearing gold, silver, or other metals, ladies can paint their nails a metallic colour. If the bracelet has rhinestones or gems, then pastels are best.
Buying Bracelets on eBay
Once you have identified the type or colour bracelet you want, enter a few keywords into eBay&'s search bar. Include the style, such as "leather cuff bracelet&" or "sterling silver bangle&", and other identifying factors. Additionally, if there are any other special features you want, such as colour or style, try including it into the search by adding in more keywords. If you find you get back minimal results, consider eliminating a few descriptors and try again.
Besides keywords, users can take advantage of the filters to refine their search. For example, if you are in the market for a tennis bracelet, but you are open to ideas, you can browse eBay's collection with minimal keywords and then narrow your search with filters. With filters, you can choose the material, type, condition, and more. You can even limit the listings by your price range to make sure you stay within budget.
Conclusion
Finding the perfect bracelet, or in some cases bracelets, requires women to keep up with the latest styles and trends. While leather cuffs look great with a casual tee, they almost never should be worn for formal occasions. Women who want elastic bracelets, with or without beads, should make sure the bracelet fits comfortably, not too loose or too tight. Wearing a bracelet too tight can result in reducing blood flow to the hands. Any bracelet too loose can get annoying as it slides around throughout the day. Even worse, bracelets worn too loose could slip off completely unnoticed until too late.
Women can manicure their nails to match their bracelets, giving them a polished look from head to toe. Thick or thin, bangles or dangled, women can mix and match different style as long as the colours coordinate. Ladies can find an assortment of bracelets to fit their style and budget at jewellery stores, fashion boutiques and online on websites such as eBay..