Paisley is a timeless print featuring the iconic curved teardrop shape reminiscent of curling leaves. With roots in Iran and India, the print also bears a strong connection with Paisley, Scotland, where textile designers produced many early paisley patterns. Fashionistas continue to enjoy paisley garments, including paisley dresses. With a few key rules in mind, you can easily accessorize your own paisley dress.
Balance the Paisley Pattern Size with the Accessories' Size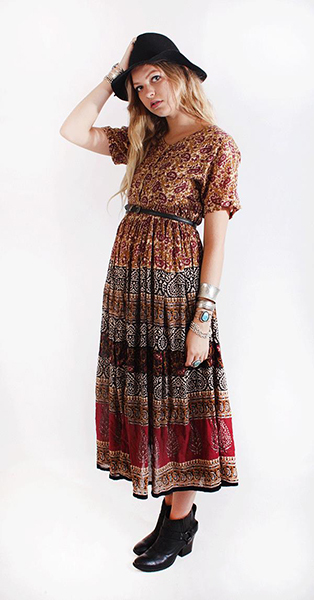 The bolder and larger the paisley pattern on the dress, the more difficult it is to accessorise properly. Ideally, you should keep your accessories simple if you are working with a loud pattern. For instance, a dress with a large paisley print featuring primarily shades of pink with a touch of blue could work beautifully with a pair of pale pink heels and a blue bangle or ring. On the other hand, a subtle paisley print in muted neutrals may pair well with bold, bright shoes and long, dangling earrings.
Choose Seasonal Accessories for the Paisley Dress
During the summer, choose a sleeveless paisley dress in vivid hues and throw on a pair of sandals and your favourite pair of designer sunglasses. Grab a canvas tote or a bag in a light, summery neutral colour before you step out the door. During the cold months, wear a long, slouchy jumper over your paisley dress and accessorise with a length chain or two. You can also put on a jumper or jacket over the dress, skip the necklace, and focus on sparkly earrings instead. If you add a scarf or a hat, be sure that it is a solid colour that picks up one of the hues in the dress.
Match the Hem Length of the Paisley Dress with the Right Shoe Style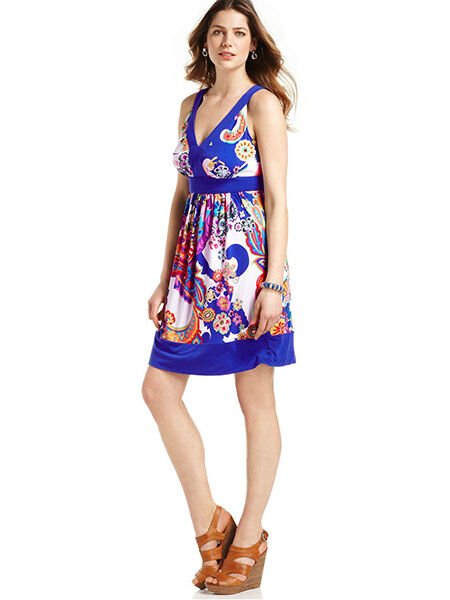 Though you can try any shoe you like with your paisley dresses, certain shoe styles look better with certain hem lengths. For instance, if you would like to pull out your favourite pair of tall boots, pair them with a paisley dress that comes just above the knee. For a knee-length or longer paisley dress with a more formal, professional style, try some heels. A maxi dress in paisley is usually casual, so you can wear sandals or ballet flats.
Avoid Paisley Accessories with a Paisley Dress
Too much of a good thing can be cloying, so avoid accessorizing with any other paisley items while you are wearing a paisley dress. Save your paisley handbag, paisley scarf, or other accessories for a different outfit. These statement pieces typically work better with solid-coloured, simple dresses, shirts, and trousers. When you choose your combination of clothing and accessories carefully, you should attract plenty of positive attention from fellow fashion savants.