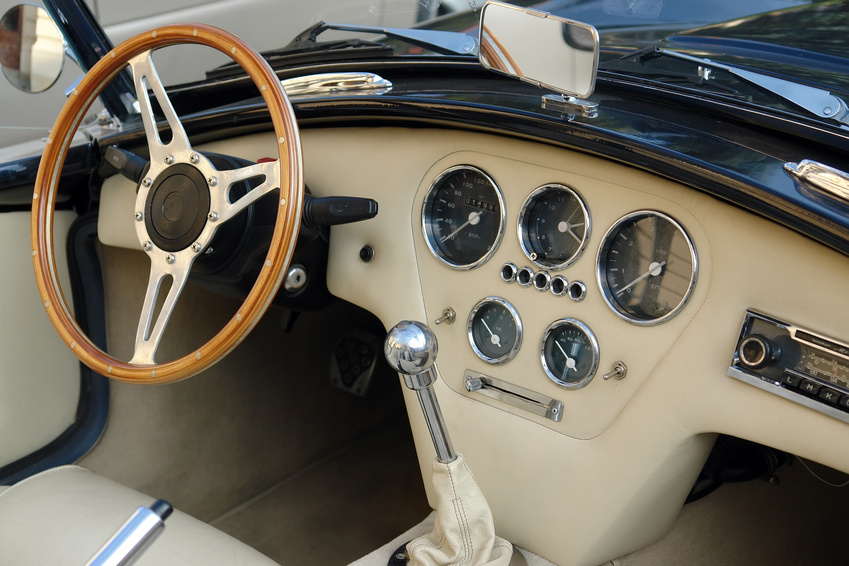 Many vehicle owners take pride in their vehicles, purchasing good models and keeping the vehicles well maintained and in tip-top shape. While not all vehicle owners can afford to purchase top-of-the-line vehicles, anyone can add parts and accessories to any vehicle to give it a more upscale look. Alloy wheels, pin striping, and spoilers can be used to make the exterior of the vehicle more luxurious and unique looking, while wooden elements and leather seats can really spruce up a vehicle's interior.
Wooden or wood-grain elements, such as trim and steering wheels, are popular options on many of the luxury vehicle models, so this is an easy, inexpensive way for just about anyone to make a vehicle look more upscale. When shopping for wooden elements, prospective buyers can choose dashboard trim kits that provide all the necessary trim pieces for the dashboard as well as individual trim pieces for the dashboard, doors, gear shifter, and steering wheel. Buyers can find the perfect wooden element or trim kit in the market, all they need is the make, model, and year of the vehicle.
Brief History of Wooden Elements
Early vehicle manufacturers incorporated wooden elements into vehicle design to tie in the automobile's predecessors, buggies and carriages. Wooden elements continued to be common additions to vehicles in an attempt to preserve the history of these early vehicles and were often seen both on the interior and exterior of many vehicles. Early station wagon models, for example, commonly had accent panels on the doors and rear that were designed to look like wood grain.
Older sports cars and luxury vehicles commonly used wooden pieces on the steering wheel because of the wood's natural ability to absorb sweat from the driver's hands. Once driving gloves became popular, this was no longer needed; however, some auto manufacturers continued to incorporate wooden elements on the steering wheel and the interior panelling. Today, although the wooden elements serve no real purpose, they are a symbol of luxury, so vehicle manufacturers continue to use wooden elements and trim on luxury models.
About Wooden Elements for Vehicles
Which areas of a vehicle's interior can be accented with wooden elements depends on the make, model, and year of the specific vehicle. Typically, wooden trim can be added to the entire dashboard and console, though there may be some plastic or metal frames around certain panels. Many luxury vehicles also offer a wood-trimmed gearshift and a wood-wrapped steering wheel. Individuals wishing to add wooden elements to vehicles can choose to deck the vehicle out completely with dash trim, door trim, gear shift trim, and a wood-trimmed steering wheel, or they can add in just a few wooden elements.
Some wooden elements and trims are actual wood veneers, while other elements and trims are plastic that is designed to look like wood trim. Although it is difficult to tell the difference between high-quality plastic and real wood veneers, those who want genuine wood need to check the details on all trim kits to determine if they are real wood or not.
Types of Wooden Elements
Before a vehicle owner decides to install wooden elements in a vehicle, it is important to learn about the different types of wooden elements and kits available. This information helps vehicle owners decide which type suits their needs.
Flat Dash Kits
Trim kits labelled as flat dash kits are designed to be applied directly on top of the vehicle's existing trim. This type of dash kit provides a touch of elegance in just minutes, since vehicle owners simply need to peel and stick this trim in place. Flat dash kits are available on both real wood veneers and faux wood, so individuals should be sure to read the details so they know what they are buying. Because each vehicle's dashboard design is different, individuals need to be sure to purchase the correct kit for a vehicle, otherwise the trim may not fit properly.
Moulded Dash Kits
For a three-dimensional look, vehicle owners should opt for a moulded dash kit instead of a flat dash kit. These kits include pieces that are moulded to fit around the vehicle's existing dash elements, giving a more cohesive and contoured look. Prospective buyers can find two different types of moulded dash kits, one type fits on top of the vehicle's existing trim, while the second type replaces the vehicle's existing trim pieces.
Which type an individual chooses depends on the preferences of the vehicle owner. The peel-and-stick variety is much simpler to install, as it does not require the vehicle to be dismantled, but it is typically only available in faux wood finishes. The second type, on the other hand, requires that some parts of the dash be removed, but these are available in real wood veneers.
Factory Match Dash Kits
Those who want a trim kit that matches the trim offered by the vehicle manufacturer should look for a factory match dash kit. These kits match the veneers or faux wood finishes offered by vehicle manufacturers. This allows individuals to replace broken elements of the dash trim or to install a full set of wood trim that looks like it actually came with the vehicle.
Gear Shift Knobs
Individuals who want to have a gear shift knob that matches the wood trim can purchase a knob either directly from the vehicle manufacturer or through one of the many aftermarket companies. If buying a gear shift knob to match a vehicle's existing wooden elements, one may want to purchase the knob from the vehicle manufacturer or from wherever the trim kit was purchased from, if it was not factory installed. If this is not possible, then one should match the gear shift knob finish to the existing trim for a cohesive look.
Steering Wheels
Some vehicle manufacturers also offer wooden trim elements on the steering wheel, though typically only on the more expensive models. Vehicle owners who want this luxury look without the luxury price tag can purchase a wood-trim steering wheel along with the dash kit. Before selecting a steering wheel, prospective buyers should ensure that it is compatible with the vehicle model and may want to take a few minutes to review the installation instructions before making a purchasing decision. Since steering wheels typically have airbags built-in, installation may be tricky or may even require a professional, so the airbag does not malfunction.
Additional Trim Pieces
Vehicle owners can also purchase trim pieces for door panels and handles, as well as individual dash trim pieces, if they are just looking to replace a damaged or broken piece of trim. When replacing one or two pieces of existing wood trim, prospective buyers may want to purchase these pieces from the same company that manufactured the rest of the trim, so that all of the pieces match. If this is not possible, buyers should try to match the trim as much as possible or consider replacing all the trim if they cannot find trim to match.
Shopping for Wooden Elements for Your Vehicle
Because there are so many makes and models of vehicles, each with different dashboard designs, prospective buyers may shop online to find a better selection of wooden elements and trims. Those who want to buy directly from the vehicle manufacturer may be able to purchase through a local dealership; however, it is likely to be a special order that needs to be shipped from the factory and may take a few days to arrive.
When shopping online, prospective buyers should first determine which style trims they like best, and if they have a preference between real wood veneers and faux wood trims. Once buyers have this information, they can begin reviewing the selection of wooden elements for a specific make and model.
Buying Wooden Elements to Add to Your Vehicle through eBay
Buyers should be sure to review the selection of wooden elements available on eBay, as the site lists products from thousands of sellers and has a great selection of wooden elements and trim kits. If you want to take a look at list of available wooden elements available on eBay, go to the site's home page and enter a search term, such as "wooden elements" or "wood trim", into the search box. Once the search results load, you can narrow down the results by make, model, placement on vehicle, and price. You could also enter the vehicle make and model into the search box; however, it might be easier to simply filter the results by make and model.
Before making a purchasing decision, the buyer should read through the listings carefully to confirm that the wooden elements or trims being sold are compatible with the vehicle. Individuals should also determine if the wooden elements are peel-and-stick or if they must be installed by removing some parts of the dashboard or other parts of the vehicle. It is a good idea to review the seller's return policy so that the wooden elements can be returned if they are incorrect.
Conclusion
Wooden elements or wood trim can add a touch of elegance to any vehicle, no matter the price tag. While some vehicles come with with the wooden elements already installed at the factory, others do not offer factory installed trim. Some people may choose to buy used vehicles that do not include wooden trim. In these instances, aftermarket wood trim or wooden elements work well and can be added to enhance the look of the vehicle. When using these aftermarket trims, vehicle owners have the choice of installing as little or as much trim as they would like, making for a custom vehicle design.
Individuals considering installing wooden elements in their vehicles should decide which style and type of trim is better suited for their needs, so that they know what to shop for. Using information regarding the types of trim kits and pieces available, prospective buyers can find the ideal wooden elements and trim kits for their vehicles on eBay.