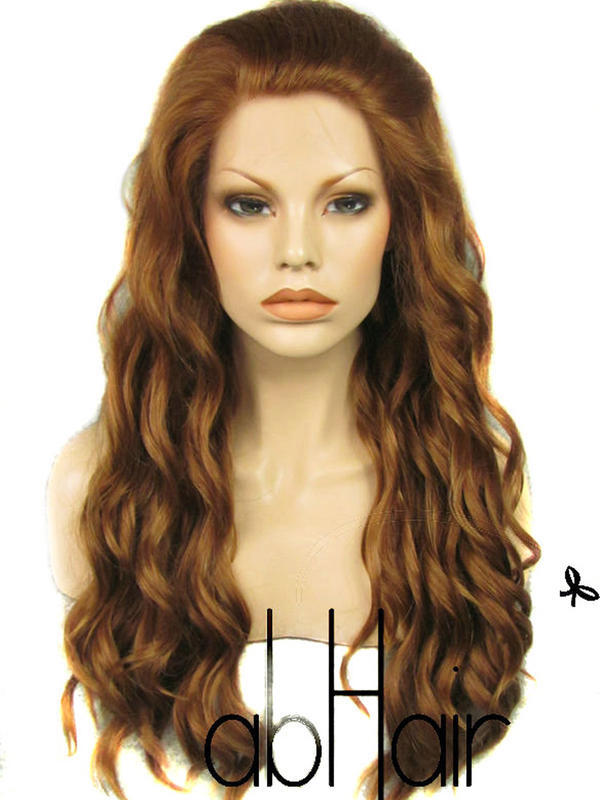 A lace front wig can be defined as a type of wig made using either synthetic hair or original human hair, and has a sheer lace base. Lace front wigs have been in existence for many years. Before they found their way into the celebrity world, they were mainly used in theatre to alter the looks of the stage actors. These wigs are favoured because the wearer can achieve a very natural look.
Most wearers visit hair salons to have stylists apply the wigs for them. However, it is entirely possible for you to save money by applying the wig yourself. It's important that you select a wig that has been sized to fit your head correctly. You will also need to gather various application materials, lace adhesive, the lace front wig itself, 99 percent isopropyl alcohol, a wig cap, a pair of sharp scissors, and liquid liner. Shoppers will find lace front wigs, application materials, and other wig accessories on eBay.
Preparing the Wig
It is advisable that you pick a lace front wig with a lace base that is of the same colour as your skin, as this, along with proper wig cutting, facilitates a natural look. To ensure that the wig fits correctly and looks natural on your head, you need to buy a lace front wig that is the correct size. To determine the correct size, measure your head using a soft measuring tape. After measuring yourself, you should use the chart below to determine the correct standard cap size.
| Specifics | Extra Small (cm) | Small Cap (cm) | Medium Cap (cm) | Large Cap (cm) |
| --- | --- | --- | --- | --- |
| Circumference | 50.8 – 52.1 | 53.3 – 54.6 | 55.9 – 57.2 | 58.4 – 59.7 |
| Front to Nape | 30.5 – 31.8 | 33 – 34.3 | 33.6 – 36.8 | 38.1 – 39.4 |
| Ear to Ear Across Forehead | 25.4 – 26.7 | 27.9 | 30.5 – 31.8 | 29.2 – 30.5 |
| Ear to Ear Over Top | 26.7 – 27.9 | 29.2 – 2908 | 31.8 – 33 | 33 – 34.3 |
| Temple to Temple Around Back | 31.8 – 33 | 33 – 34.3 | 36.8 – 38.1 | 38.1 – 39.4 |
| Nape of Neck | 10.2 – 11.4 | 11.4 – 12.7 | 12.7 - 14 | 14 – 15.2 |
Before applying the wig, you should take the wig cap, place it over your hair. Make sure you situate your wig properly. After doing all that, take an erasable marker (something like liquid liner) and use it to mark your forehead, as it is on this mark that the wig should be fixed.
Trimming the Lace
As you do all these, make sure that you have a clip or something similar that you can use to gather hair so that you do not cut any stray hair by accident. After securing the stray hair, you should shape the lace to suit you by cutting the unwanted bits of the lace away. If this is the first time that you are doing this, it is advisable that you cut less than 1.5 cm all around. This is until when you get used to shaping your wig and then you will be able to shape it the way you want, including cutting quite close to the wig's hairline. Before you cut your lace front wig, you should know that it's better if you cut your lace very large than if you cut it very small. This is because with a large lace, it is possible for you to trim it back later while with a small one this is not possible. It is very hard to find a vendor who accepts wig returns especially if you have cut the lace.
The Choice of Wig Adhesive
A lace front wig is attached using an adhesive. There are two types: glue adhesives and tape adhesives.
Glue Adhesives
If you decide to use glue adhesive, you should know that there are different types of glue. For instance, there are sweat resistant glues which are good for applying wigs worn by women whose heads tend to sweat or who like exercise or participate in sports. There are other glues favoured by women who like to swim. Basically, the choice of glue adhesive comes down to the wearer's lifestyle.
Tape Adhesives
Tape adhesive is very easy to use. There are women who prefer to attach their wigs by using the tape at the back and glue at the front. However, the best method for securing a wig is to have both tape and glue at the back so as to strengthen the bond. Most adhesive manufacturers claim that their products can retain their adhesion for many weeks. This is not true as most of them last for only a couple of days. So it is advised that you test various brands adhesives until you are able to find one that is right for you.
After doing all that, you should go ahead and apply the glue onto the appropriate areas. Allow it to dry and then place the wig on the head. If you do not allow the glue to dry, your wig won't secure properly, hence at some point it may slide from the forehead.
Preparing the Scalp Before Application
Lace front wigs are applied using adhesives. To ensure that this works out well, it is important that you prepare the area surrounding your hairline properly. This is because adhesives are not effective on skins that are very oily. Apart from removing skin oils, washing this area also removes dirt and ensures that the adhesive work properly to secure the wig to the head. Make sure to use something like cotton to wipe the area. This helps in preventing the liquid soap from flowing into your eyes. After cleaning the area, take a scalp protector and place it where you want to apply the lace front wig. The scalp protector and the adhesives can be purchased together with the wig.
Applying the Lace Front Wig
The next step is to apply the adhesive. It is not an easy thing to do especially for those who are doing it for the first time. Therefore, if you want to have a perfect hairstyle, you should ensure that you don't get frustrated with this no matter how many times you have to repeat it.
Place the Wig on the Head
Carefully place the wig on your head. Use hair clips to keep stray hairs away from the glue. Press the lace so as to ensure makes proper contact with the glue. Do not use your fingers when securing the lace front wig. This is because the oils on your fingers will affect how the adhesive dries. To avoid using your fingers, tap the wig down, then get a small comb or something similar and use it for pressing all around the wig until you get all the areas. Ensure that you handle the lace wig carefully, otherwise you may end up ripping it. After doing that, take a look at the lace and make sure that none of it is lifting up. If a piece of lace is lifting up, you should add a small amount of glue using a cotton bud and then allow the adhesive to dry.
Allow the Adhesive to Dry
Now that you have the wig properly fixed on to your head, you should not be tempted to comb it. Most adhesives (both glue and tape) require about two to four days for them to completely set and for them to withstand pulling. Therefore, if you want your wig to remain secure for as long as possible, give the adhesive enough time to dry. Do not allow adhesive glue to get to your real hair. Never allow oil to get to the lace because it weakens adhesion. Adhesives normally require a special solvent to remove it. It is important for you to follow all the instructions that come with the lace front wig. Doing ensures you to avoid tangling and shedding.
How to Find Lace Front Wigs on eBay
The online marketplace, eBay offers visitors a diverse selection of natural and synthetic lace front wigs, as well as the materials required to attach the wig at home. To begin a search for a wig on eBay, simply enter a basic description of the wig into the search bar on the eBay home page. The more specific your search query, the fewer the results, but the more focused your search will be. If you just wish to browse the listings, simply enter a generic search query like 'lace front wigs' into the search bar. You can then sort the listings by selecting search filters. These allow you to sort the results by the nature of the hair (real remy hair or synthetic hair), the colour, the texture, and the length.
To save on postage, you should do business with a seller who is willing to bundle the wig and application materials together so you don't have to buy the wig from one seller and the wig adhesives from another. Always make sure to enquire about a seller's individual exchange or returns policy before you commit to buying the wig. Ask the seller if they will be willing to take back the wig should it turn out not to be the right shade. Remember that a seller is unlikely to take back a wig if you have trimmed the hair or the lace on the wig.
Conclusion
Lace front wigs are very popular. They are easy to use, affordable, and exist in various styles, sizes, and colours. They enhance a person's appearance and anyone can apply them, including those who are new to wig application. These wigs are the best types of wigs because the wearer's hairline becomes invisible. This is a wig that is undetectable and has a natural look. Lace front wigs used to be very hard to find when they first hit the market, but they are now available for sale on eBay.
You don't always require the services of a professional hairdresser to apply a lace front wig. You can do it yourself. Make sure that you buy a wig that fits properly and that you have assembled all the necessary application materials. Most women who wear lace front wig opt to secure the wig to the head using a combination of wig glue and tape adhesives. Before applying the wig it may be necessary to trim the lace base. Initially, you should take a conservative approach when trimming the wig until you become more confident. Women will find lace front wigs in every style and every colour on eBay.