Authenticating a vintage invoice can add to its value, whether monetary or personal. A variety of vintage invoices is available on eBay. To authenticate an invoice in your collection or for sale, establish its provenance, research its origin, or turn to a professional authenticator.
Establishing the Provenance of a Vintage Invoice

Provenance refers to the place of origin or the history of an item. To establish provenance, you need to find out where the old invoice came from or who owned it previously and how it came into the person's possession. Ask the seller about the history of the invoice and use the information the person provides to carry out additional research. With a vintage invoice, the item may form part of a collection from an estate, keepsakes, or business documents. If the seller cannot give you with adequate information about the document, research its origin based on the information it includes.
Researching the Origin of a Vintage Invoice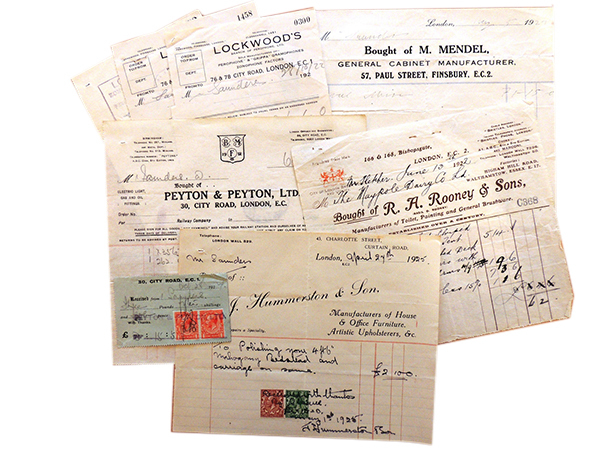 An old invoice or vintage receipt typically reflects a date, location, business name, products or services sold, and a buyer's name. This information should be enough to trace its origin. Use back issues of newspapers, online message boards and forums, and local historical societies to establish the history of the business. The internet is an invaluable tool when it comes to this type of research, and you may be able to find all you need online. Visually assess the age and condition of the invoice. Indications of age, such as paper discolouration, old printing and writing styles, and the currency used in the transaction can help you narrow the era in which the business issued the invoice. If you cannot authenticate the invoice through research, consider using a professional valuation service.
Using Professional Vintage Invoice Authentication Services
Numerous authentication services in the United Kingdom specialise in authenticating antique documents, old receipts, and vintage paper ephemera. However, vintage invoices and receipts seldom carry a high monetary value, and you must consider the cost of authentication when using professional services. Because many vintage invoices sell for only a few pounds, professional authentication, which can be expensive, does not make sense. If the item is valuable to you for personal reasons, such as reflecting a transaction involving a family member, consider using a professional service. Search for a service that offers good value for money or visit a local antiques dealer for a referral.