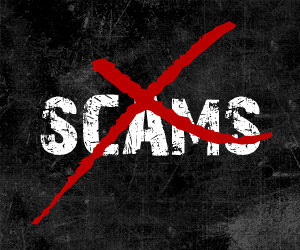 With an ever-growing market in fake goods and quick moneymaking, it is understandable that some people have reservations about shopping online. Some people would rather not have to worry, and will pay more in bricks and mortar stores than take a risk paying for something online.
As a seller with almost solely branded products, one of the main questions we get are a variation of:
'Is this real?'
There is no point in being dishonest as an eBay seller. It doesn't get you anywhere, and if reported enough times to eBay, you can be banned from selling. When they ban you, there really is no second chance.
If you believe you have been lied to or that the item is not as described, eBay has policies in place and will help you communicate with the seller in order to resolve the issue.
If you message the seller, they should have no problem answering your questions honestly and respectfully.
It can almost seem too good to be true when you find what you've been looking for at half the price that the shops in town are selling it for. Why should you trust somebody on the other side of a computer? What if they don't send your item?
There are ways to tell if an item is part of a scam, and if a seller is reputable:
Look at the seller's feedback. Not only to check their reviews, but also to see the date that the business was set up. This is at the top of the feedback page, under their username. If they have just joined and you're not sure about them, maybe wait to purchase. If they have been there since 2005, they are not likely to be disappearing any time soon. This is not to say that new sellers don't deserve a chance. They are put through checks in order to sell on eBay, and have to build some feedback before being able to sell.


Check where the item is being sent from. Often, items from places like Hong Kong will be replicas. They have some great items, and will safely send orders, but are not likely to have branded items for sale.


If the seller only accepts cards or money transfers, this can be suspicious. Paypal is the safest way to pay online, especially on eBay. You can request a different type of payment with the seller, but at least check that they accept Paypal.


Only communicate via eBay messages. Initial contact and any links should always be sent via eBay messages and not to your email address.


Ask them a question if you are worried. An honest seller won't mind and won't be offended. In fact, it is quite nice when a customer thinks your item is too good to be true. The seller will reassure you.


If an item really seems too good to be true, it probably is. If something worth £200 is listed for £20, it is unlikely that this item is in perfect condition. Ask the seller before making your purchase.
Don't forget, eBay customer service will help if you have any issues after the sale has been completed. If the item does not arrive, or arrives damaged, you have rights and ca deal directly with the seller. If the seller does not respond helpfully, you can contact eBay who will read through messages (another reason to keep contact limited to eBay itself) and help you with your problem.