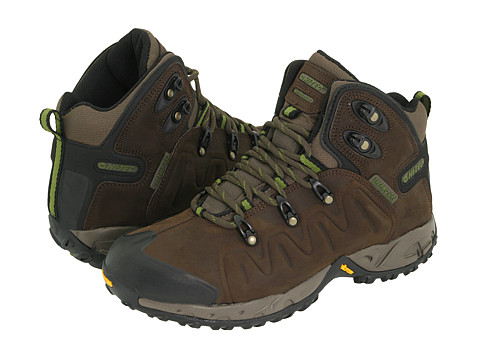 Hiking is a country pursuit that can be enjoyed by people from all lifestyles, and is a means of which to allow walkers make the most of a rural setting.
Choosing the correct clothing, equipment, and footwear is crucial to a worthwhile experience whilst out walking, and eBay has large numbers of specialist hiking boots of all styles, sizes, and types, for sale at competitive prices.
Merely picking the right pair is only half the battle, as most specific hiking boots are particularly stiff when first purchased and require a sustained period of breaking in so they can be utilised correctly.
The guide below explains the best way to go about breaking in a pair of hiking boots, and how to buy them safely and securely using eBay's auction site.
Different Types of Hiking Footwear
Participants use hiking boots in order to give comfort whilst walking over the rocky and rugged terrain, which is usually found on specialist hiking routes.
There are three main types of hiking footwear available and choosing one of them is an excellent starting point. The table below explains the main characteristics that mark out each type:
Footwear Type

Characteristics

Boots

· Most heavy duty of all types of hiking footwear are boots

· Allows users to walk over heavier terrain for a longer period and gives better protection against the elements.

· Higher lacing means that less rain, water and mud will get on socks.

Shoes

· Lower cut footwear that many people buy to feel more comfortable.

· Hiking shoes are suitable for conditions when weather is less harsh.

· Don't provide a lot of protection when walking through deep mud.

Trainers

· Heavy-duty trainers that aren't particularly good for long hiking expeditions.

· Footwear is lightweight and more suitable for everyday use rather than hikes.

· Only likely to provide minimal protection against the elements.
Size of Hiking Boots
Once the pair of boots has been decided upon, it's important to make sure the size is correct.
Hiking boots come in both male and female sizes with all of the normal sizing conventions in place.
One thing to take into consideration is that thick socks tend to be worn with hiking boots and it means a larger size may need to be purchased as a result.
How to Break-In Hiking Boots
It's recommended that hiking boots be bought quite a while before a planned expedition in order that they be broken in and completely ready for the planned trek.
The following headings outline the process that must be carried out when breaking-in hiking boots.
1. Make Sure They Fit
Before any breaking-in takes place the buyer must make sure the boots fit properly.
Most hiking boots will stretch whilst being broken in, although it won't be sufficient enough to turn an ill-fitting pair of boots into some that fit like a glove.
2. Start Indoors
Walk around the house for short periods whilst wearing the hiking boots in order to start the breaking-in process.
Wear the socks that will be on your feet when hiking.
Tie the boots up as tight as is comfortable.
Make sure the tongue and gusset is lined up straight and correctly.
Folds and creases formed at this point will stay there for the life of the boot.
3. Get Outdoors
Once the boots start to feel less stiff don't be afraid to go on longer journeys.
Now's the time to start wearing your hiking boots for journeys to the local shops, gym or anywhere else within a sensible walking distance.
Increase the distance being covered gradually.
If completely comfortable with the boots start to carry some weight on your back until you reach a realistic level of luggage that would be taken on a hike.
4. Work on the Sole
All hiking boots will need to have the soles loosened while being broken in.
During the breaking-in process, hold the sole in your hands and bend the sole backwards and forwards gently.
It's imperative to do this gently as being rough will damage the sole of the boot and make the boots useless.
A stiff sole will cause both blisters and sore feet, and loosening them before hiking makes sure this doesn't happen.
5. Remember…
If at any time the boots start to rub or give you blisters, take them off immediately and rest for a day or two.
It's nothing to worry massively about but making sure your foot is no longer in the boot will prevent any worse problems taking place.
Also, be sure to refer to the instructions for each individual pair of boots and see what they say regarding breaking-in.
Other Equipment Needed When Hiking
Making the most out of a hiking expedition means buying the correct equipment for both the conditions and length of the trip.
The table below looks at some of the other equipment required, with an explanation alongside each.
Item

Details

Rucksack

Must be comfortable, provide enough support and be able to carry all of the equipment required for the trip.

Torches & Lamps

Very important if hiking at night or going away for a number of days.

Make sure the torches & lamps work before starting an expedition and that they have sufficient power.

Walking Sticks & Poles

Help all hikers to navigate challenging terrain.

Spare Laces

If laces on a pair of hiking boots break then a spare pair will make it easy to have the boots back in action.

Compasses

Combined with a map this will help hikers navigate their way around an unfamiliar area.

First Aid Kit

One of the essential pieces of kit that is required on any expedition.

Water Bottles

Buy a sturdy water bottle or carrier to make sure hydration is kept up.

Maps and Map Covers

Challenging conditions are likely to mean a map cover is required.

Fleece

Helps hikers to keep warm in certain conditions.

Hats & Headwear

If hiking in mountainous areas protective headwear will be needed.

Jackets & Waterproofs

In the winter these are an essential piece of kit.

Socks

Always carry spare pairs of socks in case holes occur.

Sunglasses

Even in the winter these can be useful to help shield the eyes from glare.

Trousers, T-Shirts, Tops, Jumpers & Shorts

Recommended that hikers carry spare pairs of each just in case the weather is particularly bad.

Tent

A tent will only be needed if the hike is lasting over a number of days.
How to Buy Hiking Boots on eBay
Hiking boots are an essential part of any experienced walker's array of equipment, and will prevent blisters and other small injuries from derailing their hiking experience.
eBay is home to an extensive collection of hiking boots, and also the various pieces of equipment that are required to make an expedition worthwhile. The site's sellers are on hand to make it easier than ever to buy the items and are experienced enough to help find the right pair of boots for every buyer's requirements.
To find hiking boots on eBay, go to the Sporting Goods category from the home page.
Scroll down until you reach Hiking and click through to the next page.
From the left hand side of the page select Boots & Shoes, and from the Sub-Type list on the left opt for Boots.
This will give the buyer a list of every pair of hiking boots on eBay.
To narrow things down a little bit further, use the parameters on the left hand side that allows the buyer to see the results according to 'Gender', 'Brand', 'Size', 'Colour', 'Sport' and 'Condition'.
If the buyer has a good idea of the exact pair of boots that are required, the site's search facility can be a better way to find what is needed. Simply type search terms into the bar present at the top of any eBay page and click search. It can be narrowed down further by using the drop down list to the right of the search bar.
Before making a purchase be sure to check the seller's credentials in order to make sure they are legitimate. eBay makes this an easy process by providing a transaction history for anyone that has ever sold anything on the site.
Looking through the seller's transaction history for negative feedback will give a good idea of how reliable they are. If there is too much of this, it's worth asking them more questions about a product before making a bid.
Once happy with an item, make a 'Bid', place your 'Best Offer' or choose to 'Buy It Now'.
Conclusion
Hiking is an outdoor activity that makes the most of the United Kingdom's natural beauty, and keeps the walker healthy and fit at the same time.
eBay is home to thousands of different pairs of hiking boots with the site's group of knowledgeable sellers on hand to help buyers along every step of the process.
Before wearing them, it's imperative to break them in correctly, something that is explained in detail in the above guide.
Once a pair is properly broken-in then the hiking experience will gain tracks, and the boots will provide comfort and support for many years to come.