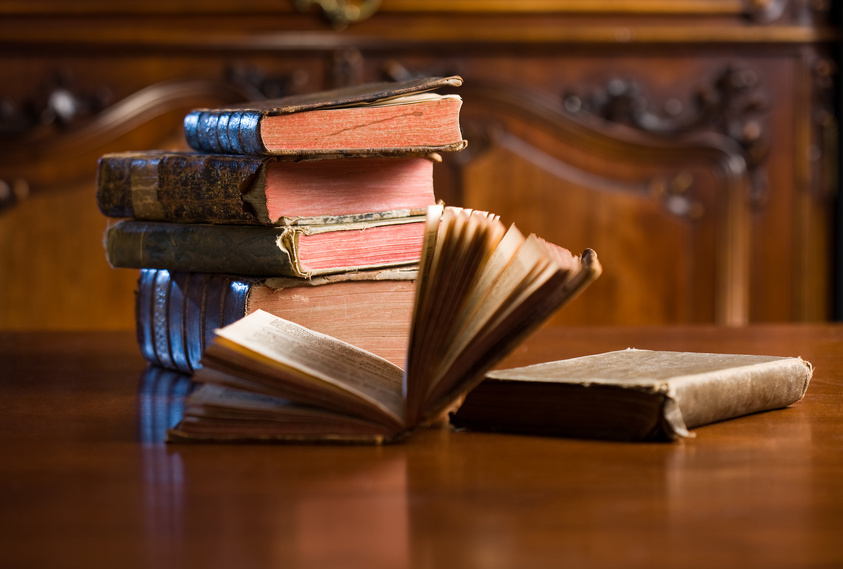 Books are valuable even in the digital age as they carry a certain aura of history and many people prefer to read an actual paper book instead of straining their eyes with an e-reader. Some older books are rare and thus valuable for collectors. Do your research before starting a rare book collection in order to know what to consider when on your book treasure hunt.
Know the Book Formats

When purchasing rare books, pay attention to their format. You can even opt for a certain format to collect. The format refers to the physical book's dimensions and shape. Many rare booksellers use abbreviations when talking about the format. The creator of a folio book folded the paper once, resulting in two leaves. In a quarto, the creator folded the original paper twice, resulting in four leaves. The more folding the paper goes through, the smaller the final format is.
Study the Binding Types

The binding describes the material that makes up the covers of the book. Cloths, hides, paper, metals, and other materials could form a book's binding. Bear in mind that original bindings are typically more valuable than replacements. However, if a notable bookbinder has re-bound the book, the book could become rare and collectible due to the new binding.
Binding Type

Features

Original cloth

Began around 1830s as an alternative to plain boards

Inexpensive way to bind personal books

Dust jacket

Paper covering around the boards of a book

From late 1800s

Original board

Mainly for books from 1700s to 1830s

Very plain, but extremely rare

Original wrapper

Paper board

Mainly in the 18th century for slim volumes

Calf hide

Most common form of leather binding

Smooth surface with no identifiable grain

Naturally light brown, but treating results in various colours

Morocco

From early 16th century

Goat skin dyed with strong colours, durable

Metallic

Special editions with gems, exotic skins, and metals

Cosway

Includes a small portrait on the cover

Roan

Thin sheepskin, a substitute for Morocco

Vellum

Lamb, goat, or other skins

Skiver

Cheapest leather
You can choose to build your collection of rare books around antique books with a certain type of binding.
Determining a Book Collection Theme
The world of books is endless and therefore it is reasonable to build your collection around a certain theme. You should love the type of books you are collecting. Consider collecting old books from your favourite author, a particular country, about a specific era, from a series, about a certain topic, from a specific small press, or from your childhood.