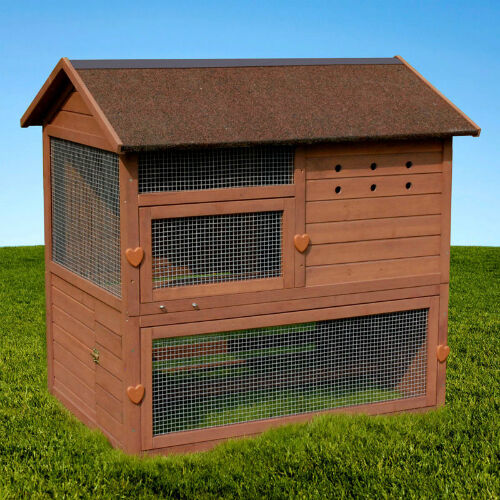 Introduction
A chicken coop can be a good investment which helps maintain your birds in peak condition, and provides a setting which stimulates healthy egg-laying. The kind of coop you decide to build depends on a number of factors including the ground area you have available, and the number of chickens you want to keep. This eBay guide considers these first before taking you through the process of building your own coop.
The Ground Area Available
If you live in an urban environment you're likely to have less room to house your chickens. For this reason, it would make sense to build a compact coop i.e. one which doesn't include an integral chicken run.
You would need to build a separate moveable unit so that the feeding area can be rotated. With urban sites, protective fencing around the coop is not such a priority provided there is no risk from neighbourhood foxes.
If you live in a rural area you may have enough land to create a permanent run. For this you would need to build an enclosure with sturdy fence posts and mesh fencing, dug-in to prevent burrowing by foxes or other vermin. Electric fencing may also be worth considering. Although this is more costly, it is both highly efficient and easy to install.
If you're thinking about a smaller area, you may want to build an integrated coop combining indoor and outdoor areas in the same structure.
The Number of Chickens You Want to Keep
The size of the coop is obviously determined by the number of chickens you want to keep and there is a formula for working this out.
For average-sized hens you need to allow a minimum floor area of one square foot per bird.
For larger birds, for example Orpingtons & Wyandottes, allow 50% more space.
However, for various reasons, it's better to buy a larger unit than these calculations might suggest.
First of all, chickens sometimes need to be spaced out to allow for any animosity leading to pecking attacks.
Secondly, you may want more chickens in future or they may be gifted to you by friends and relatives.
Whatever the situation, try and avoid overcrowding at all costs. If you're building a separate chicken run, you should also allow up to four square feet per bird.
Design and Materials
There are some basic variations in design and materials. Coops are either self-contained i.e. include a run area within the structure, or are formed from two units:
a chicken house and
a moveable run
The choice you make will largely depend on the ground area you have available, as discussed above. If you're building your own coop, wood and wire mesh will be the essential materials.
Building a Wooden Coop
Traditional wooden coops have many advantages, depending of course on the quality of materials used in their construction. These are as follows:
Wood breathes, moves with the seasons and is better suited to extreme temperatures because of the natural ventilation it provides.
This also minimises the risk of suffocation in the summer or frost damage in the winter.
A wooden coop will not be prone to condensation as a plastic coop might be.
To be fit for purpose, the best wooden coops are built from timber with a minimum thickness of 19mm and formed into solid, pressure treated tongued & grooved interlocking boards.
Thinner boards may weaken the structure of the coop and could affect the way doors open and close.
Roofing should be made of wood, corrugated steel or onduline rather than felt, which can create a breeding ground for red mites. Chicken droppings release ammonia which should be cleared by airflow though the coop. This can be achieved with a combination of low-level inlets and high level vents. The inlets should covered by mesh to keep predators out.
The Building Process
Before you start building the coop, make sure there are no local planning issues. Decide on the best time of year - ideally Spring or Summer for better weather and more daylight hours to help you complete the project as quickly as possible. Work out how much space you need based on the intended number of chickens (see above). Select an appropriate design which you should be able to find online. List and order the materials you will need. These include:
Wooden battens plywood
Roofing timber
Chicken wire
Fixings
Paint
Preservatives
To save time, you can ask the supplier to cut wood to length.
To save costs, try sourcing re-cycled material.
Allow for additional inventory if you're also creating a chicken run.
Work out a construction sequence such as frame, sides, roof, floor and door(s).
Allow additional time if you're also planning to make the accessories (see the paragraph below). Enlist help to work with you throughout the construction process; preferably at least one other person.
Make sure you have the necessary tools including:-
Power saw
Hand saw
Power drill
Hammer
Knife
Tape measure
Don't forget the essential safety items such as:-
Goggles
Mask
Hearing protection
Hard hat
Proceed carefully, not forgetting the old maxim 'measure twice, cut once'.
Essential Accessories
The main accessories you will need to build your coop are perches, nest boxes and dropping boards. Perches (for sleeping) should be 4cm to 5cm wide and 30cm in length per average-sized hen. They should be built say 30cm from the ground or arranged in a ladder formation. Allow some extra overall length to cope with any birds that need more space.
Nest boxes (for egg laying) should be situated below the height of the perches so that the birds don't roost in them or foul them. Ideally they should be positioned in the darkest area of the coop for privacy & undisturbed egg-laying. Nest boxes should include a lid to the outside so that the eggs can be easily collected. You need to collect and empty droppings. One option is a removable droppings board or you could make use of old food sacks and newspapers. Whatever base you use should be layered with straw or woodchip.
How to Buy Used Chicken Coops or Materials on eBay
Now that you know which chicken coop or which materials you want you can find them quickly and easily on eBay. To start shopping, go to the Pet Supplies category then the Poultry/ Hatching/ Incubation portal. Click on the Chicken Houses sub-category portal.
While you shop, don't forget Hatching Eggs, Incubation, Chicken Houses, Dishes & Feeders, Grooming & Healthcare and Food.
Categories
The Categories list on the left side of each page will help you narrow down your listings by item type.
Product Finder
Use the Product Finder to quickly narrow down item listings by brand, model and condition (new or used).
Keyword Search
Search eBay listing titles for specific words. For example, if you want to find a Used Chicken Coop, type the keywords "Chicken Coop Used" (without quotation marks) into the Search box. Click, "Search title and description" to expand your results. Visit eBay's Search Tips page for more tips on searching with keywords.
If you can't find exactly what you want, try browsing eBay Stores or tell the eBay Community what you're looking for by creating a post on Want It Now, or save a search on My eBay and eBay will email you when a matching item becomes available.
Buy Chicken Coops with Confidence
Make sure that you know exactly what you're buying and understand how eBay and PayPal protect you.
Know Your Item
Read the details in the item listing carefully.
Remember to add delivery costs to your final price. If you're buying a high value item, check that the seller will insure it until it is delivered to you.
If you want more information, click the "Ask seller a question" button on the seller's profile or the "Ask a question" link at the bottom of the item listing page.
Always complete your transaction on eBay (with a bid, Buy it Now or Best Offer) otherwise you will not be covered by eBay Buyer Protection.
Never pay for your eBay item using an instant cash wire transfer service like Western Union or MoneyGram. These are not safe ways of paying someone you do not know.

Know Your Seller

Research your seller so that you feel safe and positive about every transaction.

What is the seller's Feedback rating?
How many transactions have they completed?
How many positive responses do they have?
What do buyers say in their Feedback?
Are they positive about the seller?

Most top eBay sellers operate like retail shops and have a returns policy.

Do they offer a money-back guarantee?
What are their terms and conditions?

Buyer Protection

In the very unlikely event that you do not receive your item or it is not as described, eBay Buyer Protection covers your purchase price plus original delivery cost.