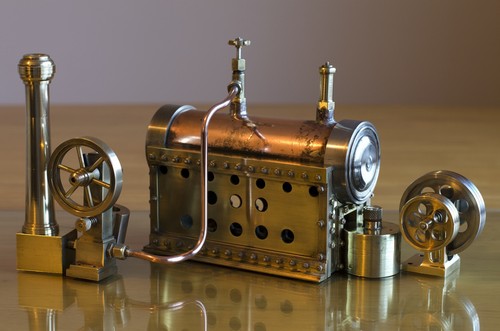 The first working model steam trains appeared in the late nineteenth century and captivated children's attention at the time. They were initially powered by wind up mechanisms. Little did the manufacturers know what they were laying the foundations for at the time.
Since those days the popularity of model steam trains has grown and it is now the premiere product of the model community. It's this popularity that has opened doors to an array of manufacturers to start producing steam engine kits..
Model steam trains have expanded as a product to the point in which they are a genre unto themselves. eBay prides itself of providing model steam engine kits from all the industry's top brands.
Types of Model Steam Train Kits
Premade steam engines are commonplace but many hobby train enthusiasts opt to build their own engines from scratch. The satisfaction someone can get from running a model train of a self-constructed steam engine is unrivalled. For those looking to pursue this there are two options available:
Individual Parts – Recommended for experienced steam train builders only. If someone chooses to build a model steam engine using individual parts they need to be diligent. Making sure what they've purchased is compatible is a must. Building a steam engine via such means allows for more versatility in terms of customisation.
Kits – The perfect choice for those new to steam engine building. Many manufacturers sell steam engines in kit form, which contain all the parts required to produce a functioning unit. Such method of building follows strict guidelines and doesn't offer much room for flexibility.
There are many interests when it comes steam engines, some will get great satisfaction from watching, altering or playing with them. However the true fun is surely found in creating an engine from scratch. All of the materials required to create a functioning steam train engine (including kits) are available on eBay.
Model Steam Engine Parts
The construction of a steam engine can be complicated so it's crucial to make sure that you have the right parts prior to building. Not having the right parts or leaving an engine half-finished will put it at risk of damage. The following parts make up a typical steam engine:
Steam Whistle
Pressure Gauge
Throttle
Water Gauge
Flywheel
Safety
Adjustable Steering
Boiler
Solid Fuel Burner
Building a steam engine is a delicate process and hobbyists can't go at it in haphazard manner. Pre-planning is part of the process, either create or borrow engine blueprints to provide a base guide. Adhering to manufacturers instructions is also advised.
If something doesn't make sense or doesn't work, don't force it and seek advice. Many steam engines have ended up either broken or part-finished because the wrong parts have been used or frustration with the building process has prevailed.
Building a model steam engine has a steep learning curve; this guide along with eBay can make the process enjoyable and educational.
Model Steam Engine Tools
The correct tools will convert a model steam train enthusiast into a model steam engine builder. Building a model steam engine brings the hobby full circle and gives a sense of self-satisfaction that can't be obtained by just using a train set. In order to make the jump from buyer to builder the right set of tools is required. Many tools are multi-functional when it comes to the construction process.
Pliers
Phillips-head Screwdriver
Soldering Iron
These tools may not be advanced but when used correctly are pivotal to the construction of a steam engine. Model steam train engineering is a fascinating experience and seeing a fully built engine up and running is a rewarding sight.
Model Steam Engine Precautions
Those new to model steam engine building should brace themselves for cut hands, splinters, burns and oil stains as they are almost unavoidable. This shouldn't deter individuals from taking on the challenge of building a model steam engine. However it should ensure that precautions are taken in order to keep mishaps to a minimum:
Place all parts on a rubber mat in order to nullify static.
Use rubber gloves in order to prevent possible static passing through the hands.
Keep parts separated in order to avoid confusion.
Work at a methodical pace and avoid rushing.
Rushing the building process can be genuine health hazard, in large part due to the fact that users will be working with sharp implements. Metal conducts electricity so placing items on carpet before or during installation can be also risky. Using rubber elements will help reduce the risk of static transferring into the engine. Taking precautions guarantee that the finished unit will be completed safely and be suitable for regular use.
Maintenance of a Model Steam Engine
The cylinder blocks inside of a steam engine are usually made from cast iron. It is important keep them lubricated both before and after use. Steam engines require a mechanical oil pump or users can opt to install a displacement lubricator. This will provide constant lubrication to the engine whilst the train is in motion.
Water that is left in the cylinders over a prolonged period of time will cause "pitting" and possibly rust. Rust is often irreparable and usually spells the end for a model steam engine. Injecting oil into the steam inlet pipe whilst the engine is running will help coat both the pistons and cylinders in oil. It is pivotal to pay attention to engine cylinders, valves and pistons as if faults set in they can be hard to undo.
When it comes to lubricant there are a variety of brands available for purchase. eBay has trusted sellers who are experts in the field, their advice can help shoppers make sure they buy the correct oil to match the steam engine owned.
Cleaning a Model Steam Engine
Steam engines contain a variety of parts most of which are made of different metals. This can make cleaning a nightmare if not approached correctly. Don't clean all parts in the same manner; doing so can be both hazardous and destructive. The type of materials that typically feature in a steam engine include:
Brass and Copper – The main requirement of these two metals is to remain shiny. Polish is recommended with various household brands being acceptable; those looking for a longer lasting shine will opt for metal polish cream. It can also be useful when tackling tougher stains. There is a lot of brass and copper featured in and around the engine so it best to avoid abrasive polish due to the nature of the product.
Steelwork and Iron – Rust occurs on these two metals more than any other featured in a steam engine. Cleaning these parts isn't complicated; simply use a rag to remove dirt. Then use a different rag to apply three-in-one oil to all parts. This will help them remain non-stick and prevent rust from setting in.
Aluminium – Found in older model steam engines. In order to keep this type of metal clean, avoid abrasive cleaning materials. Stick to warm chemical free liquids such as water and soap.
The aforementioned cleaning steps are far from complicated but crucial to maintaining the condition of a steam engine. Cosmetically keeping the engine dust free is another job that is understated; try to avoid using water during the cleaning process (unless on aluminium).
Doing so runs the risk of liquid getting stuck in hard to reach areas, when this happens rust is more likely to occur. eBay has specialist cleaning kits and individual tools available for purchase that will aid this process.
How to Build a Model Steam Engine Using eBay
Steam engines are a great way for a model train enthusiast to extend their interest in the field. eBay offers both individual parts and steam engine kits at affordable prices.
To start browsing what eBay sellers have on sale use the website's navigational tools on the left side of the page.
Enter the toys and games category then click on the steam sub-category. This will display all the auctions that are currently live.
When purchasing steam engine parts or a kit from eBay you'll need to submit a bid, make a best offer or complete an immediate purchase via the buy it now option. Steam engine parts are small and delicate so when purchasing shipping it's advised you purchased an insured courier service. Complete the checkout via PayPal to take advantage of the buyer protection policy.. This means that a buyer is covered should any problems arise with the transaction.
Conclusion
Steam engines are the core of the model train industry. They are required in order for model trains to function but users are no longer limited to steam engines that come pre-assembled from the manufacturer. The power has been placed back into the hands in the user as they can create an engine from scratch.
When approaching such a task it's important to take both care and consideration with what you're doing. If you feel ready to take the next step and start building your own steam engine, there is no better place to start than with eBay.
With an army of trusted sellers there to help guide shoppers, prospective steam engine buyers are sure to find the parts and tools they're after.