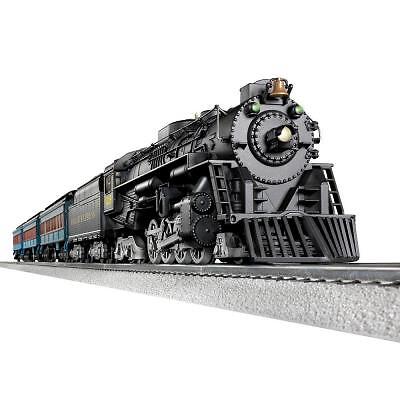 Among model enthusiasts there's not much that compares to building a to-scale Model Steam Train and as a hobby it's something that is enjoyed by various different generations.
Whether buyers are purchasing a first model or adding to a collection there is a great deal of customisation that comes with the hobby.
The following guide explains the basics of Model Steam Trains, how to choose the correct size and engine, and the best way to go about buying one safely and securely using eBay.
How Does a Steam Engine Work?
Before committing to a purchase and starting off what can be a rewarding hobby it's important to know how a Model Steam Train functions.
Model Steam Trains differ to other Model Trains as the engine produces steam and this comes from either the burning of fuel or is simply done to make the engine look more realistic.
To power the engine the chosen fuel, of which there are a number of different types, enters a burner inside the engine. The burner heats up a small boiler full of water and the by-product of this is the steam that flows from the chimney.
The heat given off by the boilers goes down a tube that powers a valve gear and the engine moves as a result. Now that the engine operation has been explained, the next thing is to outline the makeup of a Model Steam Train and why size matters so much.
When choosing to build a Model Steam Train there are two things that matter more than anything else – Scale and Gauge. Both are linked to each other and refer to the size of the train as well as where it will run and deciding on this will help the buyer to work out the model that is most appropriate.
Model Steam Train Scales
Relates to the size of the model when up against its real-life counterpart.The table below outlines the most popular scales with a brief description alongside each:
| Scale Size | Ratio | Description |
| --- | --- | --- |
| Z Scale | 1:220 | Smallest size available and best in small spaces. High level of detail. |
| N Scale | 1:160 | Bigger than Z Scale trains and much more detailed. |
| H0 Scale | 1:87 | Alongside 00 Scale trains these are the easiest to come across. More affordable as a result. |
| 00 Scale | 1:76 | Most popular scake in the UK as it is the one used by Hornby.. |
| S Scale | 1:64 | Larger than the previous sizes and needs a larger area to run in. |
| O Scale | 1:48 | Larger and less delicate and as such recommended for younger collectors. |
| G Scale | 1:22.5 | Biggest model grade scale available and can even be used to transport passengers. |














Gauges
The measurement between the two rails and extremely important when designed a train. If the track doesn't fit the train scale then models won't be able to run. Below the table outlines the gauges and their scale counterparts:
| Gauge | Scale Counterpart |
| --- | --- |
| 6.55mm (0.256 inch) | Z Scale |
| 9mm (0.354 inch) | N Scale |
| 16.5mm (0.650 inch) | H0 Scale |
| 16.5mm (0.650 inch) | 00 Scale |
| 22.5mm (0.886 inch) | S Scale |
| 32mm (1.260 inch) | O Scale |
| 45mm (1.772 inch) | G Scale |
Fuel
One of the most important decisions that has to be made when building a Model Train is what fuel will be the most appropriate. It will power the engine inside the body of the train and gives off realistic smoke. The most common types are listed in the table below:
Fuel Type

Description

Methylated Spirit

Choice of enthusiasts as it's realistic, affordable and easy to source.

Precautions must be taken because it's extremely flammable and is an irritant when it comes into contact with skin.

Sterno

Gel that was originally used in catering and is now being adopted by large numbers of Model Train enthusiasts.

Widely available.

Used by many as an alternative to methylated spirit.

Engine must be configured correctly in order to use it.

Solid Fuel

Comes in small paraffin tablets.

Imperative that it's kept dry at all times and it's recommended that owners keep it in an airtight container.

Regarded as one of the safest fuels available.

Produces a strong smell and should be used in an area that is well ventilated.

Gas

Small canister inside the engine that is specific to the model in question

Refillable using gas from DIY stores.

Runs for a long time and temperatures are simple to control.

Electricity

Used in normal models and is the safest method around.

Smoke created is the least realistic of all.
Assemble the Model Steam Train
Once a decision on scale, gauge and fuel has been made, it's time to think about how much time to spend on assembling the model. When shopping for Model Trains online, models are sold in various different states.
The table below explains the stages of assembly in more detail and what will have to be added to each one to make it function:
Assembly Level

Description

Kit Built

The model train came unassembled in a box and has been built using the instruction manual.

Spare parts can usually be sourced easily direct from the manufacturer of the kit.

Kit Unbuilt

Parts come in a box unassembled.

An instruction manual directs the buyer through the building process in minute detail.

Spare parts can be bought easily from the manufacturer if required.

Pre-Assembled

Assembled in advance and ready to use straight from the box.

Check with the seller to make sure parts can still be bought.

Scratch Built

Model has been constructed using parts bought from different places.

Level of customisation is very high.

Imperative to check with the seller to make sure parts can still be sourced for the model.
How to Build a Model Steam Train Using eBay
When buyers decide to start building their own model train there is plenty of choice on eBay when it comes to searching for those much sought after parts.
To search for Model Steam Train parts first go to the Toy & Games category. From there, go down the list of categories until reaching Steam and click on it. This will take you to the page listing all steam-powered products. Next click on Parts & Accessories under Product Type and it will bring up all the parts you can buy on eBay.
To narrow it down even further go to Sub-Type where it will give you the choice of individual parts for sale by themselves. From here you can choose from Steam, Engines, Wheels and a number of other different components.
Alternatively, if you know exactly what you're looking for then it could be a lot easier to find the desired item by searching for it by name. To do this use the search box at the top of any eBay page.
When looking through the Model Train parts make sure you are constantly reviewing everything that is available on the page and that it looks like what you want to buy.
If at any time you are unsure about specific details, Ask the Seller a question to find out more. Visiting the Buying Tips page will provide more valuable information.
Once the buyer has decided on an item they should make a bid, place a Best Offer or choose to Buy it Now.. Using PayPal will make sure the transaction is secure and goes through as smoothly as possible.
Safety Considerations When Buying
When buying any items from a seller on eBay you must take note of the individual person's transaction history, especially when it comes to item sales. Has there been negative feedback left on the profile? If so, why has it been left there? The majority of eBay sellers will have some feedback, and this should be analysed before making a purchase.
One thing to be wary of is if it's the first time they've sold an item of this nature and whether similar items have got neutral or negative feedback.
Read the conditions of sale a number of times and if there's anything you're unsure about Ask the Seller.
Conclusion
Model Steam Train building is a hobby that is embraced by enthusiasts the world over and is one that is easy for beginners to pick up. When buying parts that make up a model steam train remember to think about the following questions:
What scale and gauge does the train need to be?
Does the engine take the type of fuel that is being used?
Is the buyer aware of how much assembly is required?
This should then inform decisions on the right parts to buy and ultimately make sure the Model Steam Train runs as smoothly as possible.
The answers to these questions shouldn't constrain you whatsoever and if anything it will prompt the collector to delve further into the world of Model Steam Trains even further.
Once you do know the answers to those questions though, eBay is one of the best places to cater for all your Model Steam Train needs.
There are few other places that will get you a better deal and remember to use PayPal to pay for the transactions to make sure everything goes through smoothly.