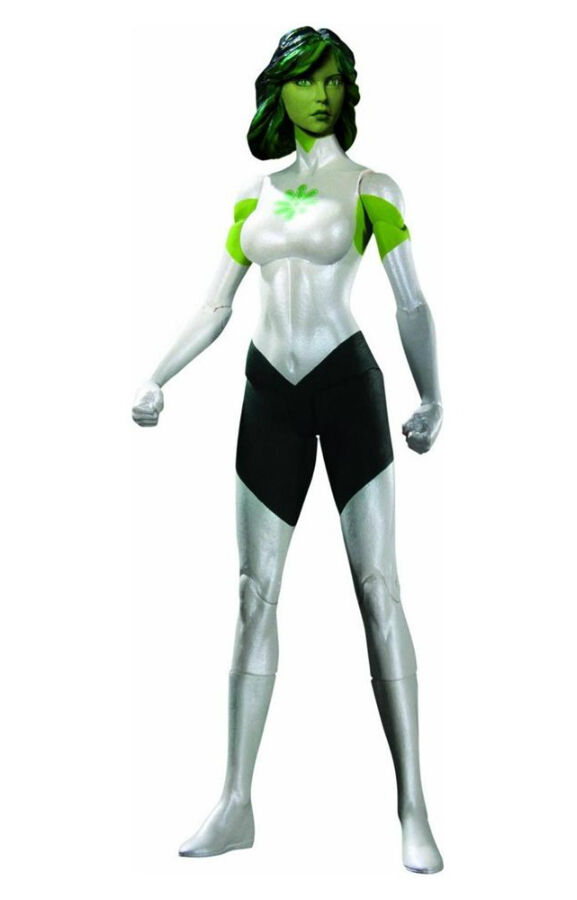 Spiderman, Batman, Transformers, Dr. Who, and The Simpsons; almost every successful movie and television franchise has inspired sets of action figures. On eBay they are bought mainly by or for children, but also by adults as a hobby. There are two main reasons why action figures are appealing.
Collectability Kids have a natural urge to collect. Because action figures are produced in groups of characters, they give children the excitement of building up and completing the set. That's why they are the most widely collected toys on the market. There are over 35,000 different action figures available, including rare ones which avid collectors buy and sell as investments.
Play Value Children can take out tiny replicas of well-loved characters and use them to re-enact scenes from favourite films or TV programmes, or invent new situations or even meet characters from other titles. Hermione Granger meets Wonder Woman? In a girl's imagination there's no reason why not.
These reasons make action figures a safe and fascinating choice for both girls and boys, either as surprise presents or to buy with them on eBay. Once the purchase is in a girl's hands, whoever has bought it or provided the pocket money has the satisfaction of knowing that playing with the action figures will take her away from the screen, albeit that the originals of the figures appear on the screen.
Action Figure or Doll?
Traditionally girls play with dolls and boys play with action figures. But isn't an action figure a kind of doll anyway? It's worth exploring the distinction when thinking about buying a gift for a girl, especially when deciding about Barbie.
Barbie is defined by the Oxford English Dictionary as "a doll representing a conventionally attractive young woman." Until her launch by Mattel in 1959 dolls were childlike or fairyland creatures which girls could look after. Barbie was something for them to look up to as a future role model, whether as a ballerina, businesswoman, nurse, teacher or rock star.
Barbie's successful career prompted Hasbro in 1964 to come up with an equivalent for boys - GI Joe. Like Barbie he was 11.5-inches tall, he could be bent and posed, and dressed in different garbs, but was he also a doll? Technically, yes, but knowing boys would have no time for anything called a 'doll'; the company marketed him as an "action figure." Thus a new species entered the toy world; "a character known for vigorous action such as a soldier or superhero (OED)".
Ten Top Collectible Action Figures for Girls
If fantasy and adventure are the key action figure themes, there is no reason to exclude girls from a whole range of movie and TV based action figure lines. Although no major action figure manufacturer has come up with a successful line specifically targeted at girls, many of the top series include female characters in leading roles – like Star Wars or Dr. Who - or they are female equivalents of the hero such as Supergirl. Here is a list of action figure lines with girl appeal, in no particular order.
1. Star Wars.
The Star War action figures followed the release of the blockbuster in 1977 and set the style for most action figures ever since. They were 3.75-inches in height and instead of being a single character with clothes that changed for different purposes (like Barbie), different sets of characters were introduced each with their own outfits. They were all bendable into different poses, so children could make them perform. The most popular of all action figures, Star Wars toys are still popular, including one of the leading characters, the powerful Princess Leia Organa.
2. Harry Potter
Written by a woman and earning the highest amount from any book or film series in history, Harry Potter has attracted a huge following from girls as well as boys – many of them now adult. The action figures based on the eight books and films have made a correspondingly high impact. Important female characters include Hermione Granger (at different ages), Ginny Weasley, Luna Lovegood and Bellatrix Lestrange. The figures are available in different sizes, individually and in film-related sets and backgrounds.
3. Toy Story:
What could be more natural for an action figure than a model of a character that was portrayed as a toy in the film original? Jessie the Cowgirl is one the leading characters. Like Buzz Lightyear, Woody, Slinky the Dog, Mr. Potato Head and Bullseye the horse and the others from Toy Story 3, she is fully interactive and talks. These figures are taller than most action figures and more expensive, too. But there are plenty of early versions in good condition to bid for or buy now on eBay.
4. Wonder Woman
Wonder Woman is arguably the best known super heroine in the world. She first appeared in DC Comics in 1944 and as a founder member of the Justice League TV series - along with Batman and Superman and others – she has no problem keeping up with the boys. She was one of the first action figures ever - made by Mego in 1976. Since then there have been dozens of different versions, including figures of her associates:
Amazonia
Circe
Katana
Cheetah.
The cult television programme has generated extraordinary characters for as long as parents and many grandparents can remember – at least since 1963. The first sequence of serials finished in 1989; another series began in 2005. As well as Dr. Who and his adversaries, notably the Daleks and the Cybermen – all of them have been represented by action figures. A constant element has been the Doctor's companions, usually young and female:
Rose (Billie Piper)
Amy Pond (Karen Gillan)
Clara Oswin Oswald (Jenna-Louise Coleman).
Around them girls can build their collections.
6. The Simpsons Gulp!
There are 203 different action figures representing characters in the TV animated cartoon series produced by Playmates Toys between 2000 and 2004. They appeal equally to girls and boys. Indeed, the female Simpsons – Marge, Lisa and Maggie – outnumber the males – Homer and Bart. The figures include different versions of the family members:
Officer Marge
Clobber Girl Lisa
New Year's Maggie.
There are also playsets with backgrounds to the figures, such as the High School Prom playset. No need to worry they'll become harder to find. McFarlane Toys have issued another series of famous scenes.
7. Lego:Lego.
Mini-figures are probably the world's smallest series of action figures that can be articulated (limbs posed in different positions). Name a TV or film series and there is a good chance it will have been shaped into brick form by Lego; from Mickey Mouse to Cat Woman, Harry Potter to Wonder Woman. They can be bought in packs of individual figures or as part of sets. This makes Mini-figuress the ideal gift for children who already have a passion for Lego and want to populate their constructions with great little figures
8. Skylanders
Video games play a big part in children's lives today. The difference with Skylanders is that it uses small action figures of cute, colourful fantasy characters to determine the part a player takes in the game. Place the figure on the Portal of Power and the figure's digital version pops up and gets going. Even children as young as four love to pop the characters in and out. It's a great game for parents or older brothers and sisters to play with youngsters.
This long running TV series features a team of athletic teenagers of both genders trained by a mentor to morph into Rangers, each with a colour-coded, battle suit, able to utilise special powers and pilot colossal assault machines called Zords to defeat evil forces that threaten humanity. For example in the original series Might Morphin Power Rangers (which morphed into a movie), alien wizard Zordon recruited "teenagers with attitude" to harness the power of Dinosaurs to overcome the forces of evil space alien Rita Repulsa. Like the Power Rangers themselves, TV series and films keep on coming.
10. Barbie:
When can Barbie be considered an action figure? The answer is, when she looks and acts like one. There is a whole series of Barbie figures in superhero/heroine mode. They are 1/6th scale, the tall end of action figures and include Barbie as:
Supergirl
Batgirl
Batgirl with a motorcycle
Wonder Woman
Poison Ivy
Catwoman
Lois Lane
Invisible Woman
Harley Quinn.
Together they make a formidable sisterhood.
ar
How to Choose
For action figure collectors the golden rule is never to take them "off the card", the cardboard backing on which they are enclosed in a see-through plastic bubble. Doing this devalues the figure quite a bit. But girls naturally want to remove the figure and play with it, sometimes using the backing as a stage set if it is designed as a scene. Of course, there is always the option of buying two – one to play with and one to display and keep as a collectible investment. But that would hardly be in the spirit of what action figures are made for – fun.
Buying Girls Action Figures on eBay
Now that you know which girls' action figures you want you can find them quickly and easily on eBay. To start shopping, go to the Sports and Leisure category. Click the Toys & Games then the Action Figures portal. Then select girls in the gender sub-section.
While shopping, don't forget Animals & Dinosaurs, Anime & Manga, Comic Book Heroes, Designer & Urban Vinyl, Fantasy, Historical Figures and Military & Adventure.
Categories
The Categories list on the left side of each page will help narrow down the listings by item type. There are links for themes such as: Wrestling ,Doctor Who ,Batman, Power Rangers, Action Man and Marvel Legends .
Product Finder
Use the Action Figure Finder to quickly narrow down item listings by brand, model and condition (new or used).
Keyword Search
Search eBay listing titles for specific words. For example, if looking to find New Action Figures, type the keywords "Action Figures New" (without quotation marks) into the Search box. Click, "Search title and description" to expand the results. Visit eBay's Search Tips page for more tips on searching with keywords.
If you can't find exactly what you want, try browsing eBay Stores or tell the eBay Community what you're looking for by creating a post on Want It Now, or save a search on My eBay and eBay will email you when a matching item becomes available.
Buy Girls Action Figures with Confidence
Make sure that to know exactly what you're buying and understand how eBay and PayPal protect you.
Know the Item
Read the details in the item listing carefully.
Remember to add delivery costs to final price. If buying a high value item, check that the seller will insure it until it is delivered.
For more information, click the "Ask seller a question" button on the seller's profile or the "Ask a question" link at the bottom of the item listing page.
Always complete a transaction on eBay (with a bid, Buy it Now or Best Offer) otherwise you will not be covered by eBay Buyer Protection.
Never pay for an eBay item using an instant cash wire transfer service like Western Union or MoneyGram. These are not safe ways of paying someone you do not know.

Know the Seller

Research the seller to feel safe and positive about every transaction.

What is the seller's Feedback rating?
How many transactions have they completed?
How many positive responses do they have?
What do buyers say in their Feedback?
Are they positive about the seller?

Most top eBay sellers operate like retail shops and have a returns policy.

Do they offer a money-back guarantee?
What are their terms and conditions?

Buyer Protection

In the very unlikely event that you do not receive your item or it is not as described, eBay Buyer Protection covers your purchase price plus original delivery cost.

Conclusion

Whilst the choice of action figures that appeal to girls is less than those aimed at boys, the situation is changing for the better. There are also brilliant examples of strong female characters in the ranks of action figures based on movies and T.V programmes of universal appeal. Give a girl a start at collecting and it can develop into a positive passion that solves the present problem for years.