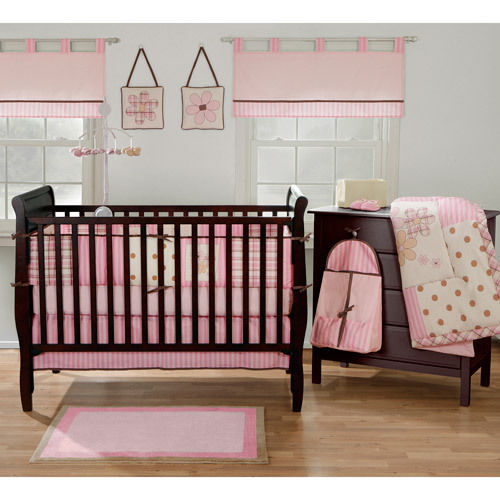 Having a baby is both a joyous and eventful occasion. Along with the excitement of bringing new life into the world comes a lot of responsibility, including preparing for the arrival of a newborn child. One area that parents often plan extensively is the nursery, where the baby spends a majority of his or her time. A major part of any nursery includes the bedding used to cover the baby's crib, both on the crib mattress and around the outside.
Decorative pillows and a window valance, as well as a nappy stack, represent other options that help a nursery come to life. Shoppers should also determine whether they want to purchase items separately from each other or buy them as sets. All of these items and more can be found at local retail or specialty stores, or online at eBay. But before buying any nursery bedding, become familiar with types of bedding and options to look for while shopping.
Types of Nursery Bedding
Nursery bedding comes in a variety of colours and patterns. Before buying nursery bedding, parents and caregivers should educate themselves on the different items that nurseries feature. The sections below describe different items that shoppers can buy for a baby nursery, including crib sheets, bumpers, skirts, and quilts, among many other items.
Crib Sheet
Crib sheets , the fitted sheet that fits over the crib mattress, come in a variety of colours and patterns. Shoppers should pick the crib sheet that best fits the motif of their nursery. Unlike bigger beds, crib sheets only come with a fitted sheet and not a flat sheet. This is mainly due to the suffocation hazards they pose to younger infants.
Crib Bumper
Crib bumpers tie around the inside of the crib and should only be used with older infants. Bumpers serve the purpose of preventing semi-mobile babies from getting their head caught between the bars of the crib.
Crib Skirt
A crib skirt, a decorative piece of fabric that ties around the crib below the mattress, serves the purpose of tying a crib's look and style in with the rest the room décor. It is also referred to as a dust ruffle.
Crib Quilt
A crib quilt acts as a decorative piece, at least until an infant is old enough to pull themselves up to stand. Once a child can do this, they are old enough to safely use a crib quilt as a blanket. A crib quilt also comes in handy for cribs that convert into a toddler bed as the infant grows, serving as a quilt for the converted bed.
Decorative Cushion
When buying nursery bedding sets, shoppers might find that they come with one or more decorative cushions. As the name implies, these cushions decorate a crib when a baby is not inside the crib. These cushions should be removed when parents place small, non-mobile babies into the crib, as they represent suffocation hazards.
Window Valance
A window valance helps in tying the entire nursery décor together. It serves as a dressing for the window and is a common item in many crib bedding sets. A window valance comes with a pattern that matches the rest of the set.
Nappy Stack
Nappy stacks come with most crib bedding sets. The nappy stack is designed to hang within the nursery and hold fresh and clean, easily accessible nappies. Nappy stacks come with a hanger on top that allows parents to anchor them within the room. Initially, parents can anchor the nappy stack to the changing table for easy access. Later, as babies grow, the stacks can be moved so the baby cannot reach them.
Nursery Bedding Options
When purchasing nursery bedding, shoppers have several options available to them. These options include whether to buy nursery bedding items as a set or individually, how many sets parents should buy, nursery bedding theme, the fabric used, and whether to buy organic or nonorganic material, among other considerations. The following sections cover these areas in more detail.
Singles and Sets of Nursery Bedding Items
When buying nursery bedding items, parents need to determine if they want to buy single nursery bedding items or a nursery bedding set. Parents on a budget should price sets compared to totalling up the price of individual items. They should also prioritise their shopping list and save decorative items, such as a crib skirt or window valance for later if necessary. Parents who already have children can just use some of the items they already have as opposed to buying new items and stick to purchasing single items instead.
First-time parents, on the other hand, might find a nursery bedding set is just what they need to establish a theme for their nursery. Depending on the size of the set, which usually run from a small 4-piece set to larger 13-piece or more set, parents can find get everything they need in either bedding sets or by purchasing items as they go.
The Rule of Three
What is the rule of three? When it comes to nursery bedding, parents should have on hand one item to use, one to wash, and one as a spare. This applies whether parents buy each item individually or as a set. One way of dealing with buying extras is to purchase a bedding set and then buy individual items, such as sheets and quilts, to acquire backups. That way, parents have the essentials, plus any extra items that they need to maintain their nursery and care for their children.
Themes
Parents typically have a theme picked out in advance of their baby's arrival. Most often this is dependent on the sex of a child. Buying a neutral theme provides one way to save money on nursery bedding and can assure its use with other children in the future. Not knowing the sex of the child provides another reason to go gender neutral with a bedding theme. The great thing about themes is that with the large amount of options available, shoppers can easily find a choice they love. Designs include floral, sports, and butterfly prints, as well as cartoon characters, animals, and more.
Nursery Bedding Fabric
Parents must also choose the fabric type that the nursery bedding, such as sheets, blankets, quilts, and crib bumpers, comes in. First, shoppers should buy sheets, blankets, and quilts according to the season. Cold weather calls for warmer blankets and quilts, while babies can get away with just using a sheet or lightweight blanket during the warmer summer months.
Organic vs. Non-Organic
Parents must also choose between using organic and non-organic materials. This is another area where shoppers can save money, as non-organic materials cost less than organic. Plus non-organic sheets, blankets, and quilts feature more choices when it comes to patterns and colours.
Safety
A final consideration when it comes to crib bumpers involves what type of materials that parents feel comfortable buying for their children. While many crib set bumpers are made of traditional, quilted material, a safer option involves using a mesh or other breathable fabric type instead. This allows the baby to breathe and still keep them from getting their heads stuck between the bars of a crib and choking. Even buying a crib sheet set, parents should buy a separate crib bumper of a material type that they find satisfactory for use with their child.
Find Affordable Bedding for a Nursery on eBay
If you have decided to purchase your nursery bedding online, visit the eBay marketplace for a variety of nursery bedding product options. Searching on eBay is easy and just requires site visitors to enter keywords into the search box located on any eBay page. Specific terms, such as 'Mamas and Papas nursery bedding set' or 'Disney Winnie the Pooh nursery bedding set', can narrow down the listings dramatically if parents already know what they want.
After viewing the list of product results, you can narrow the choices down even further with the various filters in order to zero on relevant listings. Also consider visiting eBay's Search Tips page for more advice on searching for nursery bedding and other products with keywords. And try searching specific eBay Stores for even more nursery products.
Buy Affordable Bedding for a Nursery Online With Confidence
Shopping on eBay allows for a quick and easy shopping experience. Begin by looking through applicable product listings, reading over product cost, item quality, sizes, colours, and any other important product details. Before buying any item, click the Ask a Question link on the seller's listing page to contact the seller directly. And do not forget to check the seller's feedback rating to make sure you are happy with their past sales performance as rated by other shoppers.
Conclusion
The importance of purchasing nursery bedding items that keep our young ones warm and dry cannot be overstated. Even more crucial for parents is that they should remember to make any items used by or around a child safe. This includes the sheets, blankets, and quilts used in a nursery, as infants remain vulnerable to suffocation hazards while sleeping.
One area of prime importance is the crib bumper. With Sudden Infant Death Syndrome, or SIDS, a major contributor to infant death, parents should make sure that any crib bumper bought complies with physician recommendations. These recommendations include using materials that are either a mesh or very breathable. This helps prevent infants from smothering if they find themselves up against the crib bumper. Even though crib bumpers can be dangerous, they still help keep the infant from getting their head stuck between the bars of the crib and choking. With the necessary considerations in mind, parents can easily find affordable nursery bedding on eBay.