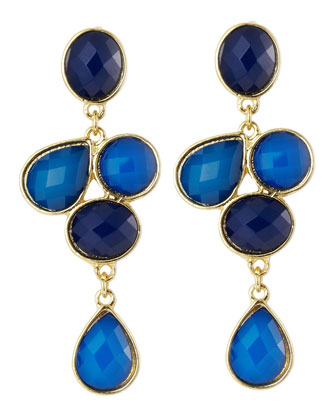 Jewellery stores can sometimes be a big letdown. There's a set of beautiful diamond drop earrings beckoning a customer from all the way across the store, but the price for that 18ct gold setting is just too high. However, there is no need to despair when it comes to buying a pair of affordable earrings. Websites like eBay sell many types of jewellery, including costume jewellery, that in many cases looks just as good as the real thing. Buyers who know what to look for, can even score a fantastic deal on buying a set of used earrings for less than the retail price. Being affordable does not mean the buyer has to be cheap, it simply means that he or she chooses to spend their money wisely. Learn how to evaluate earrings by their settings and gemstones in order to buy a pair of high-quality affordable earrings in the right style.
Earring Styles
There is no right or wrong style when it comes to earrings. While some women and men prefer a casual style for daily wear, other types are best suited for occasional wear to more formalised events. When choosing a pair of affordable earrings, think about how often they are going to be worn. Daily earrings need to be more durable than occasional earrings, and they should not be very heavy.
Studs
Studs are extremely light earrings that have a straight clasp. The front of the earring is adorned with either a single gemstone or a metal shape, and it is fastened directly into the ear. Their lightweight construction makes them a good choice for daily wear, but never underestimate the effect that a set of diamond stud earrings can have on a little black dress at any formal event.
Hoops
As their name suggests, hoop earrings look like small circles. Depending on their size and the metal used for them, hoop earrings can either be quite heavy or surprisingly light. Hoop earrings typically do not use any gemstones, focusing all attention on their metallic shape. Therefore, customers might want to spend a little bit of extra money on the grade of the metal when purchasing hoop earrings. They are more casual earrings, and are typically intended for daily use.
Drop
The drop style hangs down beneath the ear, usually displaying a gemstone in a fine setting. This is a formal earring style, and best used on occasion to give it the greatest impact. Because it is meant for parties and other events, many customers will spend slightly more on drop earrings than other styles.
Chandelier
The chandelier style hangs below the ear like drop earrings do. This style uses many different tiny metallic chains that drape down at different lengths, sometimes adorned with gemstones, making it look almost like a tiny chandelier. This style is most often seen with costume jewellery and is great for wearing for a night on the town. However, it is usually not a formal enough option to blend in well at black-tie events.
Affordable Gemstones in Earrings
Purchasing quality affordable earrings means getting the best value out of the gemstones used. Many incredibly cheap earrings use lab-produced gemstones like cubic zirconia, or coloured crystals. Cubic zirconia resembles diamonds, and coloured crystals look like rubies, emeralds or even sapphires, depending on their shade. However, these gemstones will never have the same value as natural gems. They are often found on costume jewellery, not in fine jewellery
Choosing Natural Gemstones
It is not impossible to purchase natural gemstones at an affordable price. Even natural diamonds can be affordable if a buyer knows how to shop. Most gemstones are priced based on their carat weight, though there are exceptions for some gems like diamonds. This simply means that larger gems are more expensive than smaller ones. Therefore, if a buyer wants a pair of ruby earrings, choosing a set made from 0.5ct rubies, instead of 1ct rubies, is a more affordable option.
Buying Affordable Diamonds
Diamonds have their own unique grading scale that measures brightness as well as overall size. The expensive diamonds are large and bright, while the cheapest ones are typically smaller and dull. However, this also leaves a vast middle ground full of diamonds varying in qualities. Some of these diamonds can be purchased for exceptional bargains with the right knowledge. Buyers can find diamonds of good value that have medium levels of cut, clarity, and colour ratings, in different carat weights. While these diamonds may not work for wedding rings, they look exceptional as earrings.
Affordable Earring Settings
Earring settings come in many different types of metal. Buyers can choose from common metals such as stainless steel or more precious metals like gold. There are even plated metals which have a thin coat of gold or silver over a common metal alloy. There are pros and cons to each of these types, making some more affordable than others.
Common Metals
By far, the most popular type of common metals used for earrings is stainless steel. There are several reasons that make stainless steel such a popular option, such as the fact that it is very strong, easy to keep clean, and quite affordable. Buyers who want stud earrings where the setting isn't going to be seen anyway, can get away with buying affordable earrings with nice gemstones in a stainless steel setting.
Cons of Common Metals
Some earrings use copper, bronze, and brass settings because of the lovely natural colour produced by these metals. However, those with nickel allergies, or anyone who has sensitive skin tends to have a reaction with copper, brass and bronze. Even those without sensitive skin find that these metals often discolour their skin, giving it a sickly green tone. It is best to keep them out of ear piercings altogether.
Precious Metals
The term precious metals encompasses any metal that is extremely rare and valuable. In the jewellery world this refers to gold, platinum, and silver. Silver is usually cheaper than gold or platinum, and customers can find high-grade sterling silver at a very affordable price. The prices of gold and platinum tend to fluctuate, and one may be higher than the other for a particular period of time. However, platinum is usually more expensive than gold because the earring is made out of almost pure platinum. The price of gold earrings varies depending on the carat weight. Lower carats gold, such as 9ct and 14ct are more affordable and durable than their higher carat counterparts.
Cons of Precious Metals
Despite its high price, gold tends to scratch very easily. Very high carat gold such as 22ct or 18ct does not work well for daily earrings. Silver, on the other hand, does not scratch but it does tarnish over time. Buying a high grade silver, either sterling or fine, helps prevent frequent tarnish, but the metal still needs regular cleaning. Platinum is more durable and does not tarnish, but it is also the most expensive option.
Plated Metals
Plated metals seem to fall in-between costume jewellery and fine jewellery. Most are made out of a cheap inner metal alloy, and then covered by a thin coat of precious metal. This makes the piece look more expensive than it really it, but there are not enough precious metals used to really inflate its price.
Cons of Plated Metals
The main issue with plated metals is that they are not very durable. After a while, the coat tends to peel away, revealing the metal alloy underneath. Therefore, they do not make good choices for daily earrings. However, they can work when only used for special occasions.
Buying Affordable Earrings on eBay
The wonderful thing about eBay, is that it is a search engine that allows customers to search and find affordable earrings based on their own individual criteria. This means that customers who are willing to spend more money on gemstones, but less on metal settings can easily find a pair of earrings that meets their needs. Frequently, buyers also come across pieces of used jewellery being sold well below retail value. This helps keep the cost of fine jewellery more affordable for everyone.
Searching for Affordable Earrings on eBay
Customers can start shopping for earrings by using the search engine. It is best to know what type of jewellery you want before your begin your search. For example, if you want a pair of chandelier earrings, then type 'chandelier earrings' into the search tab. You will get plenty of results that match your search, so you can now begin narrowing down the terms by metals, such as 'sterling silver chandelier earrings'. To reduce the results even further, you can search by gemstone. If you want real gems, try searching for 'pearl sterling silver chandelier earrings'. If real gems are too expensive, then search for 'imitation pearl sterling silver chandelier earrings' instead.
Buying Used Affordable Earrings on eBay
Buying used jewellery is ideal for any buyer who wants to save money and still get a high quality item. However, there are several things to watch out for when buying used jewellery. Always make sure that the item is what the seller says it is. This is particularly true of used fine jewellery. If a seller says that a pair of earrings are 18ct gold, then make sure there is a picture of the 18ct gold stamp on the earrings to serve as proof. Likewise, gemstones need to have verification that they are legitimate as well.
Conclusion
Shopping for affordable earrings does not mean that a customer has to shuffle through the bottom of the bin. In fact, many pieces of fine earrings are very affordable when bought through eBay, allowing owners to purchase valuable pieces of jewellery for reasonable prices. When it comes to selecting earrings based on affordability, buyers should evaluate what type of earrings they want, as well as how often they plan to wear them. Then they can start searching through different types of metals and gemstones to get the best pieces at the best prices. For example, when buying hoop earrings for daily use, customers should focus on high quality precious metals, not plated ones that cannot last too long, or common metals that lack lustre. By deciding what factors are important to the set of earrings, buyers can choose to spend their money on certain metals and gems that add value to the piece while staying within a budget.