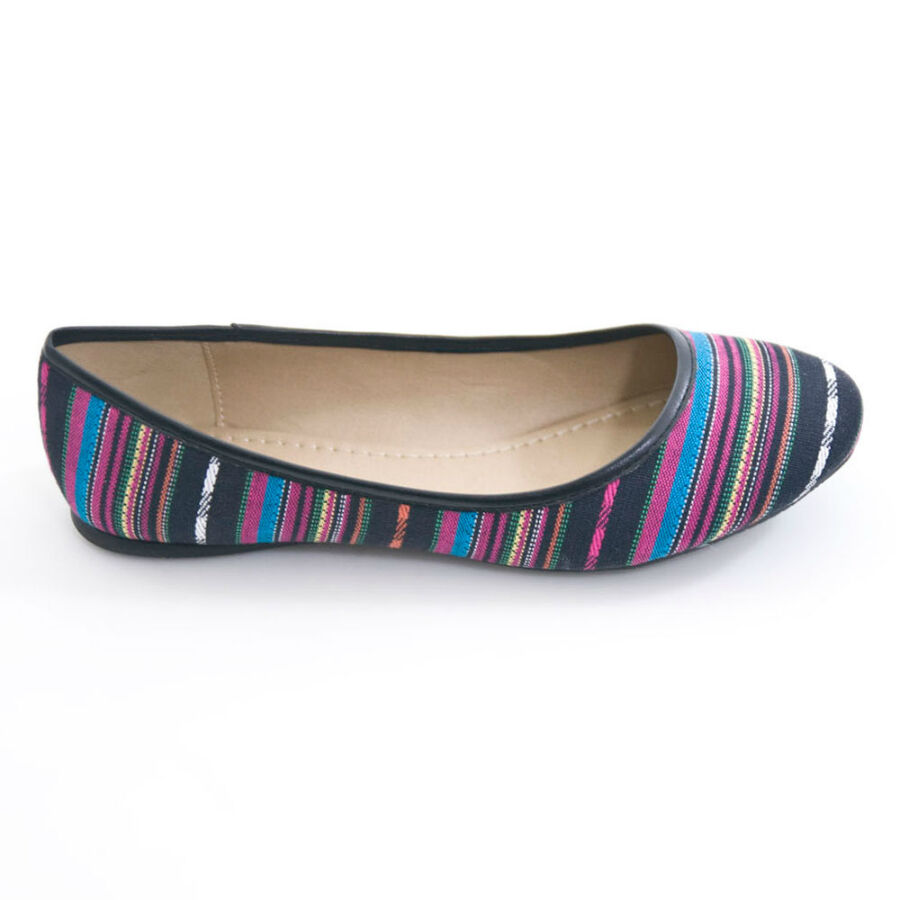 Affordable flats are an essential part of every woman's wardrobe. They are stylish footwear that can be worn throughout the day, or they can be a practical option to give respite to feet that have been encased in uncomfortable high heels. In the UK, the average cost of treatments for injuries caused by high heels is £29 million per year, so flats are not only practical and stylish, but they reduce the likelihood of bunions, trapped nerves, and sprained ankles after a nasty tumble from heels.
Flat shoes are suited for casual day wear, work, and formal events, and are available in a huge array of styles. Ballet pumps, foldable pumps, loafers, sling backs, and gladiator sandals are very popular. When buying a pair of affordable flats, shoppers should examine the shoes thoroughly, especially if they have been pre-owned, to make sure that the shoes are in a good condition and still have plenty of life left in them. Affordable flats can be found at discount shoe shops, charity shops, and department stores. Buyers can also find an array of affordable flats on eBay.
Types of Affordable Flats
Women's flat shoes are available in many different styles, from ballet pumps to sandals. So, there are plenty to choose from for even the most discerning fashionista. Shopping for flats on a budget can be a challenge, but it is still possible to find a broad selection of quality flat shoes at affordable prices once the features of the shoes have been understood.
Ballet Flats
Ballet flats are modelled on the shoes worn by ballerinas. Ballet pumps have a low heel, generally less than a centimetre, and are further characterised by a rounded toe. The upper, particularly around the toe, is often embellished with a small bow, sequins, or glitter. The greater the adornment, the more likely that the shoes will be appropriate for evening wear.
Ballet pumps can be made from a range of materials, but the most common are leather and canvas. Leather ballet flats are typically worn in either black or brown. Canvas ballet pumps are more affordable than leather and come in a large range of colours and prints, including checked, floral, or more elaborate patterns. Ballet pumps are much loved not only because of their affordability, but because they provide comfort, mould to the shape of the foot, and are versatile: they can be worn with jeans, skirts, or shorts, as well as more formal attire. They can take the wearer from the office to an evening out.
Foldable Flat Shoes
Foldable flats are usually foldable ballet pumps. They are ideal for women who need some relief from a long period of wearing high heels. They reduce discomfort for aching feet after a day in the office or a long night on the dance floor. They are inexpensive, making them affordable flats for those on a budget. Foldable flats either fold up or roll up, and come with a pouch or bag to stop the shoes from soiling the contents of a handbag. They are small enough to keep in a bag just in case they are needed.
Flat Loafers
Loafers, also known as penny loafers, are slip on shoes that are similar to moccassins. They often have tassels or a small piece of metal work with the manufacturer's logo across the top of the foot. Loafers are most commonly made from leather, faux leather, or suede. Although more expensive than ballet pumps and foldable shoes, loafers can be long lasting and can be found at reasonable prices.
Types of Affordable Sandals
Sandals are a great way to stay cool in the summer, whether walking on the beach or working in the city. There are a wide variety of sandals available that do not cost a fortune.
Slingback Sandals
Slingback sandals are favoured because the simple strap around the heel that keeps the shoe in place flatters the foot. Flat slingbacks in black or neutral tones can be purchased as day wear, and glitzy models are available for formal wear.
Gladiator Sandals
Gladiator sandals are inspired by the footwear of ancient Rome. They have a vertical strap that runs along the centre of the foot and several straps crossing the foot horizontally, sometimes reaching up to the ankle. Some models of gladiator sandals have straps that reach just below the knee and present a highly stylised look. Women commonly wear flat gladiator sandals with shorts or knee length skirts. Metallic or black styles can be worn as evening wear, and plain, more traditional styles, such as brown leather or rattan, can be worn as daywear. Gladiator sandals were originally a high fashion item, but have been made in more affordable versions by high street shops.
Buying Second Hand Shoes
Buying second hand shoes is a great way to obtain affordable, good quality flats. When looking for a pair of second hand flats, the buyer should check the condition of the shoes carefully. First check for scuff marks and damage on the tops and sides of the shoes. It is essential that buyers examine the soles thoroughly. While it is very likely that the soles of the shoes will show signs of wear, they should not be split, worn through completely, or showing an uneven tread on the heel: shoes that have been worn by someone else for a long period of time tend to mould to their foot shape, and this may be uncomfortable for a new wearer initially. Check the seams, stitching, and joints. Also check that any fastenings, such as buckles, can open and close easily. All embellishments such as bows and beads should be present, or easily replaceable. Make sure that there are no signs of the upper parting from the sole.
Sizing Affordable Flats
When buying affordable flats it is important to get the sizing right, as the main purpose of flats is to be comfortable. Shoes that are too tight nip and pinch, and are very uncomfortable. Too large, and the shoes will slip off, cause blisters, or pain on the sole of the foot because the shoe bends incorrectly when walking. Use the current known shoe size to translate between UK and European sizes in the table below.
| UK Size | European Size |
| --- | --- |
| 2 | 35 |
| 3 | 36 |
| 4 | 37 |
| 5 | 38 |
| 6 | 39 |
| 7 | 40 |
| 8 | 41 |
The table above shows the conversion between UK and European shoe sizes. With many shoes only showing one size, it is necessary to understand the comparison so that buyers can choose affordable flats easily.
Buying Affordable Flats on eBay
A vast selection of affordable flats can be found at eBay. eBay is a user-friendly website, selling women's flats in both new and used conditions. Buying second hand allows shoppers to have high street or designer flats at significantly reduced prices. All that buyers need to do is to perform a simple search from the eBay home page. Searching for a general term like, "ballet flats", provides a large number of results to browse through. A more specific search, such as "pink ballet flats size 5", results in fewer, more targeted listings. Whether buying new or used flats, shoppers should check the item listing thoroughly, to be fully informed about the product that they plan to purchase. Buyers should also check the returns policy of the seller in case the flats are unsuitable on arrival.
Checking the feedback score of the seller is an important part of the eBay process. Feedback scores demonstrate the reputation of the seller. Sellers with a high percentage of positive feedback consistently provide a high quality item, and a professional and efficient service. If buyers have any questions about the flats, then they can contact the seller easily using the "Ask a question" link. Most sellers are happy to respond to any questions quickly.
Conclusion
Many women experience some discomfort when wearing high heels for long periods of time, as they can cause aching feet and legs, as well as painful bunions and sprained ankles. To still maintain a comfortable, smart, and stylish look, women can purchase good quality flats. Flats are versatile, suited to day wear, work wear, and evening wear. High quality leather ballet pumps, loafers, and gladiator sandals are durable and long lasting, offering good value for money. Inexpensive flats can be found in the form of foldable shoes, which fit inside a small handbag and provide instant relief from a day or night out in high heels.
Buying a pair of used flats is a good way to obtain an affordable pair. Some more glitzy versions are often worn infrequently, so they may be found in a nearly new condition. Used flats should be checked for any excessive wear or damage. Once the buyer has all of the information about the different styles of affordable flats and how to check a used pair, they can consult a size chart to determine their shoe size in UK and European sizes. eBay has a range of affordable flats that provide comfortable wear for every occasion.