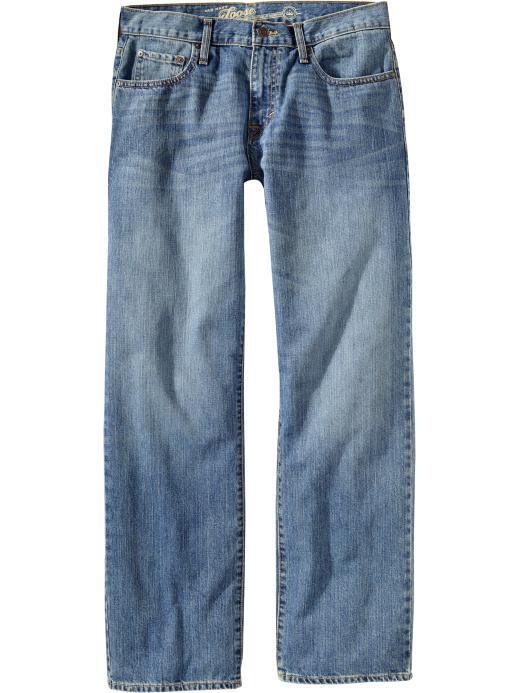 Jeans have made an impact on fashion since the later half of the 19th century, when a clothing merchant named Levi Strauss designed, produced, and sold the durable pants to miners who panned for California gold. Originally produced for cowboys, jeans became popular amongst teenagers during the 1950s. The most recognisable brands include Levi's, Wrangler, and Lee. Contemporary designers typically make jeans with heavyweight denim or dungaree cloth. Denim is a sturdy cotton twill fabric characterised by a three by one warp-face weave.
The wide variety of jean styles means a wide range of jean prices. Generic jeans cost very little, while some name brand designer jeans can run into the four-digit price range. Savvy consumers find high-quality, affordable jeans by shopping at department stores, men's clothing stores, women's clothing stores, and online. They also take advantage of the deals offered on the leading online auction site, eBay. Before shopping for affordable jeans, consumers should consider the types of jeans, important jean features, the benefits of wearing jeans, and where to find affordable jeans that still exude quality and style.
Benefits of Wearing Jeans
For decades, wearing jeans was more about functionality than any other factor. The heavy-duty materials used to produce jeans withstood the rigours of disparate lifestyles. Jeans now offer many more benefits than simply providing consumers with longevity.
Flexibility
Jeans are appropriate for any age, demographic, and most social environments. The flexibility of jeans is evident by the number of workplaces that either allow jeans to be worn daily or at least devote a day to casual wear. When in doubt, most men throw on a pair of jeans.
Cost
Despite the high-end designer jeans, most styles of jeans fit within consumer clothing budgets. The affordability of jeans attracts parents to purchase jeans for their children to wear to school, as well as allows consumers to broaden their wardrobes without putting a significant dent in their budgets.
Fit all Sizes
Jeans may be the only style of pants that can fit such a wide range of body sizes and shapes. From petite to plus size and from wide hips to thin, long legs, there is a jean type that fits. Moreover, the comfort of wearing and ease of cleaning apply to jeans of any size and shape.
Stylish
Think about all of the jean styles that make fashion statements: skinny legs, boot cut,, button fly, bell bottom, baggy fit, and low rise are just a few styles that come to mind. Jeans can be dyed or designed in a rainbow of colours to match almost anyone's personality. Many consumers have more styles of jeans in their closet than styles of pants that they wear to work.
Types of Jeans
Consumers should first learn about the types of jeans, since each type has the potential to become the 'hot' jean style. When a style of jeans becomes the 'hot' fashion statement, its price tends to rise due to increased demand.
Straight Cut
Straight cut jeans are the most prevalent type of jean. The circumference of the cut is consistent from the hip down to the ankle. They naturally fit at the waist and through the ankles. This type of jean does not flare out at the bottom. Most consumers consider straight cut jeans to make a conservative fashion statement.
Boot Cut
The boot cut is the medium between straight cut and flare cut jeans. Boot cut jeans do not have as much room at the ankles as flare cut jeans. This jean type remains slim through the thigh area and it tapers slightly at the knee, before it becomes slightly wider at the ankle. The roomier area that the jean provides at the ankle makes it a perfect jean type for consumers who wear boots.
Flare Cut
Similar to a boot cut, flare cut jeans are a bit wider from the knee to the ankle. They possess a bell-shape at the hem. Designers fit flare cut jeans from the waist down the leg, until it becomes wide at the ankle. This type of jean should be worn just below a consumer's natural waist and should not be so tight through the leg. Flare cut jeans rarely go out of style and consumers are able to wear them to virtually any social occasion.
Bell Bottom
Bell bottoms became popular amongst sailors because of the jean's wide leg room, allowing them to remove their pants over their boots when they fell overboard. They were popular fashion statements during the 1970s disco era and still present strong fashion statements today. Bell bottom jeans are very loose from the knee downward, yet fit tightly around the hips.
Skinny
Skinny jeans have many names, including tapered pants and old-school hood jeans. These are slim fit jeans that taper down to the ankle. This type of jean flatters a certain body shape, typically someone who possesses smaller hips and longer leg length. Many people wear skinny jeans to present a chic look.
Primary Features of Jeans
While jeans come in many varieties, there are some features that most jeans share. Consumers can find affordable jeans that contain the following primary features.
Branding Patch
The branding patch is found on the rear waistband just above the right hip pocket. It can be real or imitation leather, but the significance of the branding patch is the logo that appears on it. Levi's was the first jean company that utilised the branding patch to represent status.
Suspender Buttons
The fashion comeback made by suspenders has prompted keen manufacturers to reinstate the jean feature. They are attached to the jean waistband to secure suspenders. Some retailers stock 'press on' buttons on jeans that do not have suspender buttons.
Back Cinch
The back cinch is a vintage style feature that adds value to a pair of jeans. Back cinches tighten a pair of jeans without the need for a belt. After most jean manufacturers discarded the back cinch during the 1940s, this feature has made a comeback, thanks to Atelier La Durance and Levi's.
Arcuate
Levi's was the first jean company to utilise this distinctive double stitch that appears on the back pocket. The company trademarked the stitching after realising that consumers identified it with a specific brand.
Z Twill
This weave consists of the grain lines running from the top left-hand corner of a pair of jeans to the bottom right. Also known as left-hand twill, consumers can find this feature on dyed jeans that are woven from single plied yarns. Left-hand twills are known to feel softer after a wash cycle than right-hand twills.
Coin Pocket
Often referred to as the fifth pocket, the coin pocket was created to provide consumers with a place to easily access their spare change. Coin pockets have mostly lost their useful purpose, yet they remain relevant as fashion statements.
Where to Find Affordable Jeans
Consumers do not have to spend a lot of money to purchase brand name designer jeans. They can find high-quality jeans at affordable prices through four sources, which includes the leading online auction site, eBay. Check out Massimo Dutti for a range of men's jeans.
Sales
Manufacturers and retailers used to only offer jean sales a couple of times a year, typically during the warmer months when consumers purchased short pants. Now, consumers can find excellent deals from sales that occur throughout the year. There are mid-season, end-of-season, and numerous holiday sales; moreover, many retailers run at least one 24-hour sales event every year. During sales events, consumers can often buy jeans up to 30 per cent off their retail prices. Less popular styles can be had for over half off a jean's sales price.
Sample Sale Websites
Sample sale websites require consumers to register before they can take advantage of jean discounts. These pop-up sales last from one to three days. The primary benefit of going through sample sale websites is their 24-hour access. These sites post schedules for pending sales and provide consumers a summary of the best deals. Consumers can find brands that include: J Brand, Siwy, and James Jeans, three brands that do not have much clout at traditional retail outlets. Sample sales do not happen often and they run for a short period, so consumers should closely monitor websites for news of pending sales.
Past Season Websites
Like preowned cars, past season jeans run at huge discounts to their original values. Consumers can buy past season jeans from as recent as the previous year, yet come nowhere near to paying previous year prices. Past season jean inventory can be caused by an excess of less popular jeans or a merchant ordered too many pairs of a certain type of jean. Outside of eBay, past season websites may be the most convenient way to purchase affordable jeans.
Buying Affordable Jeans on eBay
eBay offers consumers a wide variety of affordable jeans that fit within most budgets. The auction format allows choosy consumers to navigate through product pages to find the pair of jeans that meets their budgetary constraints. Simply type a few keywords into eBay's search engine and review the numerous search pages that contain affordable jeans. Do not type generic keywords, such as 'affordable jeans' or 'denim jeans'. Specify your search by typing 'designer jeans' or 'men's skinny jeans&'. Once you find a seller that appeals to you, review the enlarged photograph of the pair of jeans on the seller's product page, as well as the delivery terms and return policy.
In addition, review the customer feedback that appears on a seller's product page. Consider buying from sellers who have received positive feedback for over a year and have some eBay experience selling articles of clothing. Look for the Top-Rated Seller ribbon that appears by some seller product photographs. Top-rated sellers have established a reputation on eBay for selling high-quality products at affordable prices. You can find some sellers offering brand new jeans at discount prices because they bought the wrong size or style.
Conclusion
Many consumers have the misconception that high-end designer jeans are out of their purchasing league. Their limited perspective prevents them from taking advantage of great jean sales at large department, and men's clothing stores. Retailers and manufacturers now run sales more often than they have in the past. Consumers can also find affordable jeans on sample sales and past season websites. Many past season websites offer huge discounts on jeans that are less than one year old. Perhaps the best venue to buy affordable jeans is eBay, which is the leading online auction website. Consumers can be selective by searching for the sellers who offer the best deals on jeans. Regardless of where consumers go to buy affordable jeans, they must do their homework prior to making a purchasing decision. They should learn about the types of jeans, prominent jean features, and the benefits of owning a pair of jeans. Above all, product knowledge helps consumers garner the best jean deals.