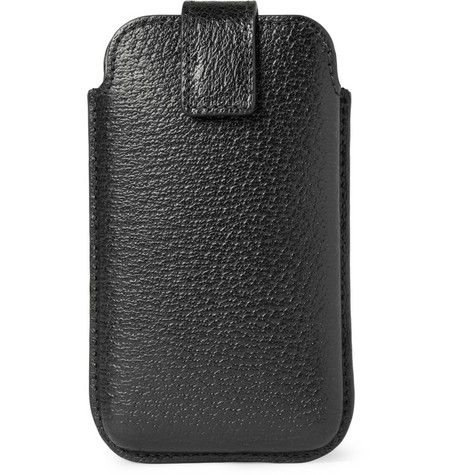 The mobile phone has come a long way in a short time. It was once a device intended solely for making phone calls, yet it now helps people to organise their lives, keep in touch with friends and family and stay up to date with the latest news. Smart phones are also capable of storing thousands of songs, TV shows, and movies, so damaging a phone can create a multitude of problems for the owner. The latest models are extremely expensive, and mobile phone insurance is simply not an affordable option for some consumers. Mobile phone providers usually only offer replacement handsets after the end of a contract, and that can be as long as 18 months. However, protecting a phone from scrapes, cracks, and impact damage can prolong its life considerably. A leather phone case or cover looks attractive and professional, but it also shields a device from day-to-day dents and scratches.
The Various Designs of Leather Phone Cases and Covers
There are hundreds of leather phone cases and covers on the market, but most of them are designed to fit a particular model or range of devices. For maximum protection, some leather cases allow access without the need to remove them; carefully placed holes allow buttons and sockets to be used at all times. While most major phone manufacturers have their own leather mobile phone cases, there are some unbranded versions that perform equally as well. However, the way a protective case works will determine the overall user experience, so which one to choose usually depends on personal preference.
| | |
| --- | --- |
| | Although the majority of phone socks are made with fabrics such as wool or cotton, there are some excellent draw-string leather cases on the market. Although they offer little in the way of protection from impact, they do protect a device from scratches and scrapes. |
| | A fitted case is moulded to the exact contours, sockets, and buttons of the phone. Although most are made with plastic or a rubber-like substance, there are some leather versions on the market. However, they fail to offer the protection from impact that neoprene does. |
| Mobile Phone Skins | A mobile phone skin is usually designed to cover the body of the phone, but most do not provide protection for the screen. There are some leather-covered skins on the market, but they are rare and offer little in the way of impact protection. Phone skins are ideal for people who need quick and regular access to their device but who are prone to dropping it. |
| Phone Pouches | Phone pouches offer a padded layer of protection whereby the phone is pulled from the pouch, but the phone remains unprotected during use. Phone pouches are used extensively with classic Blackberry phones. |
| Flip-Style Cases | Flip-style cases open by lifting the protective cover vertically. They usually require two hands to open, as the closing mechanism features a magnetic lock. This type of case is often manufactured with leather, and it provides a distinctively professional look. |
| Horizontal Cases | Although horizontal cases often resemble purses, they are incredibly popular with women. Many leather products also come with storage capacity for cash and cards. |
| Wallet Cases | Wallet cases are typically made from leather, and they open from the side. They offer excellent protection for all areas of a phone, but they can make the device significantly larger. |
| Shock-Proof Cases | Builders and people who work outdoors should consider buying a shock-proof case. While a few have leather finishes, most are made from plastic and rubber substitutes that deliver excellent protective qualities; they also usually require a separate screen protector. |
The Various Types of Leather Used for Mobile Phone Cases
While at first glance most Leather mobile phone cases look very similar, they have very different looks and feels under closer scrutiny.
| | |
| --- | --- |
| Cowhide Leather | While this is often the most expensive leather on the market, it has durable qualities that make it a worthwhile purchase. It is this durable nature that makes it perfect for the protection of mobile devices. Unlike other leathers, it has a distinctive, rough texture. |
| Lambskin Leather | Lambskin leather is far more delicate than other types, and that makes it less suitable for the production of mobile phone cases and covers. However, some people prefer its smoother and softer feel. |
| Faux Leather | Faux leather is the most common type used in the production of phone cases. The leather from an animal will often bear scars from the animal it came from, but faux leather always looks perfect when new. However, faux leathers are rarely as durable as cowhide leather, but many people prefer to purchase cases that don't rely on the use of animal skin. |
| Patch Leather | While only used in novelty phone cases, patch leather is often a cheaper alternative to cowhide as it is produced from a range of left-over segments. Although cheaper, it delivers a unique look and feel. |
Extra Features to Consider When Buying Leather Phone Cases and Covers
For years, mobile phones grew smaller and smaller; however, that trend has changed somewhat in recent years – due to improving multimedia capabilities on smart phones. People now watch TV shows and movies on their phones, and many cases now include built-in stands for hands-free viewing. Other extra features include stylus pens and water-proof coverings. There are also a number of mobile phone docks on the market, and many leather cases are designed in such a way that allows them to remain on while the phone they protect is docked.
Customising Leather Mobile Phone Cases and Covers
The trend towards personalising mobile phones covers has grown in recent years. Consumers can now protect their phones while showing off their favourite team's colours or expressing their own personalities. Leather cases can now often be adorned with stickers, fake jewels, trinkets, and photos. Many of these customisable features are collectable, and they can be added to over several years.
Finding Leather Cases and Covers for a Mobile Phone on eBay
While there are literally thousands of leather cases currently on the market, finding the best one is a simple and quick process on the eBay website. The quickest way to get a search started is by typing a search term into the text-entry box – found near the top of the homepage. However, this way of searching can deliver a number of irrelevant results. A far more accurate way of searching is by using eBay's categories to find the leather case that best suits the needs. Starting a category-based search involves clicking the All Categories link near the top of the screen. A drop-down menu will appear with a list of eBay's main categories; from this list, the Mobile Phones & Communications link should be selected. Clicking the Search icon will cause the page to reload, and a new page will include a list of sub-categories which will be located on the left of the page. The link to Mobile Phone & PDA Accessories should be selected from that list. The page will then reload once again, and the Cases and Covers link should be selected from the new list of sub-categories. Under the Material heading on the left side of the screen, the see all link should be clicked. A list of check-box options will appear, and the one entitled Leather should be selected. The results can be further narrowed by selecting check-boxes under Brand, Condition and Type.
Conclusion
Leather delivers perhaps the most professional and sleek finish to a mobile phone case or cover. Usually available in black or brown, leather cases often come with padding to provide protection from drops and impacts. Fitted cases and skins are rarely made with leather, but the few that are tend not to deliver enormous levels of protection from impact damage. Flip and wallet cases made with leather protect all areas of the phone, although the screen will be unprotected when the phone is being used. Leather is perfect for business use –where the risk of damage is relatively low. However, those who are working outdoors, in heavy industry or in construction should consider a silicone or neoprene case. While leather cases provide many benefits, most of them are purely cosmetic. Faux leather is generally the cheapest available, but there are some affordable used cases on the market which are made from high-grade cowhide. The ultimate choice of mobile phone case rests with the individual, and how the phone is used on a daily basis.