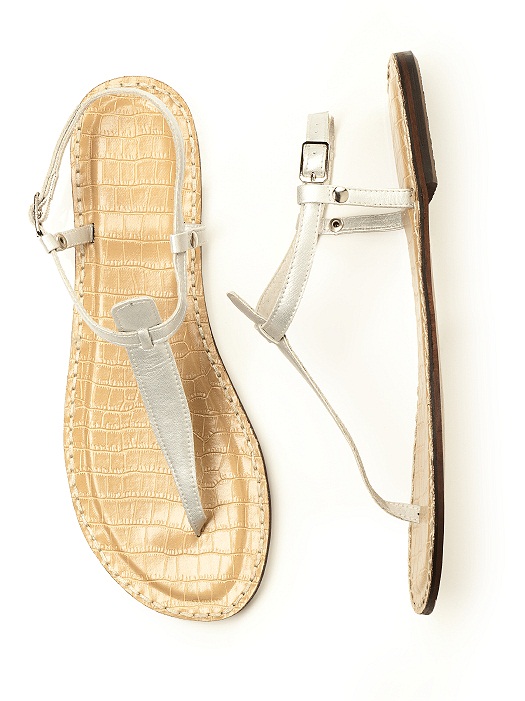 Sandals go with everything. But for the hot seasons in particular, there is nothing like wearing a pair of sandals to keep the feet cool and comfortable. When it is burning up outside and all people want to do is lounge near the pool or go to the beach, the easy wearability of sandals becomes a major attractive quality. Aside from the ease of wear, sandals are of course trendy and they make feet look good. As a bonus, sandals can also be less costly than other types of footwear.
There are many types of sandals and consumers should learn the relevant information to find out which type of sandal is right for them. There are many occasions for which sandals can be worn; and also, knowing which type of sandal to wear for a particular occasion lessens the anxiety of dressing correctly. Consumers can find affordable sandals at many shoe stores, department stores, and online through eBay. When shopping for affordable sandals, consumers should consider sizes, where to buy, and how to buy sandals that show off the feet beautifully and keep them comfortable, while not breaking the bank.
Types of Sandals
There are many types of sandals. Some are named according to the type of heel, some according to the type of sole, look, and more. Here are some of the more common types of affordable sandals available.
Platform Sandals
Platform sandals are not as casual as flats and can be worn to impress at semi-formal events, like an outing with friends or a party. They provide additional height without the anxiety of wobbling along in heeled footwear. Most platform styles look good on any woman, but wider straps are better when paired with thicker feet as they do not cut into the flesh, while thinner or more delicate straps should be chosen to complement small feet and ankles.
Platforms complement skirts, dresses, and fitted trousers. These clothes show them off and they do not cover up the feet. Women should also take care when choosing sole height. Inexpensive platform sandals can be purchased on online sites, like eBay. Another way to get good platforms for less is purchasing last year's styles.
Wedge Sandals
Wedges are similar to platform sandals but traditional platforms generally have one uniform height for soles, while soles for wedge sandals can slope dramatically, as the name implies. A wedge can have heel heights as high as 15 cm for the heel aficionado. Many find wedges more comfortable and stable than heels, and that is good news for those who are not used to wearing footwear with height.
Wedges can be worn to any event but their disadvantage, similar to platforms, is that the sole can make the shoe heavier than usual. This could lead to aching ankles when an occasion drags on too long. Hollow wedges are lighter and are also sometimes less expensive than when the sole is of solid material.
Flat Sandals
Wedges, platforms, and heels are popular, but the flat sandal has its advantages as well. These are carefree footwear, and many people say they lack the flash of other sandals but that does not mean they cannot be fashionable.
They are lightweight, with only thin soles to separate feet from the ground. As a result, they are not very dressy, which means they should not be worn to the office or to formal events. However, there are flat sandal styles that are embellished, with straps for instance, that go very well with evening dresses and the like.
Flats are generally more affordable than other sandals because less material is used. Affordable flats can be bought in department stores everywhere. If looking for brand name products though, try sourcing items from discount retail stores.
Heeled Sandals
There are numerous incarnations of the heeled sandal, and numerous styles that adorn the many shoe stores. Low heels are generally more affordable than high heeled sandals, but it can vary depending on the seller. Online stores still offer the lowest prices. Check comparison sites for different site prices. Offline shopping, however, offers customers the ability to see how the sandal looks and fits on them. If the wrong size or shape is bought online, return shipping could raise the cost of the heels. Offline shopping for affordable heels is good at local stores and boutiques or at vintage stores, though be conscientious about the quality and condition at the latter.
Heels are not just categorised into high heels and low heels. There are several affordable styles of the heel. The wedge heel mentioned earlier is just one of the most common. Heels can be priced according to material, make, or other factors. For instance, kitten heels can be cheaper than stilettos because there is less demand, wedges can be more expensive than heels because more material is used in wedge soles, and so on.
Slingback Styles
Slingbacks are sandals that have a strap that wraps over the anklebone and behind the heel. These are different from ankle straps that wrap over the top of the foot.
These straps may have buckles or other fasteners. Slingback styles should be considered because the straps provide additional security. They stop the foot from sliding out of the sandal. Keeping the foot secure also means fewer chances of accidents.
Specific Models of Sandals
Sandals can be categorised by material, heels, uppers, and more. But some have specific names, such as espadrilles, gladiator sandals, mule sandals, clogs, and barefoot sandals. There are some models that are more affordable than others, but in the long run it comes down to the sandal the buyer wants and not necessarily the price. The sandals mentioned below are some of the more inexpensive models.
Flip Flops
Flip flops are the least costly sandal styles, and often the most simple as well. These are basically a sole with a simple strap, or straps, at the front end that keep the sole attached. They are ubiquitous on the seaside or at the swimming pool.
One thing to consider about flip flops is the noise that they produce. The slap-slap-slap sound, or their sliding sounds, can be grating on the ears, especially on tile, concrete, or wooden surfaces. Flip flops at a few euros can be found anywhere, but buy them where the demand is less and they can probably go for pennies.
Espadrilles
These are casual flats, with an upper made of canvas, cotton, or other similar fabric. The soles are rather flexible and are generally made out of braided rope, though more recently, they are composed of rubber. Espadrilles are fairly comfortable and fairly casual, but the rope soles make them vulnerable to water seeping inside, so choose those with rubber soles when necessary.
Espadrilles are generally inexpensive, so there is no trouble finding a pair that does not empty a customer's purse. Price depends on the uppers, which are mostly durable and cost-effective.
Gladiator Sandals
This sandal style is one of the more popular, as the strappy look goes with nearly every outfit. These Ancient Greek and Roman-style sandals mostly have flat soles, though it is possible to pick them up in high heels. Gladiators are cheaper than platforms or wedges or even high heels, so when going for a trendy, high-end look without paying through the roof, they are a good option.
Manufacturers sell their older styles for less than this year's sandals, and that means checking warehouses and outlet stores for deals is always profitable. Discount stores probably sell very cheap gladiators, and if quality is not a consideration, they always have a selection.
Mule Sandals
Mules are closed-toed sandals that have no straps or uppers wrapping around the heel and ankle area. In other words, they are backless. However, the backless style, despite the ease of slipping on, means that the sandal is also easily removed, which can be a disadvantage when performing a vigorous activity, like running.
Good quality affordable mules can be found at the right stores. Online shopping is a customer's best bet, though always make sure the seller is reliable. When shopping online, always know what sizes fit best, as there is no chance to try the sandal on before buying.
Clogs
Clogs are used to refer to footwear made of wood, though today often their uppers are made of other materials. For increased durability and protection of the foot, clogs are a good consideration. However, some feel that the wooden base makes the sandal clunky and heavy.
Clogs are actually some of the more affordable sandals on the market, as long as the customer does not look for top-quality wood in the manufacture. Check that the uppers are attached firmly to the sole. Lighter soles can make for longer lasting sandals, and they are less expensive as well.
Barefoot Sandals
Barefoot sandals are barely sandals at all. These are adorned pieces of string, or embellished straps, that wrap around the ankle and attach to the middle toe. They do not have soles, which is why they are referred to as barefoot. These are excellent choices for beach and pool activities, though more care is needed because they do not provide protection to the underside of the foot.
These can be bought, or for more control over design, they can be made at home. They're the cheapest to buy and make, and as a bonus, can be a good craft project.
Sandals Material
The material used in sandals can definitely influence comfort, security, and price. There are a number of materials used in uppers for sandals. All have different advantages and disadvantages.
Material

Advantages

Disadvantages

Leather

Breathable, therefore, less odour

Sturdy and durable

Easy maintenance

Can be expensive

Has to be real leather to have the best advantages of the material

May shrink or stiffen over time

Canvas

Comfortable and flexible

Durable

Inexpensive

Good ventilation

Can be ruined by water

Not as dressy as other materials

Vinyl

Lightweight and flexible

Inexpensive

Numerous styles

Less durability

Limited to casual wearing

Satin

Soft and comfortable

Great with casual or formal events

Difficult to clean

Not as durable as others
There are many other fabrics that can be used to make affordable sandals. Fabric and material are usually concerns for uppers. Soles are made from rubber, wood, or other durable material. Synthetics can be less expensive, though many natural fabrics allow more airflow between the skin and fabric. This means that sweat and skin oils are of less bother. For those whose feet are prone to perspiration, rubber sandals and closed sandals made of materials that do not promote airflow, are not recommended.
How to Buy Affordable Sandals on eBay
Buying online exposes the customer to some of the most affordable footwear. Not only do you have access to different styles of sandals, but they are also from many places that you cannot easily access. For a diverse selection, there is no site better than eBay. After accessing eBay, all you need to do is enter "women's sandals" into the search bar to receive immediate results.
There are many other options for filtering your selections. You can, for example, type in "black leather strappy high heels&" instead of a more generic search term. It is also possible to search by brand, size, or any preferences that you have. The site also allows the consumer to filter selections by price, so it is not a problem finding affordable sandals in your style. Before buying, however, always remember that evaluating both the seller and the product increases your chances of acquiring exactly the item you want.
Conclusion
Finding affordable sandals can be difficult, but there are several options to consider when performing a search. Buying directly from the manufacturer is also a good idea. Outlet shops regularly have sale options for sandals in every style. There are also discount retailers where designer sandals can be had. However, make sure that when buying designer discounts that the items are genuine and not knockoffs. It is also possible to find inexpensive sandals at used item shops and flea markets. These selections may not be ideal in terms of quality or condition, so care and caution is needed.
Including online retailers, there are numerous options for the savvy customer. Preparedness is one of the most important tools of the bargain shopper. With luck and preparedness, finding sandals of the perfect style to flatter a customer's feet and legs, while providing comfort and assurance while being worn, can be a breeze.