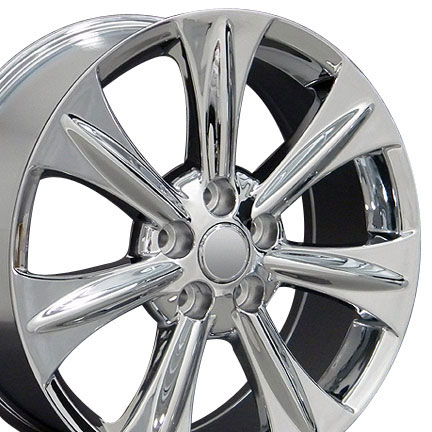 It goes without saying that wheels are a critical component of a car. The aesthetics of wheels and rims is important for car enthusiasts, and the different wheel styles available can make or mar the look of a car. Used as a slang, the term rim is used by car lovers to describe the look created after the tyres are mounted. The rim is the outer edge of the wheel on which the tyres rest, and the differently arranged spokes at the centre create the stylish looks for wheels.
Several factors need to be taken into account while buying wheels for a Mercedes, the main consideration being the material used in the wheels and their measurements. Since wheels support the weight of a car and is the interface between the road and the car, the overall safety of the car also depends on the strength of the wheels. Alloy wheels are aplenty on trusted websites such as eBay. While they may be purchased at brick and mortar stores, the advantages eBay offers are on competitive pricing and the convenience of finding the right wheel from amongst the thousands available, right from the comforts of your living room.
Types of Wheels Available for Cars
The general rule for all vehicle owners to follow is to only fit wheels and tyres specified by the manufacturer in the owner's handbook or on the tyre placard. These wheels have been tested and found to be safe for the particular model of vehicle. However, if fitting wheels that are outside the recommended range, requirements such as increasing track measurement, types of nuts and studs to be used, and the width of wheel rims should be met.
Steel Wheels
Steel sheets of various grades are used to make steel wheels. Steel manufacturers study the grades for flexibility, malleability, and strength and use the right combination to make wheels that are safe for driving. But steel wheels are heavy, and the pursuit for lighter wheels led to the emergence of alloy wheels.
Alloy Wheels
Alloy wheels are made from an alloy of aluminium, magnesium, or both. When made from magnesium, they are also called mag wheels. Alloy wheels are a few notches superior to steel wheels, and they are lighter yet stronger than steel wheels. Alloy wheels dissipate heat faster and the tyres remain cooler, especially at high speeds. This in turn is responsible for long life of the tyres. Alloy wheel technology was born out of the motor sport environment; however, for normal road drivers, alloy wheels make more of a style statement rather than an impact on driving. However, for professional racing car drivers, it makes a world of difference to have wheels that are built light but are extremely strong and sturdy.
Though mag wheels are superior alloy wheels in terms of strength and lightness, magnesium as a metal heats up and catches fire rather quickly. The fire is difficult to extinguish as well, making mag wheels difficult to work with. Mag wheels are mostly found on high-end racing cars for their stunning looks, great shine, and performance. The high cost of mags is another reason why they are not used in normal driving.
Selecting Alloy Wheels for Your Mercedes
Alloy wheels are expensive, and the main reason a car owner opts for alloy wheels is for its looks, although they do pack in much more than just good looks. Size, fitment, and quality are the factors to consider when buying alloy wheels. Of course, the practicality should be another consideration, especially because quality alloy wheels can cost a lot.
Alloy wheels for Mercedes car models are manufactured by Mercedes-Benz Accessories GmbH, offering about 20 design variations for every model series. The high sheen light alloy wheels and the high sheen bichromatic wheels from Mercedes-Benz are created to meet demanding design standards, high driving dynamics, and peak performance to deliver exemplary ride comfort. A brief selection of the light alloy wheels for Mercedes models is listed in the chart below.
Model

Style

Wheel Size

Wheel Finish

CLA Class, A and B Class

5-triple spoke wheel

7.5 J x 18 ET 52

High sheen, Tremolite metallic

C Class Saloon (S) and Estate (E)

7.5 J x 17 ET 47 (S)

8.5 J x 17 ET 58 (E)

High sheen, Black

E Class Saloon

Multi-spoke wheel

8.5 J x 17 ET 48

Vanadium silver metallic

E Class Estate

5-Twin spoke wheel

8.5 J x 19 ET 48

9.5 J x 19 ET 48

High sheen, Himalayas grey

SL Class

Multi-spoke wheel

8.5 J x 19 ET 35.5

9.5 J x 19 ET 47.5

High sheen palladium silver

M Class

5-Twin spoke wheel

9 J x 21 ET 53

High sheen Himalayas grey

E Class Cabriolet and Coupe

5-Twin spoke wheel

8 J x 19 ET 44

8.5 J x 19 ET 48

High sheen Himalayas grey
To find the right alloy wheels for your Mercedes, it helps to have details about the class of the car and the model designation, such as W246, W164, or W/S203. The wheel sizes and technical data of the model are other important details that helps the car owner find the right alloy wheels.
What Constitutes Wheel Sizes and Measurements?
The width and diameter of the wheel, stud pattern, also called Pitch Circle Diameter or PCD, and wheel offset are crucial to understanding wheel measurements.
Diameter and Width
When buying wheels, the obvious measurements are the diameter and width, traditionally measured in inches. An alphabet placed after the width may also be stamped on the wheels. This alphabet is the bead profile, denoting the shape of the wheel where the bead of the rim merges with the tyre. A common bead profile seen in wheels is 'J'.
Stud Pattern or PCD
This parameter is a combination of the number of wheel bolts on a wheel and the diameter of an imaginary circle drawn through the bolts, where the centre of each bolt lies on the circumference of that imaginary circle. For instance, the PCD for the 1998 A class model is 5x112, where 5 is the number of bolts on each wheel and 112 is the diameter of the imaginary circle as the circumference passes through the centre of all 5 bolts.
Wheel Offset
Wheel offset range varies from vehicle to vehicle. The recommended offset range for a vehicle, measured in millimeters, is expressed as ET, as in ET 53 for the M class Mercedes. Offset is the measured distance between the centre of the wheel and the mounting point. The offset may be positive, negative, or neutral. A wheel with positive offset has spokes that are relatively flat and more towards the outer edge. In negative offset, the spokes are set deep and inwards. Wheels fitted with an incorrect offset can cause the wheel to rub against bodywork or suspension, and this can affect the steering as well.
Buying Alloy Wheels for Your Mercedes on eBay
eBay has emerged as a leading online store that sells everything, ranging from toys and cosmetics to high end cars, car parts, and accessories. Shoppers can find a vast variety of genuine alloy wheels for various Mercedes car models on eBay.
'Vehicle Parts & Accessories' is an extensive category on eBay, where can initiate a search for Mercedes alloy wheels. You can expect to find what you are looking for under a subcategory such as 'Car Wheels, Tyres, & Trims'. Shoppers can select 'Wheel Rims' and narrow down the search by choosing 'Mercedes' to find alloy wheels specific to this brand. The listings include new, used, and refurbished items for several Mercedes models. You can choose the wheel sizes and other specifications on the wheels you are looking to purchase. Since Mercedes alloy wheels are expensive, buying from Top-rated eBay sellers is recommended. These are sellers who have received great feedback and customer ratings for quality products, reasonable prices, excellent customer service, and timely delivery of goods.
Conclusion
Alloy wheels are a popular type of wheels that deliver good performance, long life, and grand, aesthetic looks for a vehicle. The design and styles of alloy wheels impart a sleek, stylish look that is in keeping with the great build and quality of high-end cars such as Mercs. Alloy wheels score over steel wheels because they are strong and durable and lightweight as well. Made using an aluminium alloy, these wheels are readily available, but are expensive.
While buying alloy wheels for Mercedes models, car owners need to study the wheel specifications, such as the diameter and width, wheel offset, and stud pattern, to find the correct-fitting wheels. Shoppers should only fit wheels and tyres that have been recommended by Mercedes, as per the instructions and specifications provided in the owner's manual or printed on the tyre. Otherwise, this can present a safety hazard for the occupants of the car. Alloy wheels with different shiny and matte finishes are available on eBay in stunning styles and price ranges for every Mercedes class and model in the market.