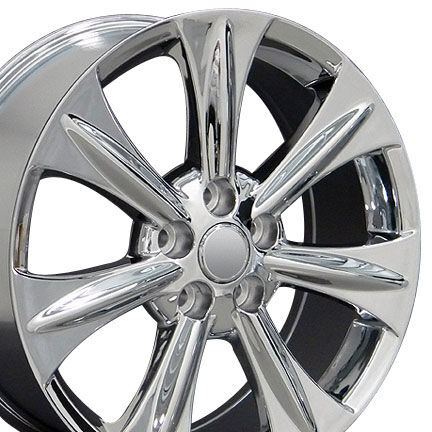 Starting off as the Swallow Sidecar Company based in Blackpool, England, in the year 1922, the company became SS Jaguar in 1935. After World War II, the name changed yet again to just Jaguar. This former British company, with its headquarters at Coventry, England, was bought by India's Tata Motors in 2008.
Jaguar makes passenger cars and luxury and sports cars. Jags, as these cars are popularly called, have a reputation for being sleek and sexy sporty vehicles. Jaguar offers sedans, coupes, convertibles, and luxury saloons, all fitted with beautifully designed alloy wheels that make the Jags flashy and highly irresistible.
As one looks for alloy wheels to outfit a Jag, it is important to take into consideration the benefits as well as the disadvantages that the wheels present. One must also consider the type of car the alloy wheels are needed for. Shoppers looking to purchase Jaguar alloys can find them online at competitive prices on eBay. Thanks to its wide network of sellers, one can find a variety of choices on the website.
Alloy Wheels for Jaguar Models
Different models of the Jaguar have been manufactured since its inception, and some of them have been discontinued as well. The current lot of Jaguar models and variants for which alloy wheels are easily available belong to the categories listed in the chart below.
Car Type

Model/Series

Description

Passenger Cars

XF Series

XJ Series

Mid-size sports sedan, executive class

Jaguar's flagship, four-door luxury sedan

Luxury Cars

XF Series

XJ Series

XK Series

F Type

Mid-size sports sedan, executive class

Flagship, full-size four-door luxury sedan

Luxury coupe and convertible

Two-seat convertible, sports car

Sports Cars

F Type

Two-seater convertible, sports car
Older Jaguar models such as the Jaguar S-type, Jaguar X-type, Jaguar XJ12, XJ6, XJ8, Jaguar XKR, and XK8 are also very much in use. Finding alloy wheels for some very old models may not be easy, but is not impossible either, especially on eBay.
Why Have Alloy Wheels on a Jaguar?
Most Jaguars are high-end, sporty and luxury cars that come fitted with alloy wheels. However, car owners may want an aftermarket upsizing for wider tyres. Though expensive, alloy wheels are the right option for a Jaguar for several good reasons.
Wheels play a crucial part in handling, and safe driving and damaged wheels should be replaced immediately. Rough and difficult road conditions and bad weather are some reasons why wheels suffer damage. Wheel alignment is another important factor and is called for if the wheels of the vehicle pull in one direction.
Aesthetics
Alloy wheels lend personality to a car. Sleek designs and glossy shine of alloy wheels with solid tyres create a muscular look for Jaguar luxury and sporty cars.
Thermal Conductivity
Aluminium alloy used for producing alloy wheels has thermal conductivity greater than 150 watts per kelvin per metre compared with steel, which has 45 watts per kelvin per metre. Better heat conduction translates into improved braking performance, eliminates brake failure due to overheating, and reduces brake fading that results from sustained brake application.
Lower Unsprung Weight
Alloy wheels, though lightweight, have great structural strength. In cars, most of the weight is supported by the suspension system, suspending the vehicle body and all parts directly connected to it. This insulates the body from shocks, bumps, and vibrations which may otherwise be transmitted to the occupants and the vehicle itself. Wheels, brakes, steering, tyres, and suspension parts are not supported by the springs and are classified as unsprung weight. With alloy wheels, the total unsprung weight is reduced and the lighter wheel absorbs bumps and vibrations without transmitting them to the vehicle body, making the ride a smooth one. Greater wheel weight also uses excess energy, increasing fuel consumption. Therefore, alloy wheels are an ideal choice for fuel economy.
Structural Rigidity
Aluminium alloy wheels are stronger than steel wheels and are resistant to deformations. This makes alloy wheels suitable options especially when tubeless tyres are used, as the bead seat shape is maintained and the tyre sits firm on the rims.
Resistance to Corrosion
Steel wheels are prone to rust, which is not so in the case of alloy wheels. This helps alloy wheels last the life of the vehicle, if there are no other damages such as cracks and warps.
Disadvantages of Alloy Wheels
Compared to steel wheels, alloy wheels cost almost twice or thrice as much, but that cost is more than made up by other benefits such as fuel economy, the long life of the wheel, and the vehicle and ride quality. However, in case of cracks or breakage, alloy wheels cannot be repaired and need replacement. Periodic wheel balancing checks are also required.
Alloy Wheel Finishes
Alloy wheels have a shiny look that enhances the design of the spokes. This shine is achieved by using chrome, polish, or paint, or by powder coating the wheels.
In a plating process with chrome, several layers of metals, such as nickel or copper, are applied on wheels, followed by chrome. The resulting finish has mirror-like brilliance. When polished, alloy wheels have a refined and subtle sheen as opposed to the intense lustre of chrome-plated alloy wheels. Painted alloy wheels have a protective, top clearcoat.
Alloy wheels may also be categorised as diamond cut alloys and painted alloy wheels, and both types are found on eBay. Diamond cut alloys are machine-polished on a Computer Numeric Control, or CNC, machine to remove a fine layer of the alloy. A protective plastic seal is then placed as the top layer. In standard painted alloy wheels, paint is applied in three coats starting with the primer, followed by colour coat, and finished with clearcoat or lacquer. The silver paint of alloy wheels may be fine, medium, or coarse silver, depending on the sparkle in the paint. Anthracite, high power silver, and shadow silver are other paints. Of these, the latter two paints have almost a chrome-plated effect.
Car owners must apply a coat of wax polish to alloy wheels on a weekly basis, after washing with warm water and mild soap. This wax coating creates a barrier, so dust, grease, and tiny particles do not adhere to the surface.
Parameters for Selecting Alloy Wheels for a Jaguar
While selecting alloy wheels for a Jag, specific measurements as laid down by the car manufacturer have to be strictly followed for driving safety. These include the alloy wheel diameter and width, wheel offset, number of bolts or studs, and Pitch Circle Diameter, or PCD. These are standard specifications that are provided in car manuals. The wheel offset, ET, which is the distance measured in millimeters between the line through the hub face and the wheel rim, is crucial. To put it in layman's terms, it is how far outside the wheel needs to be with regards to the vehicle's body line. If this goes wrong, the steering becomes too heavy to turn, or too light.
If car owners are replacing wheels as well as tyres on the Jaguar, they may opt for larger diameters as stated in the manuals, and buying tyres with matching diameters is imperative. But if the tyres are not being replaced, select wheels with the same diameter as the original ones, or the existing tyres may not fit the new wheels. The listings on eBay should indicate the diameter of the wheels, so this should not be hard to determine.
Buying Alloy Wheels for a Jaguar on eBay
eBay is a good resource for new, used, and refurbished alloy wheels for Jags, thus accommodating different needs and budgets. The online retailer offers a wide variety of alloy wheels for all Jaguar models. First-time eBay shoppers can look for alloy wheels under a relevant eBay category such as 'Vehicle Parts & Accessories'. By selecting the subcategory of 'Car Wheels, Tyres, & Trims', and the 'Wheel Rims' section, you can arrive at the relevant listings on the website for alloy wheels. You can find the different car brands listed under ' Make'; click on 'Jaguar' to find the applicable listings.
You can see images, a short description, and the price of the alloy wheels in question on each of the listings pages. Browse through the different pages so that you can narrow down the selection of listings for alloy wheels. Besides details about the product, the individual listing page offers details about postage and shipping, estimated delivery date, and payment information. You can also read feedback the seller has received from previous customers as well as get the seller's contact details. eBay has highlighted some sellers as 'Top-rated' with a special badge on the listings. These sellers have maintained a history of positive ratings and feedback from their customers. Shoppers can confidently deal with eBay's Top-rated sellers and expect to receive quality products at competitive rates as well as timely delivery of the products.
Conclusion
Jaguars come fitted with alloy wheels, but some car owners want aftermarket parts such as alloy wheels in different designs. Or, owners may simply want to replace the alloy wheels on a Jaguar for a new look. eBay, with its great reputation, is an excellent place to look for alloy wheels for a Jag. As eBay sells alloy wheels in new, used, slightly used, and remanufactured conditions, shoppers on different budgets can benefit as they can notch up good deals at low prices.
Fitting alloy wheels can be an expensive proposition, but the right alloy wheels deliver a longer life as well as better ride quality, fuel consumption, and performance. For luxury and sports cars, alloy wheels are about more than just good looks. The wheels handle the high performance of the cars, allowing for precise braking, acceleration, and cornering by reducing the unsprung weight on the suspension.
While buying alloy wheels for Jaguar, owners need to adhere to specifications regarding wheel diameter, width, number of studs, and wheel offset. Alloy wheels with the right specs ensure that the Jaguar provides optimum performance and a smooth ride.