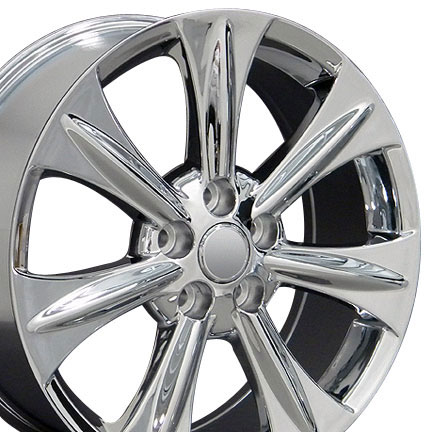 Every car manufacturer makes coupe cars and Audi is no exception. In fact Audi has a been manufacturing a large number of coupes since its inception, about a 100-years ago. A coupe used to be a horse-drawn carriage, the enclosed box offering protection, comfort, and privacy for the few who could afford it. However, towards the first half of the twentieth century, the coupe was an enclosed car manufactured to exacting standards. Gradually, the term coupe came to be identified with agile, sporty, two-door cars with luxurious and plush interiors. And in keeping with the sleek and sophisticated look of coupes, nothing less than alloy wheels can do.
Consumers who are looking for alloy wheels for an Audi Coupe have a number of things to consider. One needs to be aware of the manufacturing process used in making alloy wheels in addition to taking into account the pitch circle diameter, offset, centre bore, and wheel size, among other considerations. Local retail stores stock alloy wheels, and shoppers can even go online to look for them. Reputable online stores such as eBay has a huge stock of alloy wheels for luxury and sports cars such as the Audi coupe.
Manufacturing Processes for Alloy Wheels
Alloy wheels enhance the look of any car, especially luxury cars, and owners love to show off their beauties equipped with shiny, well-designed alloy wheels. Today, alloy wheel manufacturing uses state of the art procedures, adopting computerised designs and numerous stringent testing and inspection processes to ensure the production of high-quality wheels. Guidelines and regulations in certain countries ensure quality standards that govern the production of wheels. Wheel manufacturing companies that supply to original equipment manufacturers, or OEMs, have to adhere to specific manufacturing procedures to maintain the quality and integrity of products, in keeping with the companies' reputation.
The Quest For High-Quality Light Alloy Wheels
Casting is a process where molten aluminium is introduced inside a mould designed to form the wheel, and the quality of the alloy wheel is dependent on the technology used during the manufacturing. For a great number of years, gravity casting, high pressure die casting, and low pressure die casting were the standard technologies deployed, yielding up to 95 percent quality and perfection of the end products, but the wheels were heavy. Wheels manufactured by these procedures also had certain other shortcomings of porosity because of gas inclusions, uneven filling of mould, and oxidation of molten materials.
The quest is for lightweight wheels that are strong and durable, and forging produced better quality, but expensive alloy wheels. Forging is a non-machined technique that uses solid material heated to high temperatures to produce wheels that are 15 to 25 percent lighter than wheels made by casting. However, the process is not good enough to create great-looking rims, which is what the aesthetics of alloy wheels is all about. The materials used is 5000 series or 6000 series aluminium alloy, which is the standard even in the aerospace industry.
Flow Forming, Spun-Rim, or Rim Rolling Technology combines the best aspects of casting and forging to produce lightweight wheels, and the rims are then subsequently stretched. Special equipment forges a solid aluminium billet under extreme pressure between the dies to produce a dense and strong but light wheel blank. Rollers press the rim, stretching it to give shape and width. This technique alters the structure of the alloy with improved properties and strength to produce sturdy but light alloy wheels. A lighter wheel is easy on the suspension, becoming responsive to acceleration and braking, which is important for high-end vehicles and sports cars.
Benefits of Alloy Wheels
Alloy wheels not only enhance the good looks of the Audi Coupe, but they also offer numerous other performance benefits. The wheels of a vehicle constitute unsprung weight or the weight and parts of the vehicle that are not supported by the suspension. These parts are easily susceptible to shock transmission and other forces. Therefore, lighter unsprung weight increases steering precision, reduces cornering forces, and enhances tyre longevity.
| Advantages | Description |
| --- | --- |
| Lighter Weight | With alloy wheels, unsprung weight is low. This translates as reduced fuel consumption and precise steering control |
| Enhanced strength and rigidity | Strong alloy wheels reduce deflection while cornering; critical for high performance cars |
| Enhanced brake cooling | Being excellent heat conductors, alloy wheels dissipate heat from brakes and tyres easily |
| Effective braking and acceleration | Alloy wheels reduce vehicle's rotational mass due to lesser weight, making it responsive to braking and acceleration |
Though alloy wheels are expensive, they have a longer life and are resistant to corrosion. The high cost is more than made up by way of reduced fuel consumption, because alloy wheels achieve acceleration and braking without using too much power.
What to Consider Before Buying Audi Coupe Alloy Wheels
When purchasing alloy wheels for an Audi Coupe, owners must refer to the handbook to follow manufacturer's recommendations and adhere to specifications. Aspects to consider before buying Audi Coupe alloy wheels include the size of the wheels, the pitch circle diameter, the offset, centre bore.
Wheel Size
The rim diameter and rim width together determine the wheel size of an alloy wheel. The size is usually stamped on the wheel; for instance, if the stamp indicates 15x7 or 7x15, the lower value is the width and the other value is rim diameter. These are always indicated in imperial units as inches. The wheel size determines the tyre sizes to be used on the car and have to be fitted as per the manufacturer's recommended sizes.
Pitch Circle Diameter
An acronym for Pitch Circle Diameter, the PCD is a measure of an alloy wheel. It is the diameter of an imaginary circle through the bolts or studs, the circumference of which passes through the centre of each bolt. PCD is measured in millimeters.
For an Audi Coupe that has a PCD measure of 4x108, 4 is the number of bolts, while the diameter is 108 millimeters.
Offset
Offset for a wheel is the measure of the distance from its hub mounting surface to the centre line of the wheel and is represented by 'ET'. Audi Coupes typically have an offset measure of 35-45.
Centre Bore
This is the hole on the back of the wheel that fits on the hub of the vehicle, sometimes with a centering ring so they match perfectly.
Audi Coupes manufactured between 1979 and 1984 have PCD of 4x100, offset of 35-45, and bore of 57.10. Coupes dating from 1985 to 1990 have PCD of 4x108, while the other specs remain the same. From 1992 to 1995, the Audi Coupe 80 had a PCD of 4x108, offset of 35-38, and bore measuring 57.1.
Head to eBay for Audi Coupe Alloy Wheels
One can find innumerable listings for wheel rims and alloy wheels for an Audi Coupe on eBay. Shoppers can browse the pages at their own pace and pore over every detail to arrive at a satisfactory choice while shopping at this website.
Shoppers desirous of purchasing alloys wheels for the Audi Coupe can find listings under the category of 'Vehicle Parts & Accessories' and further under the subcategory 'Car Wheels, Tyres & Trims'. Selecting from numerous options such as 'Wheel Rims' and 'Make', shoppers can narrow down on the number of relevant listings. The 'Make' option lists several car makes, including Audi. Rim Diameter, Rim Width, Number of Studs, and Stud Diameter options are also indicated for those seeking specific sizes.
Shopper can look for brand new tyres on eBay. Those on tighter budgets can select from used and remanufactured tyres as well. Buying from eBay Top-rated sellers ensures peace of mind as far as the quality, price, and timely delivery of the products are concerned. eBay also offers numerous secure payment options, so the shopper can certainly find a convenient option to use.
Conclusion
Every car owner covets alloy wheels as these are the ultimate in style and looks for wheels. The Audi Coupe is a high-end car that looks great with alloy wheels. Stunning looks apart, alloy wheels are high on performance, safety, and economy as well. In the Audi Coupe, alloy wheels increase safety by providing precise steering control. The heat generated from high speeds is easily dissipated because of the heat-conducting properties of the alloy, thus safeguarding the tyres of the car. Accelerating, braking, and cornering are all handled effectively when alloy wheels are fitted on the car. This also indirectly results in fuel efficiency and reduced tension on the suspension and tyres.
While selecting alloy wheels for the Audi Coupe, car owners should look for sizes recommended by the manufacturer in the owner's manual. The wheel size, PCD, centre bore, and offset are parameters that car owners have to comply with in order to find the right alloy wheels for their Audi Coupes. Shoppers can find and purchase genuine and high-quality alloy wheels to outfit Audi Coupes through eBay at affordable prices. The website's many user-friendly features make this process easy.