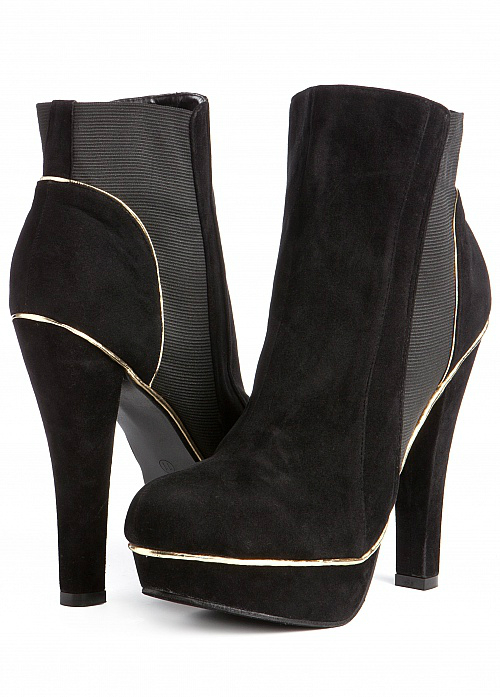 Ankle boots are classified as any boots that reach below the wearer's calf. They are fashionable and practical footwear. Not only do these boots look great with a wide array of outfits, but they also provide extra coverage and ankle support to the wearer's feet. Ankle boots can be found in a wide array of designs, colours, and styles, ranging from casual to formal. Their length allows them to be styled perfectly under trousers or if preferred, worn with the trousers tucked into the boots. They can also work well with dresses and skirts. Ankle boots can vary in heel height. Some may even be made as convertible boots: these boots have shafts that fold down, allowing the wearer to achieve different looks. When searching for ankle boots that flatter the wearer's legs on eBay, buyers should consider the various styles, what to wear the boots with, and how they affect the woman's body shape.
Styles of Ankle Boots
There are many styles of ankle boots to consider when making a purchase. These boots vary by design, height, and colour. Buyers should consider the boots intended purpose and what they will be worn with, along with the comfort level. All of this can help in the decision-making process.
Stiletto Ankle Boots
Stiletto ankle boots are designed to make a fashion statement. They give the wearer added height and attract the attention of others with their slim high heels and tall soles. Many designers have a stiletto ankle boot in their fashion footwear collection. A pair of stiletto ankle boots make the legs look wider and should be reserved for those with delicate legs.
Pointed Ankle Boots
Pointed ankle boots have been in and out of fashion every few seasons. They are tapered, coming to a sharp angled pointed toe. These boots are generally polished and found in materials such as leather or suede. The pointed toe creates a narrowing effect at the lower leg.
Wedge Ankle Boots
Wedge ankle boots are designed to evenly distribute the body weight across the wearer's foot. Similar to stilettos, these boots give the wearer additional height and a more feminine appearance. They work well for dressier occasions or casual events. Wedges are known for their comfort and style. The height of the wedge can elongate the legs, but the solid heel can create a widening effect, so be careful to balance this look.
Platform Ankle Boots
Platform ankle boots are distinguished by their bulky soles and high heels, giving the wearer even more height. This footwear is generally elaborate in design. Platform ankle boots downplay the size of a woman's legs, making them appear thinner. Women with petite legs should avoid platform ankle boots as they will make their legs look even skinnier than they are.
What to Wear with Ankle Boots
Ankle boots are versatile and work well with many outfits. Their length is flattering, making them easy to style.
Dresses and Skirts
Ankle boots can be paired with dresses and skirts, showing off and enhancing the length of the wearer's legs. The taller the shaft of the boots, the shorter the dress or skirt should be. The shorter the dress or skirt hem, the longer the legs will appear. A dress or skirt that is the wrong length can make the legs appear shorter instead of longer. For example, wearing a knee length skirt with a taller boot shaft will visually shorten the legs and give the wearer a stubby look. Shorter girls may choose to pair the ankle boots with tights in a matching colour. This helps to elongate the legs. Avoid mixing contrasting colours such as black on white as this will visually cut the wearer's legs in half. Taller girls can wear the boots without tights.
Jeans and Trousers
Slouchy, flat ankle boots with a rounded toe give off a young, trendy feel, while ankle boots with a more defined and pointed toe create a stylish look. So, the tailored look of the boots should match that of the trousers: slouchy boots work best with casual trousers, like jeans, and smart boots work best with more formal trousers. When pairing ankle boots with jeans or trousers, wearer's should pay attention to the proportions of both the height of the boots and the length of the bottoms. Ankle boots look great when paired with skinny jeans or boot cut bottoms. Tall women may opt for cropped jeans, however, this look can break up the body and should be avoided by shorter women. Capris should never be worn with ankle boots as they cut the wearer's calves, making them appear larger.
Leggings
Ankle boots pair nicely with leggings. Leggings should extend past the top of the ankle boot and can be worn with a loose fitting tunic to complete the look. Wearer's should avoid wearing leggings that end above the boot as the skin that shows can make the legs appear shorter.
Ankle Boots for a Woman's Body Shape
Choosing the right scale of ankle boots for the wearer's legs, feet, and ankles is important and will help to avoid drawing unwanted attention to their problem areas. Ankle boots can make short legs look shorter and wide legs even wider, if worn incorrectly. To avoid this, women should work with their proportions, height, and body shape to achieve a flattering look.
Ankle Boots for Hourglass Shapes
Chunky heeled ankle boots work well on hourglass shaped women as they help to balance out their curves. Stilettos can leave a curvier figure looking unbalanced and disproportionate.
Ankle Boots for Apple and Inverted Triangle Shapes
Apple and inverted triangle shaped women, who are top heavy, should consider ankle boots that are brightly coloured or embellished to draw attention away from their upper body and towards their legs.
Ankle Boots for Pear Shapes
Pear shaped women are considered bottom heavy. These women should consider a simple ankle boot with a heel, which will help to extend the length of their legs and slim their calves. Simple boots will also avoid drawing too much attention downwards. Wedges look great on this body type. Pear shaped women may benefit from sticking to material textures such as leather. Shiny fabrics expand the size of the feet. Women with larger calves should also avoid embellished ankle boots or boots with hardware such as straps and buckles which make their legs appear heavy. Boots with visible zips create a slimming effect.
Ankle Boots for Rectangle Shapes
Women who are rectangle shaped should consider ankle boots that have intricate detailing. This will create a layer of interest and help to give the illusion of curves in the lower half of the body. Thinner heeled boots that hover just around the wearer's ankle are ideal.
How to Buy Ankle Boots on eBay
Shopping for ankle boots can be easy with the wide variety available on eBay. From the eBay home page, simply enter your search for any type of ankle boots, including colour and brand, into the search box and a long list of results will appear. You can also use eBay's advanced search feature to narrow down ankle boot options. This is a great tool for buyers who have a better sense of the type of boots that they require. Buyers may also like to limit results by Top-rated sellers, who are eBay sellers with a good reputation for providing excellent products and customer service.
If you prefer to browse the different types of ankle boots available, go to the eBay home page and search the category listings. You will see many options for this type of footwear and are able to narrow the results by price.
Before finalising any purchase on eBay, investigate the seller thoroughly. On eBay, this is simply a matter of reading a seller's feedback comments and checking their rating. You should also know that in the event that the ankle boots do not fit, many sellers offer refunds or exchanges. Be sure to review all policies before buying.
Conclusion
For the fashionista, choosing the right ankle boots that flatter her legs is an important decision. The selection of women's ankle boots on eBay is far larger than many other retailers can offer. These boots range in style from high heels to flats and work well with a wide array of outfits. Stilettos are sure to make a fashion statement, whereas wedges are more practical and can be worn for both casual and upscale occasions. Women who like to flaunt their legs may pair the ankle boots with a short mini skirt, while other women may choose to wear the boots under a pair of skinny jeans.
It is important to consider the wearer's body shape when purchasing boots to ensure a pair that best flatter her legs. The right pair of boots can slim the legs and add inches to the woman's height. A top heavy woman may opt for more flashy boots, helping to highlight her nice calf muscles and drawing attention away from her upper body. Conversely, platform ankle boots can downplay a bottom heavy woman's larger calves, making them appear smaller. With so many ankle boot listings to choose from, eBay can help any woman to look and feel her best in trendy footwear.