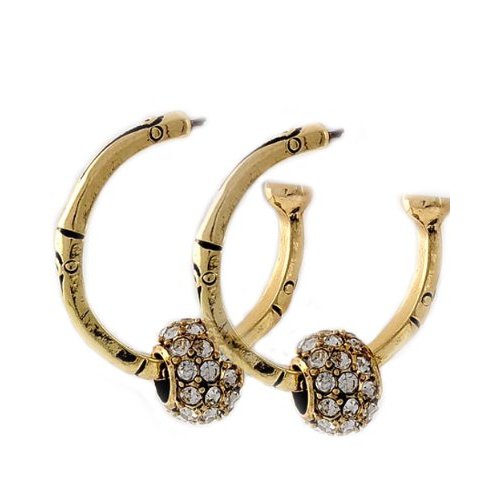 Hoop earrings are lovely, and antique hoop earrings are a beautiful addition to any woman's wardrobe. Vintage hoop earrings come in a wide variety of metals, styles, shapes, and sizes, with different types of embellishments ranging from simple, understated metal hoop to chunky, oversized hoops made from Bakelite. It is easy to find hoops for affordable prices on eBay, but it helps to know what type of hoops a consumer is looking for to make the search more simple and convenient.
Antique hoop earrings studded with diamonds or gemstones add sparkle to any outfit, and twisted metal hoops created from varying shades of gold are lustrous and shiny. When shopping for antique hoop earrings, compare and contrast the styles before making a final purchasing decision. Buy a pair of antique hoop earrings based on price, style preference, metal type, and design, and be sure to get hoop earrings which complement existing jewellery and clothing styles.
Types of Antique Hoop Earrings
When it comes to various types of antique hoop earrings, it is easier to categorise them by style instead of time period, because a buyer may not be as invested in the time period as the type and style of earrings themselves. Hoop earrings really did not come into vogue until the early 1900s, but their heyday really hit in the 60s, 70s, and 80s, with hippies wearing oversized silver hoops in the early decades and women who wore chunky plastic and glittered hoops in the later decades of the century.
Antique hoop earrings range from quite simple and delicate to large, statement pieces. A woman is able to emphasise her own personal style with the right pair of antique hoop earrings, and a pair in mint condition is a great find for a collector of antique jewellery.
Metal Hoop Earrings
Antique metal hoops are made from yellow gold, white gold, rose gold, sterling silver, or platinum. These types of hoops vary widely in size and even shape, with some hoops leaning more toward an oval or drop shape instead of being perfectly round in shape. Metal hoops also contain several types of metals together.
Some metal hoop earrings have added embellishments like filigree details, engravings or designs, hanging stones or crystals, or beads strung onto the hoops. Multiple hoops are sometimes fused together to form the earrings, and the hoops may or may not be entwined together. Metal hoops may be wavy, crimped, or hammered to add a unique look.
Studded Hoop Earrings
A popular option for antique hoop earrings is hoops which are studded with diamonds, stones, or a combination of the two. Pearls may also line a pair of hoop earrings for an elegant look. Studded hoops sometimes offer gemstones of various colours or stones mixed with diamonds. These hoops vary in size.
Vintage diamond hoops oftentimes have a cluster of diamonds placed on thick hoops or a single line of diamonds around the entire length of the hoop earrings. Antique hoop earrings that have stones on them may also be long, dangling hoops encrusted with sparkling stones. They are made from a variety of metals and some types of vintage hoop earrings have several layers of diamonds for a quite sparkly set of earrings.
Plastic Hoop Earrings
Plastic hoop earrings range from the colourful Bakelite hoops of the Art Deco period to the 1980s acrylic or lucite hoops, which are sometimes made with glitter embedded in the plastic. Antique plastic hoops come in a variety of colours and they are generally chunky, bold pieces of jewellery. Bakelite hoops sometimes look like amber. Plastic hoops come in many different sizes and colours and some are thicker than others.
Plastic hoops were also popular in the 1970s, and were simple and bright. Plastic earrings are lightweight and fun to wear and add whimsy to any outfit. Lucite earrings look almost marbled and add a definite retro look to a woman's outfit. Lucite hoops may be round hoop shaped earrings attached to posts and dangling, so they are worn differently than standard types of hoops that go over the earlobes.
Comparing Hoop Earrings
The hoop earrings of today are vastly different from antique hoop earrings. Hoop earrings of earlier periods were created with multiple filigree designs, elaborate engraved details such as leaves and hearts, and interesting materials such as Bakelite plastic. Today's hoops, while studded with stones and sometimes created with a lot of detail, lack the handmade quality and workmanship that some of the antique hoop styles offered.
Antique hoop earrings are also unique; while modern hoops are found in every retailer, an antique pair of hoop earrings offers a one of a kind look which no one else has. A cool pair of retro hoops mixes well with today's modern looks, but adds a fashionable twist to a woman's look.
Selecting the Right Antique Hoop Earrings
Antique hoop earrings are made of different materials, created in different shapes and sizes, and made with or without elaborate details, crystals, or gemstones. Select a pair of antique hoop earrings based on style and personal preference, as well as budget concerns.
Metal Hoop Earrings

Studded Hoop Earrings

Plastic Hoop Earrings

Made of various metals or a combination of metals

Metal are crimped, wavy, gilt, or shaped like hearts, ovals, or teardrops

Added details such as filigree and engraving make metal hoops special

Made with gemstones or diamonds

Dangling stones sometimes hang from the hoops for added decoration

Pearls or other fine gemstones are oftentimes a part of these type of hoops

Made of lucite, Bakelite, or acrylic plastic

Funky, unique, and oversized

Come in a variety of colours, sizes, and shapes which evoke the Art Deco period or the 1980s fashions
Hoop earrings were not always popular. The majority of earrings which were popular during the early periods were drop, dangle, and stud earrings. Hoop earrings began to see a surge in popularity during the Art Deco period, which also popularised chandelier type earrings. Hoops are created in different sizes, not just the standard round shape, and also comprise oval shaped earrings, and teardrop shapes, and there are even hoops made entirely of chains which became popular in the later part of the 1900s.
How to Buy Antique Hoop Earrings on eBay
Find the perfect pair of antique hoop earrings to add pizzazz to your look by searching on any page on eBay. Find vintage pieces to add to your jewellery collection for affordable prices and see a wide selection by using eBay's simple-to-use search functions. Search for antique and vintage hoop earrings, and you can narrow your search to bring up more relevant results based on the time period, the style, and what colours or metals are in the antique hoop earrings. Looking for a pair of hoop earrings is a lot of fun, especially when you know you are getting a quality shopping experience by purchasing antique hoop earrings from a merchant who is a Top-rated seller on eBay and who has a lot of positive feedback ratings from other satisfied buyers.
Comparison shop for the perfect hoop earrings by reading the seller listings carefully to determine which pair of antique hoop earrings is right for you. Note the condition of the earrings, the price, the style, and the size of the hoop earrings, and make notes while you narrow down the selection. If you find more than one pair of hoop earrings from the same seller, contact the seller to see if you can bundle the items together for a reduced shipping rate. Simply click the "Ask a Question" button to talk directly to the seller about any concerns before you make your final purchase.
Conclusion
Hoop earrings were popular in the 1900s and continue to be popular today. The great thing about buying antique hoop earrings is that the style itself never goes out of trend, and it continues to be a large part of any woman's style today when it comes to accessorising. Mixing today's jewellery with antique pieces is a classic way to add zest to a look and complements any woman's personal style. Wear a gorgeous pair of antique hoop earrings with an updo which emphasises the beauty of the earrings.
A pair of antique hoop earrings is a one of a kind style statement which adds sparkle and shine to a basic blouse or a cocktail dress, depending on how elaborately they are decorated. Antique hoop earrings can be exactly what a buyer needs to make an outfit feel finished and complete a look, and a great pair of earrings is a basic necessity that every woman needs to finish her look. A pair of antique hoops is the perfect component to any outfit and a pair or two are integral parts of a woman's jewellery box. Purchasing a pair of antique hoop earrings is very enjoyable and the earrings will bring even more joy once they arrive right to the doorstep within days of ordering.