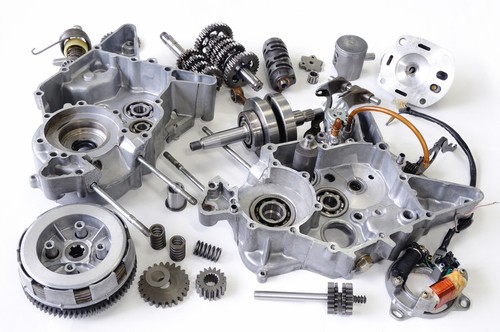 There is plenty to enjoy about a finely tuned Aprilia motorcycle. The wind racing past as that bike speeds down the road, and the feel of the engine purring to life are just a couple of pluses to owning an Aprilia. Working on the motorcycle is another part of owning it. For many, this is both a chore and a pleasant task. Those with more experience can make repairs quickly and save money on taking the bike to a mechanic. Many motorcycle owners prefer to use original parts on their bike, but finding those brand-specific parts can take some time.
Nothing is better, however, than actually locating that perfect part for a motorcycle. Tracking down those parts means arming oneself with certain information about an Aprilia motorcycle, including its model year. Some also need to reference part numbers that are embossed on the broken parts to order new ones. Aprilia motorcycle parts are available through the manufacturer, Aprilia dealers, motorcycle parts stores, and online shops, including the auction site eBay.
About Aprilia Motorcycles
Aprilia produces high quality Italian motorcycles for all riders, but it is most well-known for producing racing sportbikes. Aprilia got its start right after the second world war as a bicycle manufacturer. It was not until 1968 that the company produced its first 50 cubic centimetre (cc) engine motorcycle. By 1970 Aprilia produced its first motocross bike. In the 70s and 80s, professional motocross champions started riding on and winning on Aprilia bikes, and a reputation was born.
Types of Aprilia Motorcycles
Before looking for Aprilia parts, bike owners should determine what type of bike they own. Aprilia produces a few different types of motorcycles for practical, leisure, and sport activities. Each bike has different power outputs and a different ride. For instance, road and adventure bikes have large engines, while sports bikes and scooters have small engines. The wrong engine parts simply cannot get that motorcycle back on the road. Owners need to choose Aprilia parts that best fulfil the needs of the motorcycle.
Road
Most Aprilia road bikes present street legal, comfortable rides for the average motorcycle owner. However, the company also produces sports bikes under this line. These bikes are fast, light-weight, and have very large engines that are sometimes up to 1000 cc in size. It is easy to identify a road bike by their cutting edge look, wide, round tyres, and low tread.
Adventure
The Adventure series is another street legal bike, but it is intended for long road trips. This bike is bigger, allows upright riding, has larger seats, and more cargo capacity. Some models of adventure bikes are also capable of going off-road. Adventure bikes have a longer suspension to provide an easier ride over rough terrain. They also have larger gas tanks, between five and nine gallons.
Off-Road
The off-road, also known as the dirt bike, is designed specifically for off-road use. Aprilia also produces their motocross bikes in this line. These motorcycles are small, lightweight, and have engines of around 500 cc in size. Off-roaders are designed with a lower distribution of weight, which helps the rider stay upright on rough, bumpy terrain. Off-road tyres are thin, with deep treads.
Scooters
Aprilia has a wide range of scooters. The scooter is a different type of motorised vehicle that is hard to mistake for a motorcycle. This vehicle is intended for urban and road use with small wheels, an upright seat and steering, handle brakes, and a step through frame. Scooters have small engines between 50 and 250 cc in size.
How to Find Compatible OEM Parts
Aprilia parts are considered the original equipment manufacturer (OEM) parts, and are produced by Aprilia for their motorcycles. Many people prefer using OEM parts because they are created to the same quality standards as the parts already in the vehicle. These parts are considered better for the bike and, hopefully, last longer and perform to a higher standard than generic parts.
Finding Aprilia Parts
Motorcycle owners need to start networking with other bikers and dealerships early so that they can get a hold of Aprilia parts when it is time to make repairs. Parts for this high-performance Italian motorcycle can be hard to find. However, the Internet is a good place to locate those items as needed. It is always a good idea to know what make, model, and model year of bike one owns, not only for proper usage of the bike, but also for finding compatible parts. Nearly all of the parts on an Aprilia have a part or model number. One can write this number from a damaged or broken part down, and use it to order a replacement part. The part number also makes online searches for Aprilia parts that much easier. If the part number is not on a label on the part, it is often engraved or embossed on the metal.
Looking Up Model and Model Year
Those who are not familiar with the model and model year of their Aprilia motorcycle can look it up using the VIN number or serial number. The VIN is the number that Aprilia and other vehicle manufacturers use to identify their bikes. It is a combination of letters and numbers. Every motorcycle contains its own unique VIN.
Manufacturers place VIN numbers in several spots on a motorcycle to prevent theft of the motorcycle or its parts. This number is usually placed on the motorcycle frame; on, or near the steering column and under the lid of the storage compartment. It can also be on a metal label that is placed near the glass shield. As well, the VIN may sometimes be placed on the engine, and other parts of the motorcycle.
The VIN number is also printed on the vehicle title. Bike owners who are having trouble locating the VIN on the bike, can usually find it on the title.
Decoding the VIN Number
The easiest way to find out information about the Aprilia motorcycle from the VIN is to input it into an online decoder. The online decoder provides basic information about the motorcycle from the number, including the make, model, year, and where it was manufactured. Different segments of the VIN provide different information about the motorcycle.
| Digits One to Three | Digits Four to Eight | Ninth Digit | Tenth Digit | Remaining Digits |
| --- | --- | --- | --- | --- |
| Indicates country, manufacturer, and make | Manufacturer's codes; exact model and equipment | Reference number; used to prevent fraud | Model year | Serial numbers; identify the individual motorcycle |
To manually decode the VIN number, Aprilia owners need a VIN code chart. Once the model, and model year of the Aprilia is known, the owner can find the correct Aprilia part.
Buying Aprilia Parts on eBay
Aprilia parts are available at a great price on eBay through many sellers. Rather than searching through all of the categories to find these parts, save some time and use the search engine. The engine is available from any page on the site and is easy to use. Just enter the search term and press the "Search" button. The search term can be general or you can make it specific to the brand, such as "Aprilia headlights". The sight searches through all of its listings in a specified category and then expands to the rest of the categories to find matching listings. These matches are returned in a search results page.
Searching Via Postcode
You can save some money and time on shipping by searching for your Aprilia parts through local sellers. Find these sellers by searching for parts using your local postcode. To narrow down the search results using the postcode, just look for the "Distance" refinement. Enter the postcode, then select your preferred search radius. The site instantly updates the listings to show only those in the local area.
Conclusion
There are four different types of Aprilia motorcycles on the market. Motorcycle owners end up needing parts specific to these motorcycles when the original parts are damaged or wear out. The best way to find these parts is to search for them by the make, model, and model year of the bike. Finding OEM parts for the Aprilia requires some networking to find stores and dealers that sell them. However, the Internet is a great place to track down parts quickly.
Owners who do not know the model or year of their motorcycles can look this information up using the VIN number. The VIN is a sequence of letters and numbers that runs between 13 and 17 digits long. It can be used to look up the manufacturers, country of origin, and model of the bike. It also provides information about the exact model and how the bike is equipped. The VIN number on a motorcycle is specific to that vehicle. Once, the number is found it can be entered into a VIN decoder to learn more about the motorcycle. This information in turn makes it possible to find Aprilia parts specific to the vehicle. Aprilia parts are also available on eBay.