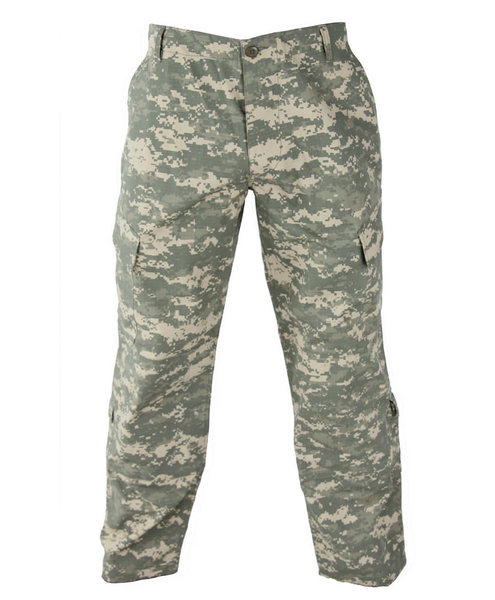 Whether interested in military items or just looking for hardy clothing, buyers have favoured army-style and army surplus clothing for its incredible toughness, convenience and comfort for years.
Army trousers are particularly popular items amongst military aficionados, walkers and even fashion fans, and with this guide buyers will be able to understand not only the many choices of army trousers available to them, but also how they can go about buying the ideal pair of trousers for the perfect price.
Army Trousers
'Army trousers' actually cover a wide spectrum of military leg wear, which may be confusing to buyers will little or no military knowledge – such as the difference between barrack dress, parade and combat trousers. When looking at army trousers, there are many choices to make and factors to consider whilst searching for the ideal pair. The main factors to consider are:
Type
Armies have many kinds of trouser available to personnel because of changing conditions, deployments and situations. When searching for army trousers, the buyer should first decide what type of trouser they would prefer.
Size
It is important for the buyer to consider size before purchasing any army trousers, as though most can be adjusted by use of the waist and ankle drawstrings the material can be very heavy – so buyers may not wish for too much extra material.
Army trouser sizes for both men and women are measured by waist and inside leg, and usually in inches. Buyers should ensure that the measurements of the trousers match their own as closely as possible, as too much or too little trouser may be uncomfortable and inconvenient.
Country
There are many examples of army trousers from militaries around the world, and the buyer may wish to buy a pair of trousers belonging to a particular country. This may be due to interest in the country, but design is also of interest with the various variations in uniform across the world.
Well-represented armies on eBay alongside the British are those from the U.S.A and Germany, though there are many other countries available. If wishing to buy army trousers from a particular country besides the ubiquitous British army surplus, the buyer should make sure to use the search bar to full advantage.
Colour
Though perhaps an odd thing to consider – with many people considering the predominant colour of any army clothes to be 'green', there is a range of colours available. For instance, some regiments have been granted the right to wear particular colours of trousers, such as Scots Regimental Tartan. However, camouflaged combat trousers also come in a variety of colour patterns to suit different terrains, such as desert, woodland, tropical and many others.
Style vs. Surplus
It may be important for the buyer to consider whether they would prefer an army-style trouser, or a pair of real army-issue trousers sold as surplus. There is no better trouser; it is just what the buyer prefers. Both types are designed along entirely different lines.
Army-style trousers are designed to have the appearance of real army trousers but the materials are likely to be different, and the cut of the fabric may be adjusted to provide a more flattering shape. Army-issue surplus trousers however, are built with durability, convenience and the safety of the wearer in mind – the fabric will likely be more durable. However, since they are designed to be functional, they may not provide as flattering a fit as army-style trousers designed by a clothing line.
It is up to the buyer to decide what is the ideal type of trouser for them, whether it is surplus or imitation, combat or dress – the buyer simply needs to keep all these different factors in mind whilst they are deciding and searching online.
Why Wear Army Trousers
It may seem a simple question, but why should the buyer wear army trousers? They are designed to be functional and combat-friendly, so why should a buyer purchase a pair of trousers built for combat they will hopefully never see? Well, many civilian buyers over the years have discovered the advantages of owning a pair of army trousers, some of which being:
Convenience – army trousers, particularly combat ones, are designed to aid the wearer as much as possible, meaning that trousers are designed to be incredibly convenient. Most have several – up to six or even eight – pockets, allowing the wearer to stow items quickly and still have them ready to hand. This can be a great advantage to buyers who work, camp or hike and do not want to carry large bags around, as many items can be kept in pockets.
Comfort – whilst the material of army trousers can be very heavy, they are also made to be comfortable to wear for long periods at a time. Lightweight army trousers are known to be easy to wear during summer months, whereas heavyweight combat trousers keep warmth in very well.
Durability – army trousers are designed to be hugely durable, and resistant to the everyday wear and tear of use.
Outside – army trousers are made to be resistant to many types of weather conditions, whether hot or cold, dry and wet. Gore-Tex water-resistant fabric is widely used, and hugely popular with hikers and walkers who need clothes that won't absorb water and become heavy and cold.
Additions – army trousers have many additions to make them as convenient as possible, including drawstring waist and ankles to adjust to different waist size as well as keep sand and water out, belt tabs and the many extra pockets already mentioned.
These are just a handful of the reasons why buyers should consider purchasing army trousers on eBay, as they are not only helpful to those with an interest in military clothing, but also of great use to those who need a tough, comfortable and weather-resistant pair of trousers for their leisure activities.
Buying Army Trousers on eBay
When the buyer has absorbed all the information about the variety of trousers available for purchase, they need to begin searching. eBay has an extensive selection of army trousers listed, and when searching eBay buyers should bear in mind:
Price – the cost of items is often the determining factor in any purchase, and there are many army trousers for sale on eBay at a variety of prices. The buyer can use search preferences to narrow down search results to match their budget, and with trousers available at both 'Auction' and 'Buy It Now', there is a great deal of flexibility when purchasing items.
Type – selecting the type of army trousers desired will help the buyer a great deal when attempting to guide their search – using the search bar to indicate a preference, if there is one, is the ideal way to find exactly what is wanted.
Size – there are many different sizes of army trousers available, and many sellers have a range of trousers of varying sizes available for purchase. Buyers should make sure to check the listing title and description for waist and leg lengths.
Country – if the buyer has a particular country's army uniform in mind, they can use the search bar to indicate their preference. They can also use the search preferences to narrow down the results to a period or a particular conflict.
Local Sellers – purchasing army trousers from local sellers is the ideal way to keep shipping prices down.
If the buyer requires any further advice on searching, they should consult eBay's Search Tips page for more guidance on how to achieve the perfect search result. If they have any questions about any of the items they see listed, they should not hesitate to ask the seller.
Conclusion
Army trousers are a favoured piece of clothing by many people, whether they're military enthusiasts or hiking devotees. With this guide buyers should be able not only to understand the variety of army trousers available to them, but also how and even why they should want to purchase a pair of army trousers on eBay.
When searching for army trousers, buyers should bear in mind the benefits of purchasing items using PayPal, eBay's recommended way to buy, with additional eBay buyer protection.