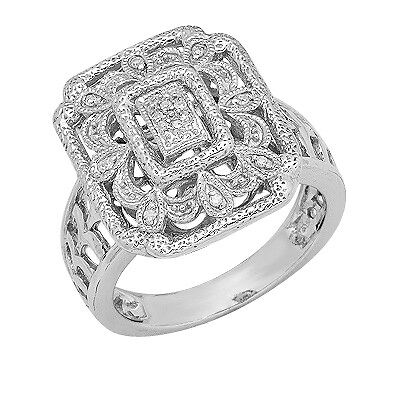 Art Deco is one of the most enduring design eras in the history of jewellery. The period only lasted around 20 years, from the early 1920s to late 1940s, but its influence extended through the 50's and 60's and up to the present day. The style reflects the opulence of the era, as well as popular new materials and geometric shapes, and opened the door for various other artistic motifs found in the jewellery designs of today. Jewellery houses like Cartier, Tiffany & Co., and Van Cleef & Arpels created some of their most iconic pieces during the Art Deco period.
Popular the world over, Art Deco also influenced architecture, fashion, movies, interior design, industrial design, and graphic arts. Advertising also took cues, with billboards, magazine ads and even political posters featuring an Art Deco design. This buying guide will provide information about the history, types and styles of Art Deco jewellery. It will also provide tips to assist the selection process, and outline instructions for care and maintenance.
History of Art Deco Jewellery
Many historians believe that the Art Deco movement began at the Paris World Fair in 1925, though the name Art Deco was coined retrospectively in the late 1960s. As travel became cheaper and faster in the 1920's, more people began visiting foreign countries and experiencing new cultures. Interest in archaeology had also soared, due to excavations at Pompeii, Troy, the tomb of Tutankhamen, and other sites around the world. This exposed jewellery makers, houses and buyers to new shapes, motifs and styles.
As the movement evolved, further influences came from ancient Egypt, Mesopotamia, Greece, Rome, Asia, Mesoamerica, and Oceania. These meshed with the already present Machine Age elements to create bold new designs and shapes, often using colours and a mix of materials. The Second World War saw the end the Art Deco movement, as the shadow of global conflict subdued the spirit and exuberance it was founded upon. However, Art Deco experienced a renaissance in the 1960s, and the style continues to inspire jewellery design to this day.
Discover Art Deco Jewellery
The Art Deco style is characterized by the playful use of geometric shapes, bold lines and brash colours. Hexagons play off triangles, squares inter-weave with rectangles, and all are melded together into fantastic design and patterns. Art Deco jewellery was no exception, and was designed with the same focus on geometry. Diamonds, emeralds, sapphires and rubies were popular choices for the production of fine jewellery. Costume pieces copied the originals by using faux stones, plastic and enamel. Black onyx set against white diamonds and crystal is a particularly striking style of the period. Art Deco jewellery also depicted stylized animals and live subjects. Today, Art Deco jewellery is highly collectable and it can be used as a statement piece, or be blended to complement most modern styles and fashions.
Materials of Art Deco Jewellery
Art Deco jewellery incorporated the use of many materials, from metals and plastics to precious gems and stones. Some popular materials include:
Plastic
Bakelite
Rubies
Gold
Pearls
Chrome
Steel
Diamonds
Onyx
Platinum
Coral
Jade
Lapis Lazuli
Silver
Emerald
Glass
White Gold
Sapphire
Quartz
Carnelians
Enamel
Types of Art Deco Jewellery
Some of the more popular examples of Art Deco jewellery include:
Brooches
Earrings
Bracelets
Necklaces
Rings
Duette Clips
Dress and Fur Clips
Watches
Flapper Beads
Characteristics of Art Deco Jewellery
Art Deco incorporated elements of previous eras, the Machine Age and newly discovered treasures from around the world. Many features are characteristic of jewellery from the Art Deco period, but the following attributes are generally considered to define the Art Deco style:
Geometric and angular shapes
Vibrant colours
Use of chrome, glass and enamel
Composition of yellow gold, white gold, silver and platinum
Precious stones such as diamonds, emeralds, sapphires and rubies (as well as semi-precious stones)
Symmetrical design
Theatrical contrasts (such as the darkness of black onyx against the brilliance of white diamonds)
Motifs from nature (including seashells, animals, flowers)
Factors to Consider When Buying Art Deco Jewellery
Before purchasing a piece of Art Deco jewellery it is necessary to determine its value. Composition and condition are the biggest factors to consider during this process. Below are some tips for evaluating Art Deco jewellery on eBay.
Colour - Take a close look at the colour of the jewellery. Colours used in Art Deco pieces are generally much brighter and more vivid than jewellery created during other periods, such as Art Nouveau or Arts and Crafts. Often, the use of bright colours is an indication of a genuine Art Deco piece. Buyers should ask for any additional information they need to ascertain the piece's origin.
Shape - Examine the shape of the piece. Compared to the soft, curved shapes of fine jewellery of other eras, the lines of Art Deco jewellery are typically straight and geometric. Common stone cuts of the era include; emerald, baguette, triangle and shield cut.
Materials - Consider the materials used. Diamonds, rubies, emeralds and sapphires are all commonly found in Art Deco jewellery. Dramatic combinations of materials and stones are typical of the style.
Influences - Motifs from Egyptian, Indian and Far Eastern art and design was incredibly popular during the Art Deco movement. Materials from these regions, such as ivory and jade, confirm these influences. Scarab beetle and sphinx designs were inspired by the Egyptians, and animals and transportation symbols, such as planes and cars, were also recurring themes in Art Deco pieces.
How to Care for Art Deco Jewellery
Older jewellery items are often more delicate and require special care. Art Deco jewellery should be carefully stored in a cotton-lined box, at a moderate room temperature. Fluctuations in temperature are not good for any jewellery, and older pieces can be particularly sensitive to extreme heat and cold.
Lotions, makeup and natural oils from the skin can also be damaging, so apply these products prior to putting on a piece of Art Deco jewellery. In addition, it is recommended that owners avoid bathing, cleaning, gardening and exercising while wearing any items to avoid damaging the piece.
When cleaning Art Deco jewellery, it is also important to never to allow a jeweller to use an ultrasonic cleaner. These may be useful for contemporary pieces, but the machines can loosen stones, remove patina and cause other damage to the older material in Art Deco jewellery.
Store-bought dip solutions should also be avoided. They can be abrasive and often contain chemicals too harsh for older items of jewellery. Instead, use a small jar filled with fresh warm water and a small amount of mild soap or detergent can be used. If a stone becomes loose, take it to a professional jeweller for repair.
Popular Art Deco Jewellery Manufacturers
Below is a list of some of the most well known Art Deco jewellery manufacturers.
Raymond Templier
René Lalique
Gérard Sandoz
Jean Després
Emile Brandt
Cartier
Tiffany and Co.
G. Ravasco
Theodor Fahrners
Sybil Dunlop
Harold Stabler
H.G. Murphy
Georg Jensen
Georges Fouquet
Van Cleef and Arpels
Useful Accessories for Art Deco Jewellery
Each piece of Art Deco jewellery requires very different methods of care. However, it is useful for owners of any Art Deco pieces to have some of the following products on hand for proper maintenance.
Soft toothbrush
Jewellery polishing cloth
Ammonia solution - one third ammonia to two thirds water (for gold, platinum and gemstones)
Mild soap (for emeralds, opals and jade etc.)
Baking powder (dilute in water to clean silver jewellery)
Finding Art Deco Jewellery on eBay
Once you determine the type of Art Deco jewellery piece you want to purchase, visit the Jewellery & Watches portal on eBay, click on 'Vintage & Antique Jewellery' and start searching item listings. The Categories list on the left-hand side of the eBay page helps to narrow the search.
Searching for Art Deco Jewellery on eBay
Search eBay listing titles for specific words when shopping for Art Deco jewellery. For example, to find a gold and ruby Art Deco brooch, type 'Art Deco Brooch' into the search box, and then click the Advanced button to customise the results. Also visit eBay's Search Tips page for more advice on searching for art deco jewellery with keywords. If you can't find the exact piece of jewellery you want, try shopping eBay Stores.
Conclusion
As well as choosing a piece on its appearance, it is important to know the origin of a piece of Art Deco jewellery, as the age and maker of the item can affect its worth. It is also worth considering the materials used, the cut of gemstones, the craftsmanship, and the overall style of the piece. Knowing exactly what styles were popular throughout different eras and regions is also useful when identifying a piece of Art Deco jewellery. With consideration of the materials and designs available on the market, it is easier for a buyer to find a piece of jewellery that will best suit their taste. Once you have collected this information, you can buy a piece of Art Deco jewellery safely and securely on eBay.