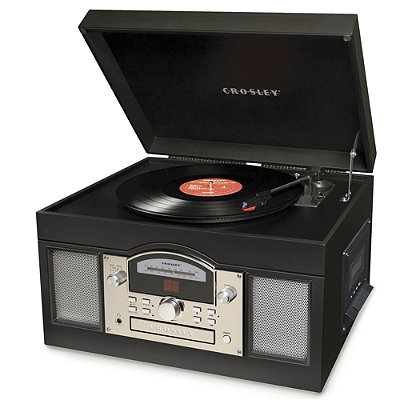 At one time, the audio turntable appeared to be on its way out the door. Compact discs were all the rage and society was headed straight for a digital music revolution. Some might say the DJ community almost single handedly prevented the extinction and brought it back to prominence. Thanks to the resurgence, the turntable is not only the centrepiece for DJ setups, but a pleasant fixture in the lives of diehard vinyl fans everywhere. And in contrast to musical counterparts such as the cassette deck and obsolete 8-track player, evolution has been kind to the turntable.
Stereo equipment has made tremendous strides, and the audio turntable market is a prime example of how far it has come. Whether it's connecting to a computer or converting vinyl tunes into various digital formats, these multi-talented musical machines are more capable than ever. On the flip side, the advancements in technology have made shopping for a turntable a much more complicated process. With so many factors to keep in mind, this is one purchase that can present challenges to both beginners and seasoned vinyl spinners alike.
Basic Components to Audio Turntables
First off, an individual should be familiar with the basic components of a turntable, which include the base, platter, tonearm, and cartridge and stylus.
Base
Also known as the plinth, the base supports all the other components of a turntable. It essentially acts as the foundation that provides stability for everything. Typically made from plastic, metal, or wood, the quality of the base goes a long when in determining the overall quality of playback.
Platter
The platter is the platform the record rests and spins on. This component is usually accompanied by a mat, which sits between its surface and the surface of the record. The platform helps transmit sound through the needle, but in order to deliver sound at an optimal level, its speed must match the speed of the record.
Tonearm
The tonearm is the component on a turntable that hovers over the record and allows the needle to follow the grooves in the vinyl as it spins. In addition to getting the needle on the record, it is responsible for helping the record maintain a consistent speed and sound. A turntable with a poorly designed arm will generally result in inconsistent speed and poor sound.
Cartridge and Stylus
The cartridge is the housing unit that supports the stylus, which is more commonly known as the needle. It not uncommon for a stylus to require routine replacement on a turntable that is frequently used. While a cartridge can be replaced, frequent replacements are not recommended, so choosing a good one to begin with is important.
Features to Look For in an Audio Turntable
An audio turntable may come loaded with a host of interesting features. Some features are similar to what is commonly found on a conventional record player, but others are unique to the turntable.
Start/Stop Control
One of the most interesting aspects of turntable technology is the addition of automation. Instead of pushing a button to start the process, a consumer can simply programme their device to automatically crank up the motor. This is a tremendous luxury for someone who wants to do as little as possible, but others like to get more involved. Turntables that come with a start/stop button give the DJ control over when, how, and where the record starts and stops. This is the best option for the serious operator who demands the utmost control.
Cue Control
Similar to start/stop control, many turntables offer the option of manual or automatic cue control systems. With a manual system, the user must physically lift, and lower the cartridge and stylus onto the record. Automatic systems offer a simpler operation that typically calls for the user to hit a button while the turntable handles the rest. In general, manual systems are better for those who want complete control over the operation, an automatic systems are geared towards those who are either inexperienced, pressed for time, or concerned about manually scratching records.
Pitch Control
Pitch control allows the user to change the standard speed of the turntable. By increasing or decreasing the rotating speed of the platter, this feature enables the average piece of DJ equipment to increase or decrease speed by as much as eight per cent. Pitch control is another aspect that presents both digital and traditional options. For instance, analogue controls use different voltage levels to determine pitch and playback speed, while digital controls use digital signal processing. The exact pitch control specifications will depend on the turntable.
USB Support
A feature that gained popularity in the digital era of turntables is the built-in USB port. The addition of this port enables the transferring of music from vinyl to a computer, where it can then be converted to a digital format such as MP3. This feature is ideal for the individual who wants to convert a large collection of records over to digital, or someone who has rare albums that are not available in a digital format. Anyone looking at a USB-friendly turntable should do the necessary research to make sure the port hasn't been implemented at the sacrifice of quality.
Scalability
The enthusiast with a modest budget would likely prefer to upgrade their turntable in the future rather than buy a completely new deck. These buyers should set their sights on something that offers an easy path to upgrades. An upgrade may consist of replacing a tonearm, cartridge, or needle. Consumers concerned about replacements or enhancements need to be weary of turntables that are purposely designed to make upgrades next to impossible. With some low-end hardware, owners are better off replacing the unit entirely because upgrading is so impractical.
New vs. Used Turntables
Audio turntables are still being produced on a regular basis. This activity has resulted in a thriving market stocked with a plethora of brand new and used systems. When it comes to new turntables, the options generally fall in three price categories.
Low End
Most low-end turntables are equipped to the handle the basic task of playing records. Decks in this price range are ideal for novices or those who simply don't have a lot of money to spend. However, they can be a huge disappointment for seasoned Djs because of issues such as low quality sound, poor construction, and inability to upgrade.
Mid Range
In terms of quality, the differences between turntables in the moderately priced and cheap price range can be significant. It is possible to find systems in this category with impressive designs and high-performance features, in addition to the ability to seamlessly accommodate upgrades. The reliability of some moderately priced turntables has made fans out of rookies and experienced record spinners alike.
High End
These turntables obviously cost a pretty penny, but as far as what they can do functionality wise, the sky's the limit. From built-in speakers to gold plated platforms, the look and feel of these units gets more amazing the more money the buyer is willing to spend. Shoppers looking at turntables in this category are encouraged to carefully evaluate their needs and conduct extensive research before making the investment.
Questions to Ask About Used Turntables
A used audio turntable is an also an option, but as with any previously owned electronics, buyers must proceed with caution. When taking the used route, interested parties should ask the seller several questions, including:
Does it work?
How old is it?
How long was it in the seller's possession?
What was it used for? (professional recording sessions, scratching, etc)
Does it include original components and accessories?
What is the condition of the main components?
The answers to these questions will help the buyer determine whether or not a specific item is right for them. A little due diligence is all it takes to land a solid used turntable.
Buying Audio Turntables on eBay
In addition to a huge selection, eBay offers several ways to find the turntable you're looking for. You can begin by using the main search option on the homepage. Enter "audio turntable" into the search box, and review the listings. For more refined results, use more detail keywords such as "USB-friendly turntable" or "RCA turntable". This method allows you to scan the entire site for what you want based on the keywords you enter. You can also use the Advanced Search function, which lets you get more refined results by basing your search on criteria such as price, location, and condition.
The seller community on eBay is comprised of various small businesses and individuals you will have likely never heard of. For this reason alone, it is a good idea to spend some time getting to know the seller you're dealing with. eBay makes this process easy and convenient by allowing you to review the seller's profile for a snapshot of their transaction history. You can also identify potentially good suitors by the "Top Rated" seller label, which indicates that a seller has a long history of providing customers with quality service.
Conclusion
Although it is often associated with a golden era of music, the audio turntable has proven that the value it brings to the table is timeless. An increasing number of recording artists are releasing new albums in vinyl form to broaden their reach to fans and DJs who prefer record spinning over digitised substitutes. Then there is the nostalgia factor associated with the group of people that either have a massive record collection, or fond memories of growing up listening to their favourite tracks on wax. It all adds up to a massive community that is still quite fond of the instrument that has been used to manipulate the sound of music for generations.
While turntables are relatively simple and straightforward in terms of operation, choosing one can be challenging ordeal. You have to take so much to take into account, with everything from construction and cost to features and condition being a big deal. There is a lot to process, but when you know what to look for and where to look, you can find a turntable that fits into whatever musical mastery you have planned.