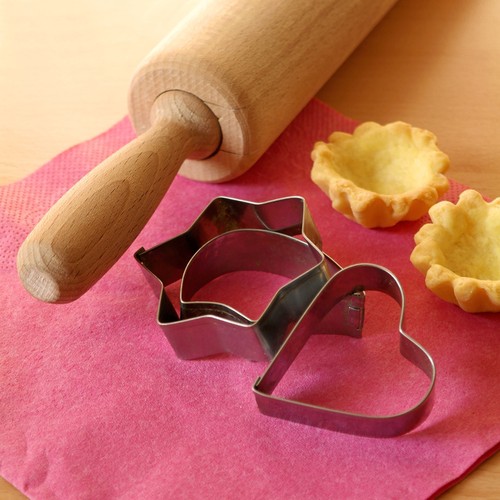 Baking accessories are easily found on the eBay marketplace and are in no short supply; it is safe to say that anyone looking will likely find the accessory that they require on eBay without the need to shop in any brick and mortar stores. This brings both convenience and possible discounts, at the price of allowing several days for delivery if instant access is not a necessity.
What Kinds of Baking Accessories Are Available?
The list provided below depicts a number of kinds of baking accessories that one may find on eBay. It is not intended to be an exhaustive list of all baking accessories, but rather an informative list of some of the more popular and useful accessories in creating baked goods. These are all products that can be found on the eBay marketplace, and information pertaining to the location and categorisation of such items is listed at the bottom of this article to help users navigate to the relevant areas of the eBay website.
| | |
| --- | --- |
| Baking Trays / Cake Tins | Muffins, cupcakes, fairy cakes; whatever one might call them, these kinds of cakes will require a special tray to facilitate their baking and to maintain their shape in doing so. Baking trays are used to this end and are available in various different designs, shapes, and volumes. These trays can be purchased in a number of different materials, including aluminium, carbon steel, and tinned steel; these are all highly durable in order to stand constantly high temperatures that are applied during baking. Cake tins are needed to bake a full sized cake, usually having a base that can be popped out to allow easy removal of the finished cake without causing damage. |
| Kitchen Scales / Measuring Implements | Kitchen scales are important for ensuring accurate and consistent measurements for any recipe. Maintaining such accuracy can be important in a number of recipes such as soufflés. Therefore, although estimating recipes and measurements may be possible for more experienced bakers, it is better to follow recipes using exact measurements. Measuring spoons may be used for making measurements of flour, sugar, and other ingredients in smaller quantities that can fit into a large spoon; however, unlike kitchen scales, they are less capable of measuring large volumes of ingredients. In America, many people measure ingredients in "cups", and thus many recipes online are found to use such measurements. |
| Greaseproof Linings / Cases | Greaseproof paper is important if wanting to avoid the unpleasant consequences of having a cake(s) adhere to the inside of a baking tin or tray. This paper prevents a baked product from sticking to the metal of its container, and thus makes it far easier to remove after baking. Such paper is very inexpensive to purchase on eBay and one roll will typically suffice for a great number of batches of cakes. Muffin / cupcake cases are used to bake smaller cakes in trays and help to maintain the structure of the cakes when baking. They also improve presentation and hygiene in the finished product. Like greaseproof paper, muffing / cupcake cases are very inexpensive to purchase. |
| Decorative Aspects | Cake decorating encompasses all products that are used to enhance the final appearance of a baked product. The popularity of such products on eBay is large, and as such, there are hundreds of thousands of different products available for this purpose. It's possible to purchase either edible or non-edible decorative products, both of which are well catered for on the eBay marketplace. The former may include sugar balls and sprinkles, popular with cupcakes or muffins, with the latter including larger seasonal-themed Christmas cake decorations, for example. |
| Electrical Appliances | When mixing ingredients for a cake, electric mixers take a lot of the effort and strain out of whisking. The whisk attachments are removable for ease of cleaning. Dough mixers are extremely useful in creating high-quality dough and thus baked goods; however, they are very expensive machines. |
| | Rolling pins, usually plastic or wooden in design, can be used to roll out dough for making bread or pizza bases, icing for cakes and pastries for making goods such as turnovers and pies. Some are specially designed to be non-stick so that dough and pastry will not adhere to the pin. Ceramic baking beans are a must if baking pies as they ensure a firm, good quality base for the filling. |
Seller Listing Type
Sellers can choose to list their items in one of two ways when setting up a sale. They can either list their item under an Auction listing, or list it with an instant-purchase price tag, named "Buy it now". Both types of sale have their own advantages and drawbacks; therefore, it is the seller's choice in which listing type to use.
Auctions
Auctions work in a similar manner to any auction held in a public space; people may submit bids for an item in question, before the allocated time expires, and the highest bidder wins the item. These timers can be set for short periods, such as 24 hours, or several days. Again, it is the choice of the seller in what kind of time limit they wish to use. Short auctions may ensure a quick sale; however, the likelihood is that less people will see the auction, and therefore the item will probably attract fewer bidders. These auction style listings commonly result in items selling for a lower price than the RRP, which is a great positive to buyers. Sellers aren't disadvantaged in this way either, as a reserve price means that they can avoid any unpleasant surprises in the form of being underpaid for an item. Unfortunately for buyers, items listed under an auction cannot be instantly purchased unless the seller has also stipulated a "Buy it now" price; this means that it is harder to win the item if up against a number of other bidders determined to obtain it also.
Buy it Now
These listings are common with sellers pushing a large volume of similar products, with a large catalogue of products, or just those wishing to make a quick sale for a price that they're sure will be accepte. Customers are given the convenience of being able to instantly win an item and spend no time following the auction until its specified end. Unfortunately, the convenience of an instant purchase can also mean that products listed in this way often have inflated price tags.
Postage and Packaging
Postage for an item is listed alongside the auction or "Buy it now" price on the listing. This can be listed as either a numeric value or as "free". Usually smaller sellers will stipulate a certain cost to be added to the final item price, which will cover their own postage costs to ship the item to the winning bidder. However, sellers that trade large numbers of items will commonly waive the postage fee as they can afford to cover the postage costs themselves, or use their own courier service. Another method commonly used is to simply add a few extra pounds to the final cost of the item. This has the advantage of covering the cost of postage, whilst not putting off buyers who don't want to pay additional funds for the service.
Finding Baking Accessories on eBay
Finding Baking Accessories on eBay couldn't be easier. Items are categorised according to their type, which makes locating a specific product simple and efficient. These categories are all clearly defined on the eBay homepage. Cooking & Kitchen Fittings is the category under which a range of baking accessories can be found, bar those which have been incorrectly listed elsewhere. Though not directly linked from the eBay landing page, this category can be found by navigating through Home & Garden to Furniture & Living. The interface on eBay features a range of filters that can help to define results by price, auction ending time, if applicable, and used or new items for example. Such filters make finding items even easier. Furthermore, it's possible to search for similar items by means of the display on the eBay homepage that shows items similar to those a buyer has recently viewed.
Conclusion
Baking accessories are such a common commodity that they are in great supply on eBay. Aside from particularly specialist products, one can likely find all the necessary tools for baking on the seller auctions, and even specialist equipment can likely be located from some specialist sellers. In searching all of the auctions available, and using eBay's auction filtering tools, users can find the best deal for the product they are searching for and order it directly to their home for convenience.