Black plates make a striking, bold statement at meal times or displayed on your dining table, ready for your guests. They work with almost any decor, and with a wide range of styles, shapes, and materials, you can find something to suit your style, whether classic or contemporary. Understanding the different black plate construction materials allows you to make the right choice for your home.
Bone China Black Plates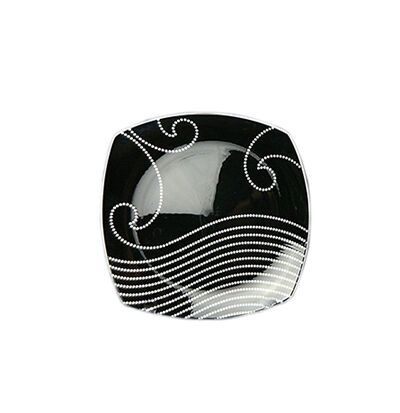 Make a sophisticated addition to your dining room with black bone china plates. Bone china withstands very high temperatures and is very durable, able to hold up against the rigours of everyday use. Bone china is chip resistant, making it a good choice for black plates, as when black plates chip, they look very unsightly, because the white or ivory construction material beneath shows through the chip. Black bone china plates are usually dishwasher safe for ease of use, but be sure to check the manufacturer's instructions. With extended use, some black bone china develops silver or grey deposits from the continual contact of cutlery, but this is easy to remove with a mildly abrasive cleaner, and leaves no permanent damage.
Porcelain Black Plates
Black porcelain plates are attractive and durable, and usually less expensive than bone china. With high temperature firing, porcelain withstands daily use and is lightweight, although generally thicker than bone china. These particularly strong, lightweight plates add an air of opulence to any dining event. Because of the high strength, porcelain plates can be very thin, giving a delicate appearance, which with black colouring, provides an interesting, aesthetically pleasing appearance, suited to any occasion, even the most refined.
Earthenware Black Plates
Inexpensive and thicker than bone china or porcelain, black earthenware plates are more delicate, despite their bulkier and heavier construction. These plates are also more prone to chipping and glaze crazing than other types, so if you choose earthenware plates, only hand wash them and handle them with care. Earthenware provides a touch of old-fashioned rustic charm, and choosing back earthenware plates adds an interesting, contemporary twist to a classic style.
Size and Shape of Black Plates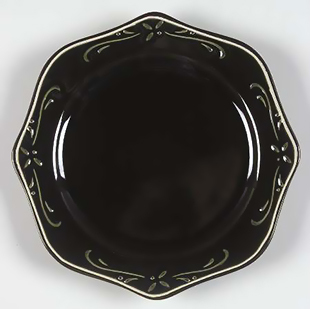 When choosing black plates, you have to take the size of the plates into account. Consider the size of your dining table, and how many diners you need to fit comfortably around it. Also consider your cupboard and storage space. Standard round plates are generally 27 to 30 cm in diameter, so choose your plates according to your dining table and storage space. The shape is another important factor. For a classic look, choose circular plates, or for a more contemporary style, consider rectangular or square plates, offering clean, straight lines.