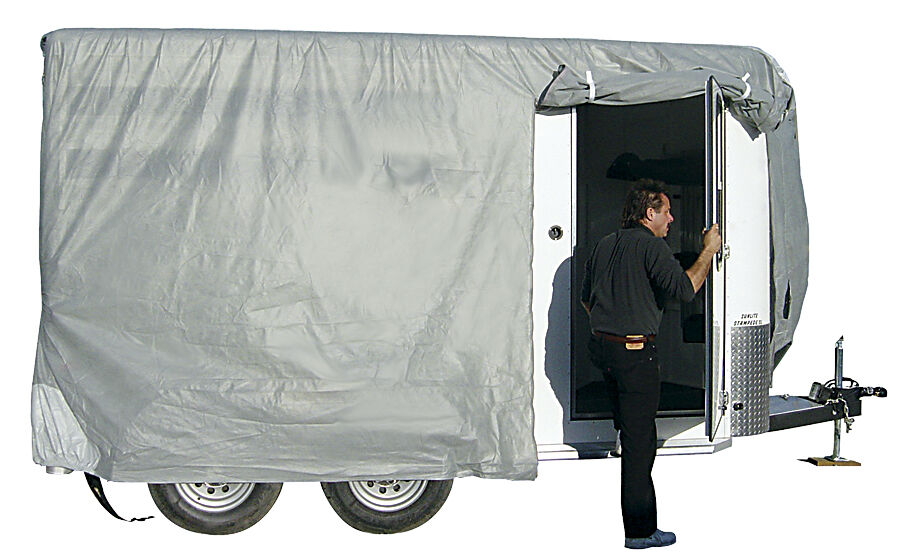 Box trailers are a great way to haul equipment, such as motorbikes, tools, and other objects, without them being exposed to the elements. A box trailer can also be locked up completely so that someone cannot tamper with the contents. Many different types of box trailers exist and are designed to carry many different objects. Most box trailers hitch to a bumper or frame, but there are also trailers that are larger and accommodate a fifth wheel. A good place to start shopping for a box trailer is eBay. They have a vast selection of the different types of trailers available.
There are several key things that a user needs to think about when purchasing a box trailer from eBay. It is an excellent idea to plan ahead. By planning ahead, it is possible to choose a box trailer that matches the needs of the person purchasing it. It is important to consider how the box trailer is to be used, which type of box trailer is needed, and the size of the box trailer that is needed. Without contemplating and knowing these things, it is very hard to find the perfect trailer.
Uses for a Box Trailer
There are many uses for a box trailer. A person purchases a box trailer for hauling things that should not get wet or take any road wear. The most common things that are hauled in a box trailer are motorbikes, tools, and cars.
Box Trailers and Motorbikes
Depending on the size of a box trailer, up to three motorbikes can be placed into one. This is good for travelling to bike events that are distant. The motorbikes may be packed into a box trailer because the event is too far for riding. Some box trailers are specifically made for motorbikes. They have ramps, rails, and places for tie downs. All of these things make it easier to haul a bike without it moving around in the trailer, causing damage. There are one, two, and three rail trailers. This means that the trailer can carry one, two, or three motorbikes without them moving and damaging each other on a longer trip. In order to find a motorbike box trailer, a buyer should simply input the search terms "motorbike box trailer" into the eBay search box, and click on search.
Box Trailers for Tools
Using a box trailer to transport tools to and from job sites is a popular use of these trailers. Many construction companies, engineering companies, and even landscaping companies use box trailers to keep their equipment clean and dry. The trailer usually has a loading door and may have a side door for easy access to the interior. The trailers meant specifically for work usually have shelves built into them, a countertop, and tie downs for various tools and objects. Some box trailers even serve as a place to store tools or as a break room for workers. Many of the box trailer meant for work can also contain a small refrigerator and microwave bolted to a countertop. For tools, they usually have a variety of hooks, hangers, and cubbies in order to keep the tools in place while the trailer is in motion and being towed.
If a buyer types the search terms "work box trailer" into the eBay search box, he or she often comes up with a list of different box trailers that are outfitted for a working environment. These trailers come in a variety of sizes and have quite a few modifications or options that are industry specific.
Box Trailers for Cars
Although less prominent, there are box trailers for hauling cars. These are often used to transport classic or expensive cars. The box trailer protects a car from damage due to flying debris on the highway or damage from dust and dirt. These trailers are often heavy duty and wider than an ordinary box trailer. They are meant to house cars with a variety of sizes. These particular trailers often have a heavy duty coupler and construction. In order to find a box trailer meant for a car, simply type "car box trailer" into the search box of the eBay website, and click on search. This lists a variety of box trailers for this purpose.
Types of Box Trailers
The types of box trailers available tend to be as vast as their uses. There is a completely covered box trailer available. This trailer can either be lightweight or heavyweight and is often used to haul things that need to be protected from the elements. There is also a form of box trailer that has four sides that comes up only a few feet. These types of box trailers usually have all four sides closed in and are used for carrying simple items that the elements should not damage. The sizes of box trailers vary radically from 1.8 m by 1 m to 4.3 m by 1.5 m. This is just a range of sizes and by no means top or bottom end of trailer sizes; they are just the more common ranges. Choosing a size of box trailer often involves measuring the object, or objects, it is going to carry. It is also determined by the weight of those objects. A heavy duty axle may be needed for larger, heavier objects, and a lightweight axle may be needed for lighter equipment.
Summary
Purchasing the right box trailer for a particular use can be a bit confusing with all of the types, sizes, and purposes available. Many people need to bring the vehicle into the dealership or take measurements of the vehicle before purchasing a box trailer.
Box Trailer

Purpose

Material

Uncovered small box trailer

Hauling objects that can get wet

Hauling small furniture

Hauling trash to a dump

Wood

Aluminium

Steel

Small covered box trailer

Hauling small equipment

Hauling a single motorbike

Usually made from aluminium

Usually covered with a light material

Can be made from a mix of materials

Medium uncovered box trailer

Hauling tools or landscaping equipment

Hauling two dirt bikes or motorbikes that can take the elements

Moving

Slightly higher sides for larger items

Wood

Aluminium

Steel

Combination of materials

Not covered, but sides may be made from a variety of materials

Medium covered box trailer

Hauling motorbikes that cannot be exposed to the elements

Hauling tools that need to be kept out of the elements

Very rarely made of wood

Usually made from aluminium

May have a canvas top or solid top

Can be made from steel

Large uncovered box trailer

Hauling two or three motorbikes or dirt bikes

Hauling larger pieces of equipment for work that can be exposed to the elements

Sides usually made from wood

Can be made from steel or aluminium

Usually has built-in places for bungee or ratchet cords

Large covered box trailer

Hauling a few motorbikes

Hauling many tools for work

Hauling cars

Sometimes used as a break room for workers

May have wooden shelves

May have a counter made from wood

Usually made from aluminium

Sides may be aluminium with a frame of steel
This is far from an exhaustive list of box trailers, their uses, and the materials from which they are made. It can provide a buyer with an idea of what they are looking for and the box trailers in which they may be interested. By knowing ahead of time what a buyer is going to do with a trailer, the purchase of one from eBay can be a bit easier.
Buying Box Trailers on eBay
When purchasing a product as large as a trailer, there are a few things to look out for. Some of the most important things are the seller's shipping policies, return policies, and feedback. The shipping and return policies are important in case the box trailer is not exactly as described or does not suit the purpose of the individual.
Any box trailer purchased needs a hitch and tie downs. These items can also be found on eBay with a simple search for keywords, such as "bungee tie downs". Simply input the search terms into the search bar, and click on search. This populates a list of products matching the search criteria. Browse through the list until you find the box trailer that suits your needs, and click on that listing.
Clicking on an individual listing allows you to see a detailed description of the item. Read this description carefully and make sure the trailer is what you need and that it can handle its intended purpose. Many times, the size and weight capacity is listed on the eBay detailed description page. If not, be sure to use the "ask the seller" function to clarify any questions.
Conclusion
The purchase of a box trailer is not one to be taken lightly. Many things must be considered before purchasing a box trailer on eBay. To ensure that the correct trailer is purchased, it is important to know its intended use, its size, materials, and uses. Most of the box trailers have specific purposes and their interior design is to suit these purposes. Many of the uses can be crossed depending on which type of trailer it is. Even though it is a tool trailer, a person can still use it as a car or motorbike trailer, depending on their needs.
Many people purchase box trailers with one purpose in mind and find out that these trailers are extremely versatile. Some may even modify the trailer to suit their exact needs and desires. It is not difficult to find a box trailer on eBay, but knowing what its primary function is to be is definitely an advantage when reading the eBay descriptions.