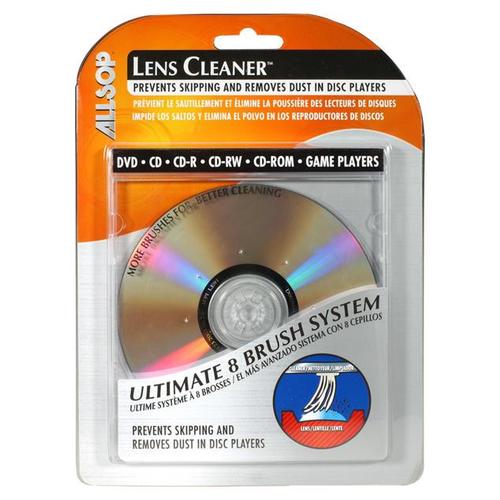 Anyone who owns a CD player for some time eventually encounters problems with playback. Either the machine has trouble recognising that a disc has been loaded, or CD playback is haphazard, either skipping or getting "stuck". The same problems can occur in the CD-ROM drive of a PC, resulting in not only poor audio but poor video as well. The first order of business is to clean the CD, particularly if there is one disc that has more trouble than others; however, if the difficulty arises with all discs, then it is likely that the laser lens is dirty and needs to be cleaned. Although there are professionals who clean CD lenses for a fee, it is often quicker, more convenient, and less costly for a consumer to purchase a CD lens cleaner and keep it on hand.
eBay is a good place to purchase CD lens cleaners because many different brands and options are available, as opposed to buying such accessories in a store, which may offer only a couple of choices. By picking up some shopping tips specific to eBay as well as learning about the basics of CD lens cleaners and how and when to use them, owners of computers and CD players can extend the life of their equipment and enjoy their collection of CDs for a long time to come.
Shopping for CD Lens Cleaners on eBay
There are many kinds of CD lens cleaners available on eBay.. Most can be found with products that relate to home audio and computer. Users can search the eBay directory from the homepage and navigate to relevant sections and further narrowing down the selection until arriving at a more comprehensive, filtered results page of lens cleaners.
Another way to find CD lens cleaners on the eBay site is to utilise the search field on the homepage. A keyword or keyword phrase turns up all merchandise tagged with those terms. For instance, a buyer may be interested in a specific cleaning method, so he or she can type in "dry CD lens cleaner" or "wet dry CD lens cleaner kit". Brand names can also be inputted here, such as IXOS..
Either way, category filters on the results pages facilitate in narrowing down the options. A buyer can click on all applicable filters and create a custom-designed search that displays only the items pertaining to his or her needs. For example, specific price ranges can be selected as a filter to return only products that the shopper is truly interested in considering. Buyers can also look for items with free postage.
Types of CD Lens Cleaners
There are two main choices when it comes to CD lens cleaners: wet and dry. There are also combination kits that offer both wet and dry cleaning. Each method has its benefits and drawbacks. There is no right or wrong answer when it comes to choosing one over the other, and even experts do not agree on which method is better, so the buying decision primarily comes down to personal preference. The most important thing to remember, regardless of the cleaning format, is to always take care when working with the inside of any electronic device, not only for personal safety's sake but also because the components are quite delicate and easily damaged.
Wet CD Lens Cleaners
A wet CD lens cleaner works by applying an alcohol-based cleaning solution to the laser lens. This is usually done by saturating a fabric or fibre swatch on a special cleaning CD and inserting this into the drive. The benefit of this approach is that there is less chance of abrading the lens. The downside of a wet cleaner is that the liquid can drip into other parts of the player and damage them. Users should take care to follow the product instructions and not oversaturate the mechanism.
Dry CD Lens Cleaners
A dry CD lens cleaner uses short, stiff brushes to wipe particulate from the laser lens. This is less messy than using a solvent method. The downside of dry CD lens cleaners is that if the cleaning brush is stiff enough to remove a build-up of grime, that same brush may be capable of scratching the lens, which means that the user has merely traded one problem for another. Some brushes create static electricity that can damage the electronics.
Combination Wet and Dry CD Lens Cleaners
Combination cleaners are advantageous because they offer the consumer the option of cleaning with the wet, dry, or both methods. Cleaning with both methods is a two-step procedure. The two-step process is often ideal when cleaning for the first time since there is usually quite a build-up of dust on the laser lens. Afterward, for maintenance cleaning, one or the other method can be used, whichever one prefers.
CD Lens Cleaning Maintenance Schedules
Owners of CD players should keep in mind that cleaning a low-functioning, dirty laser lens is only the first step in proper care. To prevent playback problems for recurring and get one's money's worth from the lens cleaning product, one should then embark on a regular cleaning schedule for equipment. Depending on how much use a CD player gets, the owner may wish to clean the player monthly or even biweekly. However, keeping the CDs clean is an even better idea.
While smoke, pollen, dust, and other airborne particles can enter into the CD drive of a computer or player, some of the dirt comes from the discs themselves. Discs that are not kept in cases become dusty, and fingerprints introduce oil into the unit. Cleaning the CDs themselves is a good way to reduce the intervals between lens cleaning, which is better for the player overall.
Brands of CD Lens Cleaners
There are several brands of cleaners on the market, and while it may not seem to matter, consider that a low-quality cleaner does more harm than good when it is inserted into a CD player. Some of the best-known brands of lens cleaning products include the following:
RCA Discwasher
Scotch
Maxell
Memorex
Allsop
Buyers may find other brands, such as Maxim and Omega, as well as unbranded and generic cleaners.. If possible, check product reviews on unfamiliar brands before making a purchase.
Tips for Buying CD Lens Cleaners on eBay
Once you have made a decision on a CD lens cleaner on eBay, be sure to review all of the information on the item description page. Make sure that you inspect all available photos, understand what condition the item is in, see if a return policy is offered, look at the accepted payment methods, and determine the shipping cost. In particular, you should assess the authorised seller.
Assessing eBay Sellers
Every product listed on eBay features a link directly to the seller's profile page. To view the seller's information, click on an item in the results. Doing so directs you to the individual product listing. On this page, there is a hyperlinked username along with a feedback score and rating. Looking at the percentage of positive feedback tells you what proportion of transactions other eBay users rated positively; the transactions could have been either sales or purchases. If you want more information on the seller, click on the username link. Here, you can view detailed seller ratings, individual buyer comments, and other current listings.
Visiting eBay Shops
A buyer who has a particularly good experience with a seller may want to see if that seller runs an eBay shop.. This information is available on any active product page listed by that seller, as well as on the seller's profile page. Because some sellers tend to offer merchandise in similar categories, visiting their shop can result in bundled or grouped item discounts and postage and packaging savings.
Conclusion
CD lens cleaners are an important maintenance item to have on hand. While not recommended for regular use as the lens can eventually become abraded, they certainly extend the functional life of a CD player. Over time, the laser beam dims, and if this problem is coupled with dirt and dust on the lens, the result is a player that does not read discs or reads poorly. The result is very low quality audio or no sound at all, and bad video where CD-ROMs are concerned.
Buyers who are looking to purchase a CD lens cleaner essentially have three choices: a wet cleaner, a dry cleaner, and a combo cleaner. Wet and dry lens cleaning methods each have benefits and drawbacks, and people differ in their opinions on which type is better, so the decision is primarily one of personal preference. Those consumers who are unsure of their preference should choose a combination wet and dry cleaner and see which one works better.
Shopping on eBay for CD lens cleaners should be an enjoyable experience for any consumer who takes their time gathering information about the item details and the seller. Once buyers get used to the process, they find that eBay is just as secure as buying in shops, only more convenient.