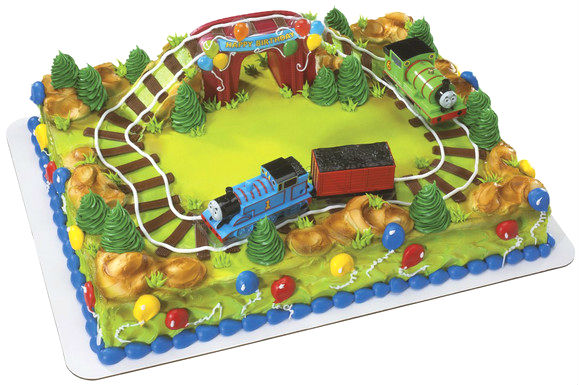 Children love parties and any excuse to eat cake. Most kids are drawn to the fanciest looking cakes that feature bright colours, a lot of icing, and exciting decorations. Many parents are under the impression that they have to purchase the cakes from a professional bakery in order to please their kids. However, with the right cake decorations for kids, parents can create their own unique cakes that draw just as much excited attention. Whether people know how to make fancy cakes or not, the decorative features are what really spruce up this baked dessert. Even a plain, rectangular cake has great potential when given the chance.
There are numerous ways to decorate cakes in a way that children will enjoy. There are sugar shapes, icing, disposable decorations, toys, and candles that can be put together to create the perfect sweet treat. The best part is that using decorations is easy, and requires no skill. Anyone new at baking can pick out fun decorations and arrange them on top of a cake, and those who have experience will enjoy arranging everything together to create a neat design or theme.
History of Cake Decorating
The baking of cakes began in the 1840s when ovens were invented that could be temperature controlled. Before that, it was nearly impossible to cook a cake over a stove or in an oven fuelled by burning coal. Baking from scratch became highly popular after the 1840s, but declined in the 20th century when box mixes were invented and lifestyles became busier. However, decorating the cakes never went away.
Back then, decorations were simple and the variety was limited. Today, it is considered an art and there is an infinite amount of supplies. Television shows often have competitions for cake decorators to see who can create the most stunning designs. These programmes led to families wanting to be able decorate their own cakes as well. Now there is an abundance of decorations for both adults and children.
Types of Cake Decorations for Kids
There are a multitude of ways to decorate cakes for kids that range from purchasing toys to buying unique cake pans. Consider the following kinds of decorations to choose from.
Re-Usable Cake Decorations for Kids
Unlike edible and toy decorations, some things can be reused again. Buying more generic decorations can save money in the long run because they can be used on another cake later on down the road. Examples of re-usable ones include things like plastic balloons, flowers, and holiday specific items. For birthdays, there are plastic numbers to display the age of the recipient, and for other holidays, there are items such as Christmas trees, fake presents, and Easter eggs.
Toy Cake Decorations for Kids
One of the best ways to customise a cake is with toy decorations that the child can play with afterwards. Children especially love this when the toys are of a character, animal, or activity that they enjoy. For example, a girl that likes princesses and castles, will be excited to have a pink cake with princess items on top. A boy who wants to be a football player when he grows up may be excited about sports related toys on the cake. Other toys to consider would be educational ones. For example, a cake with trains, numbers, or animals on it is an opportunity to educate a child as well as give them a cake to enjoy.
Edible Cake Decorations for Kids
Edible cake decorations, such as sweets, can add just as much character to a cake as toys can. For example, parents can make the design more fun and colourful by adding sprinkles or a favourite treat to it. There are also character decorations that are fully edible. To make these, icing is poured into moulds and then hardened. Afterwards, they are coloured to look like the character. For example, there are edible decorations that look like flowers, animals, as well as famous cartoon characters from movies and shows.
Another idea is to get specific sweets with flavours that match that of the cake. This will enhance the taste of the cake as well as the look. For example, try peanut butter flavoured sweets on a chocolate cake, or chocolate flakes on a vanilla cake.
Cake Candles for Kids
Candles are a traditional part of every birthday cake, but people may not realise how many kinds of birthday cake candles are available. First off, they come in just about any kind of colour assortment or pattern. There are also moulded candles that look like numbers, flowers, animals, and characters. If there are no other decorations on the cake, these can be the main centrepiece.
For a more exciting look, try sparkler candles that shoot flames up. There are also trick candles that relight themselves every time they are blown out, which keeps children entertained for quite awhile.
Cake Icing for Kids
Icing may not sound like a decoration, but it can be. After the primary icing is put on the cake, there are special supplies that can be used to add additional decorative icing on top. Some of them come with different tips to create various looks. For example, some tips squeeze the icing out in the shape of a flower, while others make a thin line that can be used to write words with. Putting the child's name on the cake is a great way to customise it.
For those who do not want to by the tools, there are disposable tubes of icing that can be purchased in different colours. Once the icing is squeezed out, the tubes can be thrown away. There are also icing mixes that contain sprinkles that add more colour to the cake.
Shaped Cake Pans for Kids
To make the cake more unique, there are moulded pans that can be bought in different shapes. The cake batter is simply poured into the pan, cooked, and then removed. The cake will remain the shape that it was moulded to; such as a heart, car, or train. Shaped cakes really stand out because they are non-traditional and look like they were made by a professional chef. Kids especially get a kick out of receiving a cake that's different from what they usually see.
Cake Decoration Sets for Kids
To make things more simple, there are two kinds of sets that parents can purchase. Cake decorating sets come with all the tools needed to do fancy icing designs. These kits usually include a tube icing dispenser with variously shaped tips, edible decorations, icing dyes, and icing. Themed decoration sets come with various toys, sweets, and candles that go along with a certain theme, such as a specific cartoon or general sports theme. In some cases, they may also come with matching party favours, paper plates, napkins, and cups.
Find Cake Decorations for Kids on eBay
Most general shops have the same collection of cake decorating supplies. Only hobby stores will have a little more variety of baking goods. eBay is actually the best place to go to find a good variety of cake decorating for kids. They have sellers from all over the world who have listed thousands of products. It is a great way to find specific products that are not usually available in stores.
To see all the cake decorations, type the phrase of what you're looking for in the search box. For example, enter "cake decorations" or "kids cake decorations" You can also be more specific and search for something like "butterfly cake topper". This will bring up a list of the products that are more specific to your search. After you have a list or products to browse through, start narrowing down the selection. You can do this in a number of ways. First, select a theme if it applies. You can choose between birthday, wedding, christening, and Christmas. Next enter in your price range so that anything outside of your budget is removed from the list. Lastly, you select the material of the decoration if it is inedible.
You can search for edible decorations, cake plans, and icing kits the same way as above. However, be sure to read the description carefully because some of these items are sold in bulk, rather than individually.
Conclusion
Decorating cakes for kids is a fun way to surprise them with something that is fun to look at as well as eat. Baking a cake for someone is a sign of appreciation and celebration, and getting the best supplies for the job will ensure a better outcome. Making a cake look fantastic is easy with just a few simple things to help out. Just getting some unique cake pans, icing kits, sweets, toys, and candles will do the trick.
The process can also be used as an activity to enjoy with the kids. Many children love to help decorate cakes because they get to arrange everything in patterns and put on whatever sweets and toys they want. They then get to tell everyone proudly that the cake was designed by them. Whether the child gets to help decorate the cake, or their parents surprise them with a cake uniquely designed to match their interests, decorations help keep the frustration and stress out of baking because they instantly make the cake look grand.