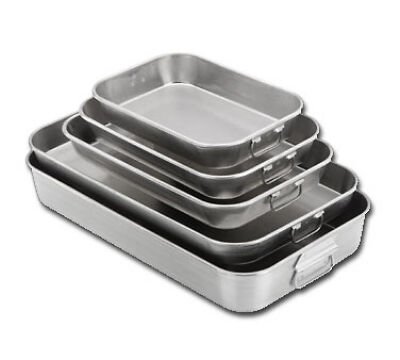 Using the correct cake tin can make the difference between a successful cake making attempt and a failure, so having the right tin to hand is very important. Most cooks that bake cakes on a regular basis will need a range of cake tins to cover the different requirements of recipes. Some recipes may even specify a tin made from a particular material to produce the best results, as well as that the requirements in size, depth and shape of a tin might be given. It is, therefore, essential for a keen cake maker to have an adequate arsenal of tins in stock.
History of Cake Baking
The first known examples of what we would recognise as cakes, were found in the remains of Neolithic villages. Basic cakes made out of grains that had been crushed, moistened and then compacted and cooked on a hot stone were found; these would be the modern day equivalent of our oatcakes or biscuits. The Greeks made cakes of honey and nuts that were known as plakous, which was their word for flat, and the Romans made a cake called placenta from dough and flavoured with cheese honey and bay leaves (like modern-day phyllo). The mid 1700s saw the introduction of cakes made with beaten eggs being used as a raising agent instead of yeast. They were formed into shapes by baking in shaped trays, the forerunners of our baking trays of modern times.
Things to Consider When Buying a Cake Tin
Materials for Cake Tins
Metal
Traditional cake tins will be made of metal; they could be of aluminium or steel, and with or without a non-stick coating on the inside. Metal cake tins need to be of good quality so that the heat is spread evenly around the cake as it bakes; thinner tins or those with a flaw in them may create hot spots that do not cook the contents evenly and will ruin the cake. Some metal cake tins come apart to make getting the cake out fully intact after baking much easier. The sides of the tin may uncouple to allow the baker to lift the cake off the base, or the base itself may push up out of the edges to give easy access to the case. Any cake tins that do come apart need to be carefully looked after to avoid warping, which can affect the snugness of the fit between the pieces.
Silicone
In recent years many bakers have started to use silicone cake tins instead of the traditional metal type; this modern material is robust as well as flexible. Silicone cake tins can be turned inside out to extract the cake in one piece, and will happily go from oven to freezer, allowing cakes to be frozen and stored in the same container in which they are baked. Silicone cookware can be washed in the dishwasher and is easier to keep clean than metal tins, which can become greasy without determined cleaning. Silicone products can also be used in a microwave; a real advantage over metal.
Shape and size
Size
Using the exact size of cake tin that the recipe specifies is a vital part of successful cake baking; the ingredients, amount of mixture and cooking time depends on a certain depth of mixture in the tin and the accurate combination of ingredients. A baker who uses a tin that is too large will spread the cake mixture too thinly and it might well burn, whereas a tin that is too small creates a deeper cake that may not cook through properly before the outside begins to burn.
Shape
Square and round tins also make a difference to the speed and pattern of distribution of heat to a cake mixture and so can affect the outcome. Novelty shaped cake tins can create interesting cakes with no need to trim a square cake to the desired shape; a little bit of trial and error may be needed to determine the correct amount of mixture and cooking time for an unusually shaped cake tin. Silicone is a particularly good material for quirkily shaped cake tins, as the soft material will peel easily from the baked cake, which makes removing it from the tin a lot simpler than is the case with a metal container.
Special Occasion Cakes
Many cakes are produced specifically for a certain celebration or time of the year; their shape and ingredients are usually determined by the particular event.
Stollen
This is a cake of German origin that is eaten during the Christmas period. It is made with fruit and marzipan, but is generally lighter than a UK Christmas cake. The genuine stollen hails from Dresden and has the official seal of King Augustus II the Strong. The bakers in Dresden still produce this original cake, but the recipe is now in general use throughout the world.
Wedding Cake
This is usually a tiered cake that was traditionally a fruit cake, but it can now be any recipe the bride and groom desire. It has historically had a miniature figure of the happy couple atop the top tier, and the cutting ceremony by the bride and groom forms a part of the wedding breakfast. At the conclusion of the ceremony, the cake is distributed amongst the guests. A cook that wants to make a traditional style wedding cake will need different sizes of cake tins in order to make the tiers.
Babka
This is a traditional brioche style cake made predominantly in Eastern Europe for the Easter celebrations. It is baked in a tube tin, which is a round cake tin with a hollow centre creating a large doughnut style shape of cake. It is traditionally unfilled and is glazed with chocolate or vanilla icing and may have almonds or sweet fruit as decoration.
Simnel Cake
This style of cake is eaten during the Easter period in the UK and Ireland. It is a fruit cake with marzipan or almond layers and marzipan balls representing the Apostles decorate the top. The balls on the top were added by the Victorians in a deviation from their usual floral decoration of cakes. Simnel cakes have been around since the Middle Ages when they were eaten on the middle Sunday of Lent.
Swiss Rolls
This is a cake that is made by baking a flat thin sponge cake, coating it with jam or another filling and then rolling the sponge up to form a spiral pattern. A large flat cake tin is needed for this type of cake, and the sponge needs to be perfectly and evenly cooked in order for it to be rolled up into the classic shape. This type of cake did not actually originate in Switzerland, although it was created in Central Europe in the 19th century along with doughnuts, Battenberg cake and Victoria sponge.
How to Buy Cake Tins on eBay
Any cook requiring a specific shape and size of cake tin for a certain recipe should enter the details in the search string on eBay. This will limit the results to exactly what they are looking for, saving the need to go through hundreds of items to find the correct one. Entering the keywords 'cake tins' in the search box will return a huge amount of results, but using the selection categories on the left hand side of the screen will narrow these down. This actually allows the buyer to consider types of cake tin that they may not have found with a more specific search. Those looking for a range of cakes tins in sizes that can suit many recipes should consider buying a complete set of tins; these sets generally contain the more popular sizes of cake tins and will stack neatly inside each other, which is ideal for conserving storage space in smaller kitchens. Cake tins that are designed for specific styles of cake such as tube tins for babka cakes, or muffin trays for individual cupcakes are also easy to find on eBay. Cake tins suitable for making wedding cakes are usually available on eBay, so a cook wishing to make a multi-tiered wedding cake can buy a set of baking trays to create all the tiers.
Conclusion
It is obviously very important to use the correct size and shape of cake tin that a recipe requires if the results are to be what a cook requires. A wedding cake recipe is not likely to do well in a square tin, and a recipe for cupcakes probably won't transfer up to a larger tin without a change in the ingredients. Overall it is best to follow the recipe to the letter when baking cakes, especially for the novice baker. Those with more experience will be able to branch out into experimenting with their own recipes and use cake tins of various specifications.