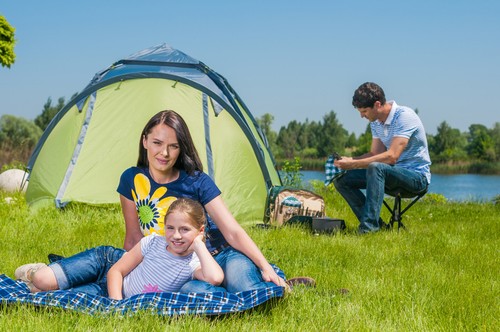 Warm weather camping is a less demanding pursuit than cold weather camping, but poor preparation can be just as hazardous to health. Before setting off on your summer camping trip, it's important to review your camping accessories to make sure you are properly prepared.
On eBay, camping accessories are listed within the main "Camping" category. From here, you can search for camping equipment and refine your results using the filters on the left hand side of the search results page.
Sleeping Bags and Mats
A sleeping bag suitable for winter camping may not be comfortable for warm weather trips. On eBay, purchase a secondary lighter sleeping bag for summer use.
Summer sleeping bags contain less insulation and are therefore more compact. When searching eBay for a suitable sleeping bag, compare the GSM rating and the shape of the sleeping bag:
GSM Rating

Check the GSM (grams per square metre) rating on the sleeping bags you find on eBay. For warm weather use, a low GSM sleeping bag will be more comfortable than a heavier, higher GSM sleeping bag.

Shape

Choose a basic shape sleeping bag with plenty of room to move and a full-sized opening across the top. 'Mummy' shape sleeping bags can get very hot in summer and may restrict movement while you are asleep.

Avoid any sleeping bag with a collar; these are designed to keep the entire body very warm and are only used for cold weather camping.
Warm Weather Camping Mats
Inflatable mattresses are comfortable, but the heavy material makes them difficult to carry and stops the mattress breathing at night. It is better to purchase several foam mats on eBay so that you can layer them, rather than sleeping on a thick inflatable mattress.
Tables and Chairs
On a warm weather camping trip, you will spend a lot of time eating and socialising outdoors. Purchase a good table and a set of chairs on eBay so you can enjoy the good weather without sitting on dry, dusty earth.
Camping tables and chairs are listed within the Sporting Goods category under Tables & Chairs.
If you are concerned about the cost of postage on heavy camping chairs and tables, filter your search results to find a seller that offers local collection or free postage.
Folding Tables

Folding tables can be flattened into a square and usually have a carrying handle on the top edge. Modern folding tables have triangular supports under the legs to make them sturdy in use.

Folding Chairs

Folding chairs are comfortable and easier to carry than rigid furniture, and the canvas material allows the skin to breathe. eBay sellers offer individual folding chairs as well as matching sets.

Picnic Sets

Camping picnic sets consist of a fold out plastic table with two integrated fold out benches. Picnic sets have sturdy, lightweight tubular legs and can be stored flat and assembled in minutes.

eBay sellers offer foldable picnic sets in a variety of colours and sizes. In the auction listing, select the colour you require from the drop-down list before making your purchase. Check the auction listing to ensure your chosen table has safety locks.
Food, Drinks and Storage
Proper food storage is particularly important if you plan to take meat, fish and dairy on your camping trip, but all food needs to be stored and disposed of properly. Search the eBay "Camping" category for food storage items.
· In warm weather, food should be stored in a cool box or cool bag so that it does not spoil. This applies to cooked and raw foods; any food that is stored in a warm place puts the camper at risk of food poisoning.
· If you wish to save leftovers or store food overnight, it should be placed in sealed containers so that the odour of the food does not attract animals and insects.
· In warm weather, campers should always have a plentiful supply of drinking water on hand.
| | |
| --- | --- |
| Water Carriers | On eBay, water bottles can be purchased in a range of sizes, from personal water carriers through to large tubs with in-built taps. If you will be walking to and from your campsite's water supply, a large collapsible water carrier is likely to be more convenient than several smaller bottles. |
| Water Purifiers | When camping in the countryside, you may need to rely on water from streams and rivers. Purchase water purification tablets or fluid on eBay and keep a healthy supply in your backpack. Check the dosing instructions carefully since water purification product contain chlorine; ask your eBay seller for advice on dosage if you have any questions. |
| Ice Blocks and Cool Bags | Ice blocks should be regularly refrozen at your campsite to keep food fresh. For the best protection against warm weather, search eBay for a five-day cool box. |
| Storage Boxes | Plastic food-safe storage boxes are a must for transporting food and keeping it fresh. A set of matching, nested boxes will help you to economise on space. |
| Disposal Bags | Wherever you camp, food waste and packaging should be disposed of sensitively. Purchase a roll of disposal bags on eBay. If you anticipate being some distance from a dustbin, find an action for bags that can be sealed to avoid unpleasant smells. |
Recreation and Other Accessories
Once your tent is set up, you will need accessories for entertainment, socialising and exploring the countryside. Purchasing specific camping accessories on eBay will help you to save space in your bags and get the most from your trip.
| | |
| --- | --- |
| Microfibre Towels | Ordinary bath and beach towels add unnecessary bulk to rucksacks. Consider purchasing a set of lightweight microfibre towels for camping. |
| Solar chargers | Solar chargers can top-up rechargeable batteries, mobile phones and other small electrical items, reducing the need to take large amounts of fresh batteries on your camping trip. Check the auction listing on eBay to determine the mA rating of your solar charger; a higher rating will provide a faster charge. |
| Ponchos | Lightweight ponchos protect against occasional rainfall and can be disposed of when used or recycled later. eBay sellers offer novelty ponchos and bulk packs in adult and children's sizes. |
| Insect Nets | Invest in a proper mosquito net to make socialising and sleeping more comfortable. A mosquito net is essential if you are camping near water in warm weather. |
| Flasks | A good insulated flask will keep liquids cool in warm weather. eBay sellers offer flasks from well-known brands such as Thermos in a range of sizes and colours. |
| Fans | A small battery-powered fan will help to circulate the air inside your tent. Remember to bring spare batteries for your fan, and ensure you bring enough fans to cool every tent – particularly tents where children are sleeping. |
How to Buy a Warm Weather Tent on eBay
In general, most tents on eBay are suitable for warm weather camping. Assuming you do not wish to re-use your tent over winter, you can take your pick from thousands of tents on eBay.
However, bear in mind that weather conditions can change quickly, and a tent suitable for warm weather may not hold up to sudden, torrential rainfall. Additionally, some of the lightweight tents marketed as warm weather tents must be properly anchored in case they are lifted by a gust of wind.
For family camping, choose a tent with several rooms so that body heat is distributed throughout the tent rather than in one space.
Pitch your tent under a tree to shade it from the midday sun. This is particularly important if your tent is not dual lined.
Choose a tent with a separate groundsheet. The gap between the edge of the tent and the groundsheet will allow air to circulate, avoiding an unpleasant build-up of warm air during the day.
Keep your tent well ventilated. Open ventilation flaps day and night and ensure fly and insect screens are closed.
Lightweight, Affordable Warm Weather Tents
Basic tents provide adequate shelter for warm weather camping. They are also easy to put up and take down. There are various types of affordable warm weather tents: your choice will depend on your budget and camping experience.
Instant Tents

Instant tents can be erected quickly, leaving more time to enjoy your camping trip. Simply roll out the tent from its case, push the rods into position and push the poles into position.

When packed, these tents can be quite large and are more suitable for family camping trips than backpacker expeditions into the countryside.

Inflatable Tents

Inflatable tents do not contain rigid tent poles. Instead, the frame of the tent is inflated using a compressor or foot pump. Instant tents are easy to transport but may not withstand a sudden bout of bad weather.

A-frame Tents

The traditional ridge or A-frame tent is one of the most affordable tents on eBay. Despite needing some assembly, A-frame tents do not require the same investment of time as complex geodesic designs.

Pop-Up Tents

Pop-Up tents are ideal for occasional camping trips and festivals since they do not require any assembly and are very affordable.

On eBay, you'll find a range of fun mini pop-up tents designed for children. Buyers purchase small pop-up tents so that children can play in the shade. Pop-up tents are light, inexpensive and easy to erect.
Conclusion
A summer camping trip makes for an enjoyable, affordable family holiday. With the correct accessories, and the right warm weather tent, you will have everything you need for a relaxing, enjoyable camping trip. The vast range of camping accessories on eBay gives any camper or family the chance to stock up on everything they need for warm weather camping at an affordable price.