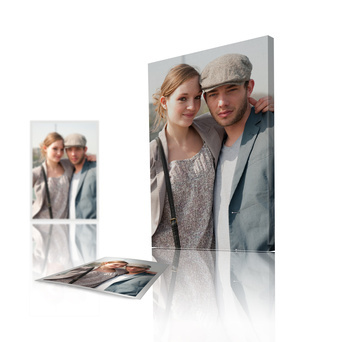 With such a vast range of canvas prints available to you on eBay, it can sometimes be difficult to find one to suit your needs.
This guide offers you some basic tips and guidelines to help you in your search for a canvas print that is right for you.
Your budget will clearly affect all of the options available to you. The better you understand these options, the more confident you can be that you are settling on the right deal.
Type of Print
Firstly, you must decide whether you are looking for a stock canvas print, or whether you wish to personalise your own.
There are many stock image prints available on eBay, with a host of different subjects and categories to choose from. Many sellers also offer a service whereby you upload your own images to them and they print those onto canvas.
Some sellers may be selling limited edition, high-priced canvas prints by well-known artists. You should be sure that these are accompanied by a certificate of authenticity or provenance to show that they are genuine.
Canvas Material
There are two types of material used in canvas printing: cotton and polyester.
Cotton is more expensive and is generally considered to produce higher quality prints. Whilst polyester or cotton/poly composites offer you a cheaper alternative, they will not last as long.
The seller should specify the canvas material their prints are created on. If it is not written in the item description you should probably contact the seller to ask.
Canvas Weight
The weight, or thickness, of the canvas material is measured in GSM (grams per square metre).
Thicker canvases can absorb more ink; this creates an enhanced image and more durable print.
You should expect a minimum weight of around 320 GSM to be sure of a durable print. Sellers will usually make a note of the weight of the canvas in their item description.
Size
You will probably have an idea of the size you wish your canvas print to be. Whether you are after an A4 sized print for the bathroom or a metre squared print for a living area, there are plenty of options available for you to choose from on eBay.
Sellers offering personalised canvas prints will usually have a wide variety of sizes available; simply select the right size to suit your needs and budget. Bear in mind that a picture can just as easily be too big for a space as too small.
Printing Technique
There are two types of technique widely used to produce canvas prints.
The most common technique is laser-jet printing. Canvas is fed into professional laser-jet printers, where high-resolution images are printed directly onto the material. You may also see these types of print referred to as giclées.
Another technique is dye-sublimation, which requires a synthetic canvas. Rather than printing directly onto canvas, these prints are created using a heat-pressing method. This enables the ink to penetrate deep into the canvas. This process is known to create softer, warmer tonal qualities than on ink-jet prints.
Type of Ink
You will find two types of commonly used inks for canvas printing:
Dye Inks: These inks have a wide colour gamut, delivering a more vibrant image. They are cheaper than pigment inks, yet they are prone to fade rapidly when exposed to sunlight.
Pigment Inks: Compared to dye inks, these inks have a narrower colour gamut. This means images may appear less brilliant. However, pigment inks do not have the same problem with UV exposure as dye inks. This means prints can last much longer without fading.
Resolution
The resolution of your print is measured in dots per inch (DPI). The higher the DPI, the more ink is used to create the print. High-resolution images will be clear and radiant even at close-up inspection. The lower the resolution of the image, the worse quality the image will appear. As you might expect, the higher the resolution, the higher the price you should expect to pay.
Sellers should always specify the resolution of your canvas print. Photograph-quality images are usually printed at around 1440 DPI.
Varnish
Your seller may specify that they apply a coat of varnish to the finished print. This offers several advantages. You will be able to clean your print more thoroughly without risk of damaging the image and it will be better protected from getting damp and mouldy. Furthermore, a coat of varnish will reduce the impact of sunlight exposure, increasing your canvas print's lifespan.
Framing
Whether buying a stock print or creating your own, your canvas will usually come gallery wrapped. This means that the canvas print is stretched over a simple wooden frame and stapled or glued down at the rear.
Some sellers, however, will send the canvas print rolled up in a tube without framing. If this is the case, you may need to buy your own stretcher bars to frame your print.
You may also like to confirm that your print will arrive ready to hang. If it doesn't, you may wish to purchase some wall hangers in order to hang it yourself.
If you are unsure about how your print will be delivered to you, you should contact the seller to find out.
Finding a Canvas Print on eBay
Once you have decided on the type of canvas print you want, you can find it quickly and easily on eBay.
Firstly, navigate to the Art category and select Canvas/ Giclee Prints.
From here, you will find many options on the left of the page to select from in order to narrow down your search. Some of the more relevant options are outlined below.
Subject: Here you can select from a number of specific subject matters for your print. Examples include: Abstract; Animals; Botanical; Fantasy; Floral/ Gardens; Music/ Instruments; Nudes; People/ Portraits; and Still Life.
Style: You can also select from a range of different art styles, such as: Abstract; Art Deco; Impressionist; Pop Art; Realism; and Surrealism.
Dominant Colour: You may be after a specific colour for your print, in which case you can choose from a set list.
Price: You will likely be searching for a print with a certain budget in mind. Entering a minimum and maximum price value will ensure that your search results only include items that fall into your budget.
Note: You will notice that a large number of sellers do not provide specific details about their prints which enable them to be categorised. Selecting specific details will mean excluding these items from the search results.
Keyword Search
If you are looking for a specific print, you may wish to use the Keyword search bar towards the top of the page. For example, if you wanted a canvas print by popular artist, Banksy, you would simply type "Banksy" (without quotation marks) into the search box.
If you wish for a service where you upload your own digital images to be printed onto canvas, you may wish to search for "custom prints" or "personalised prints" instead.
You can also select "Search title and description" to expand your search results. Visit eBay's Search Tipspage for more tips on searching with keywords.
If you can't find exactly what you're looking for, try browsing eBay Stores or tell the eBay Community what you're looking for by creating a post on Want It Now, or save a search on My eBay and eBay will email you when a matching item becomes available.
Buy Canvas Prints with Confidence
Make sure that you know exactly what you're buying and understand how eBay and PayPal protect you.
Know Your Item
Read the details in the item listing carefully.
Remember to add delivery costs to your final price. If you're buying a high value item, check that the seller will insure it until it is delivered to you.
If you want more information, click the "Ask seller a question" button on the seller's profile or the "Ask a question" link at the bottom of the item listing page.
Always complete your transaction on eBay (with a bid, Buy it Now or Best Offer) otherwise you will not be covered by eBay Buyer Protection.
Never pay for your eBay item using an instant cash wire transfer service like Western Union or MoneyGram. These are not safe ways of paying someone you do not know.
Know Your Seller
Research your seller so that you feel safe and positive about every transaction.
What is the seller's Feedback rating?
How many transactions have they completed?
How many positive responses do they have?
What do buyers say in their Feedback?
Are they positive about the seller?
Most top eBay sellers operate like retail shops and have a returns policy.
Do they offer a money-back guarantee?
What are their terms and conditions?
Buyer Protection
In the very unlikely event that you do not receive your item or it is not as described, eBay Buyer Protection covers your purchase price plus original delivery cost.