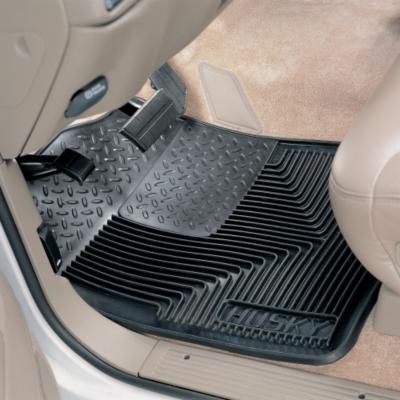 Car owners spend a great deal of money on their cars; registration and licence fees, taxes, insurance, petrol, maintenance, and repairs all add up, not to mention the actual purchase price (and possibly interest on a financing). It makes sense that these owners take pride in their investment and want to keep it as clean and new-looking as possible. Regular washing and waxing take care of the outside of a vehicle, whereas vacuuming and detailing keep the interior looking its best. A good deal of interior dirt comes from the feet of the driver and passengers, and car floor mats protect the floor of the car not only from mud and grime but also from moisture that can rust the floorboard.
eBay is a great resource for all automotive accessories, including car floor mats. A huge number of sellers means that the selection outdoes anything that could be held in one warehouse location. Furthermore, the variety and competitive pricing are unmatchable. Learning how to shop on eBay is simple, and by following a few tips, buyers can be on their way to getting new floor mats in just a few minutes.
Shopping for Car Floor Mats on eBay
Shoppers can browse eBay in a few different ways. The most direct way is to enter keywords in the Search field on the home page. For example, when shopping for car floor mats,, try entering those exact words for a general search, or get more specific by typing in something like "floor mats car beige carpet". Next, click on Search or press Enter. eBay's internal search engine displays all active listings that have those words attached to them. It helps to be as specific as possible; for example, "floor mats beige carpet" returns household rugs as well as car mats, which would require further category selection to get to just car floor mats.
Another way to find car floor mats on eBay is to browse the directory tree. This method takes a few seconds longer but allows buyers to look at other car-related items on the way. Someone who is purchasing several car-related items may prefer shopping this way. Go to the home page, find the link to all categories,, and continue clicking on categories until arriving at car floor mats. One can still make use of the Search field after navigating through the directory tree; for example, after getting to floor mats, one might enter a colour, style, or material to further narrow down the selections.
After getting a general idea of how to search for items, it helps for shoppers to know a little more about the types of car floor mats they are searching for.
How to Choose Car Floor Mats
There are many different types of floor mats on the market. This section provides information on the most important considerations: material, colour, and fit.
Car Floor Mat Materials
There are a few basic materials used for car floor mats: carpet, rubber and plastic, and special absorbent textiles. Most have nubs or some type of texturing on the bottom side to keep them from sliding around. Each material has benefits and drawbacks, as discussed below.
Carpeted Floor Mats
Carpet floor mats are tufted or piled to match the carpeting on the floor of the car. They usually feature a rubber or plastic backing to prevent moisture from seeping through the mat to the floorboard. The carpet is mostly effective at trapping dry particles of dirt and dust. These mats can be vacuumed regularly to keep them clean and can be shampooed occasionally for deep cleansing. However, carpet can wear out from the foot movements if one drives often, and carpet is also prone to cigarette burns. Furthermore, carpeting can only stand up to so much exposure to moisture; in situations where feet are constantly tracking water and snow into a car, rubber mats are ideal.
Rubber and Plastic Floor Mats
Hard rubber floor mats or plastic floor mats work best when the car owner lives in a wet, rainy, snowy, or muddy area. Carpeted floor mats that are exposed to moisture too often can rot, stain, smell, and possibly grow mould or mildew. Rubber mats hold moisture, can be dumped or shaken out and wiped off, and dry fairly quickly. These mats are easy to clean at the car wash by giving them a quick spray, or they can be washed by hand with sudsy water. Rubber floor mats are durable and generally inexpensive; however, they do not give the luxe look that carpeted mats do. Still, they are ideal for a car where pets or children ride on a regular basis, or if one eats and drinks frequently in the car. Some are even made of recycled materials or are recyclable themselves.
Absorbent Mats
There are some floor mats designed to provide additional moisture protection. These are normally layered on top of regular carpeted mats. Some people install regular rubber mats on top of their carpet mats to serve the same purpose. One might keep an extra set of mats in the car boot to be switched out when necessary or desired.
Car Floor Mat Fit
The shape of the floor area may differ from one vehicle make and model to the next. This is dependent on the pedals, drive train, and other factors. The floor mats that come in a new car are custom-fitted to the space. Replacement floor mats do not always fit every car. Some are advertised as universal fit, meaning they are smaller and fairly straight in shape. Buyers may also find floor mats that are specified for their particular vehicle; these are more likely to be contoured to fit the exact floor space. Always be sure to measure existing mats (or the floor space) and check these measurements against the product description to be sure the new mats are designed to fit into a vehicle. Floor mats on eBay are categorised by make, so buyers can find appropriate mats for their car, whether they drive a Rolls Royce or a Renault..
Car Floor Mat Colours
Floor mats typically come in the same colours that are usually found in car interiors. Common colours include:
Black
Grey
Blue
Burgundy
Beige, brown, or tan
Rubber mats also come in clear, much like the floor mats that are used under rolling desk chairs. Most people opt for matching colours; however, for fun, some people like to use contrasting colours or even floor mats with licensed characters and images on them. Entering the colour in the keyword search is the easiest way to find floor mats of a specific colour on eBay.
The eBay Buying Process
After deciding on a type of floor mat, it is time to start looking at individual listings. Clicking on specific items takes you to a product page, complete with a detailed description as well as information on shipping methods and costs, return policies, and other pertinent information. You should take a minute to investigate the seller by clicking on the link to his or her eBay user ID. This is a good way to decide whether the seller in question is someone with whom you would feel comfortable doing business.
Seller Evaluation
Once you arrive at the seller's profile page, you can check out their feedback ratings in more detail, look at the quantity and type of items sold in the past, and even review customer comments. This gives you a general idea on the seller's reliability and level of communication. Note that many low-volume sellers are just as reliable as the high-volume ones; they may simply be private sellers as opposed to businesses.
eBay Shops
Some sellers operate eBay shops and tend to sell similar types of items in which they specialise. You can check to see if a seller has a shop and visit the shop now or in the future to order additional items. Some sellers offer discounts for volume purchases or bundles, so if you are interested in purchasing multiple accessories for a vehicle, this is worth checking out.
Conclusion
While many floor mats are washable, after a time, dirt becomes impossible to remove completely. This is when it is a good time to replace the mats. Car floor mats come in different materials as well as just about any colour (including clear plastic) and shape to match a specific vehicle's interior. Rubber and plastic mats may not look as attractive as carpeted mats, but they are more durable and protect a car better against wetness. Carpet mats give a more high-end look and are more effective at trapping dry dust and dirt. A car owner may wish to layer absorbent or rubber mats on top of the carpeted ones and use the carpet mats only for special occasions when it is important to impress a passenger or otherwise have the automobile look good.
The selection of car floor mats is huge, owing to the number of sellers who list their items every day across the country, the EU, and the entire world. Finding the right mats on eBay is easy once buyers have learned a few tips for searching efficiently. By deciding what exactly one desires in new car floor mats and following these tips, car owners can make their cars look newer and give themselves (and their passengers) a more pleasant ride.