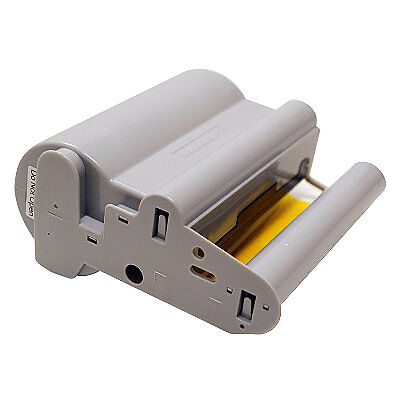 A cartridge is a container that holds essential, yet often replaceable components of a larger system. These containers come in an array shapes, sizes, and colours, and also go by a number of different names. For example, in firearms terminology, a cartridge is also known as a round or shell. In this instance, it is acts as the packaging for a bullet by housing gunpowder in the container placed in the firing chamber of a firearm. The term is also used to describe the read-only memory devices used to load video games and other software applications. A cartridge also may refer to the container used to store data, or the component that acts as the housing for the needle on a turntable or record player.
The term cartridge is most commonly used to refer to the containers used in computing devices. In this case, it generally either describes the replaceable component in an inkjet printer, or the component that holds the toner in a laser printer, fax machine, or photocopier. When purchasing a cartridge, one should consider the different types available depending on his or her needs.
Cartridge Considerations
Buying cartridges on eBay can be a challenging endeavour, and the fact that the term is associated with so many different containers has a lot to do with it. Consumers can begin their journey by determining the type of container they need. The following overview serves as an introduction to the many different types of cartridges.
Data Cartridges
In the business world, storage mediums are necessary to protect information that is critical to an organisation and its customers. Data cartridges provide a method for storing information that is both efficient and reliable. When it comes to data storage, an ideal cartridge is generally viewed as one that stores a significant amount of data in a short time frame, while keeping performance, durability, and reliability in mind. Data cartridges come in many forms, including tape, SSD, and flash drives.
Tape Cartridges
Tape-based data cartridges typically refer to single reels of magnetic tape enclosed in a plastic container. This type of media has been used as an inexpensive data storage solution in the home computing environment for years. Tape cartridges support a variety of formats with storage capacities that range from hundreds of megabytes to hundreds of gigabytes.
SSD Cartridges
Solid storage drive, or SSD cartridges utilise integrated circuit components to store data. Most modern devices use flash technology, though some use random access memory. SSD cartridges are renowned for their speed, performance, and capacity, qualities that make them viable alternatives to hard disk drives.
Flash Drives
Also known as a USB drive, a flash drive is a type of data cartridge that uses a built-in Universal Serial Bus interface to connect to a system such as a computer, and stores data on flash memory. Often used to store, backup, and transfer files, these devices replaced floppy disks for numerous people. Despite being small in stature, flash drives are capable of storing up to two terabytes worth of data.
Buying a data cartridge on eBay is something that should be based on specific storage needs. An individual who simply needs to transfer files between a laptop and tablet computer would likely be just fine with a flash drive. On the other hand, a business with the need to store customer data and other important information would be better suited with the speed and reliability of an SSD or tape-based solution.
Phono Cartridges
In addition to literally putting the needle on the record, the phono cartridge on a turntable plays an integral part in creating the actual sound the system generates. It does this by converting mechanical energy into the electrical energy that is funnelled through the stereo system and output in intelligible form through the speakers. In other words, a good cartridge is vital to good sound quality.
The typical phonograph device utilises either one of two cartridges: a half-inch style, or a P-mount style. Also known as a T4P, a P-mount contains four pins, which are located at the back of the container, and is attached at the end of the tonearm. Often referred to as a standard mount, a half-inch mount also has four pins at the rear of the container, which connect to the four short wires attached to the headshell. The cartridge is held in place by the two vertical screws that fasten the headshell to the tonearm.
Quality aside, cartridges have a habit of wearing out over time. This is pretty much a given, so consumers should consider how easy it is to replace the part before making a purchase. Although replacing a cartridge is generally a simple and straightforward process, the P-mount variation was specifically designed to make this task as easy as possible. With the P-mount style, one simply has to remove the single horizontal screw holding the part in place, and plug the replacement directly into the tonearm.
Printer Cartridges
A printer uses one of two types of cartridges: ink cartridges or toner cartridges.. While they are suitable for plain documents, the ink variety is ideal for printing photographs and image-based documents. Ink cartridges support a wide range of paper types and have the advantage of not needing to warm up before printing. The toner variety is ideal for high output printing applications. This type of printer cartridge has the advantage of printing higher quality text and images, while lasting significantly longer. However, having a warm-up time means there is a delay in printing.
They are made for different printers, but buyers can take comfort in knowing that the considerations for ink and toner cartridge are one in the same.
Model
The simplest way to figure out what printer cartridge is needed is to match the item up by the printer model. This can be done by referring to the model or part number on the device. Even if no such number is available, it is often possible to find cartridges by simply using a combination of model and brand name.
Quality
Printer cartridges are made with varying levels of quality. In many cases, the items sold by device manufacturers have the highest quality and as a result, are more expensive. There are also items made by third-party companies. Often called compatible cartridges, these variations are designed to mimic the functionality of the parts made by the original manufacturers. Compatible cartridges are significantly cheaper, but because they are typically recycled, refurbished, or refilled, they usually lack the quality that accompanies original parts.
Colour
If the situation strictly calls for printing plain documents, a black printer cartridge should suffice. On the other hand, specific colours may be required for printing applications that involve the creation of flyers, catalogues, or postcards. Printers use three primary colours to generate all colours: cyan, magenta, and yellow. The price for colour printer cartridges tends to add up quickly because one must purchase containers for each individual colour.
Page Yield
Most printer cartridge have a page yield that indicates the approximate number of pages the component prints before a replacement is required. However, it is important to note that the yield value is not always consistent. The value is usually more consistent when printing out mostly plain documents and less consistent when printing a lot of colour-intensive documents and photos, the latter meaning that a replacement is likely needed before the advertised yield is reached. Consumers who want the most bang for their buck may want to consider high yield cartridges as they tend to last longer than conventional types.
Buying Cartridges on eBay
Once you have figured out which cartridge you need, you can head over to eBay to look for it. eBay is highly recommended because it offers a huge selection of items from sellers all over the world. As an added bonus, the site's centralised structure and user-friendly navigation makes finding the cartridge you need a relatively simple process.
eBay allows you to find what you want by filing through a variety of relevant categories. If you are looking for a specific cartridge, you can enter those keywords into the search box, which can be found on each page of the eBay website. For example, a search for "Canon toner cartridge&" yields several listings of items relevant to your search. Using more detailed keywords when searching can help to minimize results. For example, try to search using keywords such as "tape-based data cartridges&". You can also narrow the listings even further by using the Advanced search option. This feature is very useful as it lets you use criteria such as Price Range, Location, and even Seller.
Conclusion
Shopping for cartridges can be hard work, and it is all because they fall into so many different categories. Each category comes with its own set of unique and important considerations. On the bright side, this often hectic ordeal can be simplified by knowing how to approach the process. With the type of cartridge you need in mind, you can start determining how its unique factors weigh into your decision. For data storage, think about roughly how much data you need to accommodate and its degree of importance. If it is a part for your turntable, consider the future and the high probability of making a replacement. When considering to buy a cartridge on eBay for printing needs, it is best to determine the exact item you need, while being mindful of key aspects such as quality, colour, and page yield.
Buying a cartridge on eBay does not have to be a nightmarish experience. Understand your individual needs, take all the essential factors under consideration, conduct your search in the right place, and you will find something that is on par with your requirements.