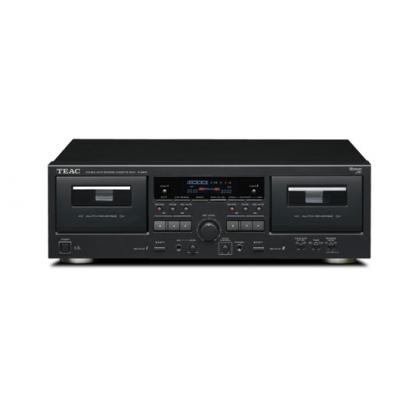 The cassette deck market has undergone a dramatic transformation. Once a cornerstone of the audio appliance sector, it began to suffer shortly after the introduction of the CD player, and started teetering on the brink of extinction with the advent of digital music players. Despite the emergence of various new technologies, the cassette tape itself continues to be a popular format. It offers a convenient way to record audio content at a price that is a substantially less expensive than other methods. The cost benefits are magnified by the fact that cassette decks are considerably cheaper than the devices that have been designed to replace them. With that said, buying one can be just as challenging as it ever was. In fact, purchasing a cassette deck might be even harder in times when manufacturers are pushing the digital revolution.
The Quest for Quality
While the cost of cassette decks has dropped, there is nothing that says a consumer's expectations have to lower as well. With everything from the listening experience to the durability of the equipment on the line, the quality of a given item tends to be a top priority for many shoppers. There is much to consider when shopping for a cassette deck. Consumers who are concerned about the quality of their purchase should keep some specific factors in mind.
Cassette Deck Features
The functionality of a given cassette deck is determined by its feature set. Here are some common features that deserve attention.
| Feature | Description | Considerations |
| --- | --- | --- |
| Number of wells | The compartments that play and record the tape | Dual-well decks enable dubbing, but single wells are generally more reliable |
| Auto reverse | Automatically reverses one side of the tape to begin play on the other side | Auto reverse offers convenience, but can degrade tape performance over time |
| Track programing | Allows users to listen to tracks in any desired order | Tracking programming can potentially damage cassette tapes over time |
| Microphone support | Enables easy connection of external microphones | Cassette decks with mic inputs are generally harder to find |
Before making a purchasing decision, consider the features above, as the functionality of a given cassette deck is determined by its feature set. For example, if one is looking for the ability to easily connect to external microphones, make sure the cassette deck has microphone support.
Technical Specifications
When it comes to shopping for cassette decks on eBay, the list of specifications one encounters can be quite extensive. Here are some basic, yet important technical aspects to look out for.
Heads
Heads are essential to cassette decks as they record and read to and from the tape medium. Dual-head decks generally use one head to play and record, and another to erase audio. Three-head cassette decks use separate heads for playing, recording, and erasing respectively, with each head typically being able to be optimised to support its exclusive purpose. These decks offer better frequency, sound quality, and durability.
Motors
Cassette deck motors are similar to heads in the sense that more is usually better. The job of the head is to rewind, forward, and fast forward the tape in the deck. A single motor moves in two directions at two different speeds. It moves the tape forward slowly when playing a tape, while moving fast when fast-forwarding and rewinding. Like the head aspect, decks with multiple heads offer better performance because their components are dedicated to a specific task, which typically results in higher quality sound and improved durability.
Noise Reduction
This specification is particularly important to individuals with plans of using a cassette deck for recording purposes. Various background noises threaten to ruin sound quality during the recording the process, especially when recording at higher frequencies. As the name suggests, noise reduction is a technology that reduces this noise to the point where the audio is clear and even enjoyable to listen to.
All the noise reduction technology implemented in cassette decks is licensed by Dolby Laboratories. However, different Dolby technology is suited for different recording applications. For example, Dolby SR takes a more aggressive approach to noise reduction, so it is used exclusively in professional recording equipment. Then there is Dolby HX Pro, which is not a noise reduction technology, yet works with other Dolby noise reduction systems to reduce noise by enabling the recording of signals at levels higher than what could ordinarily be achieved.
Cassette Deck Brands
Sizing up hardware by brand is one of the best ways to shop for cassette decks on eBay. Brands a consumer may encounter on the market include names such as:
Nakamichi
A veteran manufacturer of audio equipment, Nakamichi is a trusted name in the cassette deck market. The Japanese company is known for several popular models, including the MR-1. This three-head, three-motor unit was designed for use in recording studios and other professional environments, so its sound quality is top notch. Nakamichi cassette players tend to deliver the best performance when paired up with other Nakamichi equipment.
Sony
Sony is another brand name consumers have long relied on for their cassette deck needs. What makes Sony such a viable option is the variety it offers. For instance, the manufacturer has products that accommodate a receiver and other equipment typically found in traditional stereo systems, in addition to boom boxes, and walkmans suited for personal needs. Individuals who are not sure about the type of cassette player they want have a wide selection to choose from in the Sony catalogue.
Aiwa
Many of the Aiwa cassette decks available on the market fall in the category of vintage. This includes the AD-6500. A solid state system, the AD-6500 boasts a two-head design, individual input level controls, and dual mono microphone inputs. One time among the most expensive brands on the market, the current cost of Aiwa cassette decks is so cheap that shoppers can easily luck up on a steal of a deal.
Denon
The Denon brand features several lines of high quality cassette decks. Included in the list is the DR-M11, a two-head system that may have once been ahead of its time. This player comes equipped with the ability to support three types of tape, record protection, and a four-digit digital counter. Throughout the years, the Denon name has accompanied finely designed products that are known for their reliability.
New or Used Cassette Decks?
There was a time when buying a new cassette deck over a used one would always be the better option. After all, these devices contain enough small moving parts to make troubleshooting a challenge for the most skilled repairman. But with the market barely clinging to life support, a consumer may find that used is the best way to go. The troubling thing about this is that taking the used route often means going with something at least ten years old.
An individual shopping for a used cassette player is encouraged to pay special attention to the condition of the items they are looking at. A cassette deck that has either been used extensively or sitting unused for a long period of time can be problematic just the same. Since the nature of such an item can make for a risky purchase, where the consumer shops for cassette decks could make all the difference in terms of what they get.
Buying Cassette Decks on eBay
It can be next to impossible to find a good cassette deck at your local electronics store. The lack of availability is one of the reasons some consumers turn to the classified section of their newspaper. There are a few roads to travel, but if you want to broaden your options, the huge selection on eBay cannot be beat.
If you already have your ideal cassette deck in mind, you can search for "cassette decks" or "Nakamichi cassette deck" directly by using the search box found on each page of the eBay website. For a more targeted search, you can used the Advanced search function, which lets you filter your search by various criteria. You also have the option to browse the listings by category for an even broader search.
For an added piece of mind, you can review the seller's profile before making a purchase. eBay makes this a simple process by allowing you to view feedback percentage, a feedback score, and reviews from actual customers. If you want to know more, you can send a private message to address you any concerns you may have about the seller's history or the product at hand.
Conclusion
Times have changed and seemingly left the cassette deck behind in the process. While CD players, and even record players have benefited from technological innovation, the cassette player has largely remained untouched and in a sense, outdated. On the other hand, this device born from a golden age of audio has managed to retain its value. While not needed as often, tapes are still very useful, and that aspect gives cassette decks plenty of purpose.
Consumers on the hunt for a cassette player should not kid themselves. Despite how simple it may be in the functionality department, shopping for one can be a complicated endeavour. The issue of finding something with the right features and specifications is compounded when factoring in all the different brands and the condition of the item. On the bright side, the simple formula of knowing what to look for and where to conduct your search can eliminate some of the hassle from the experience.