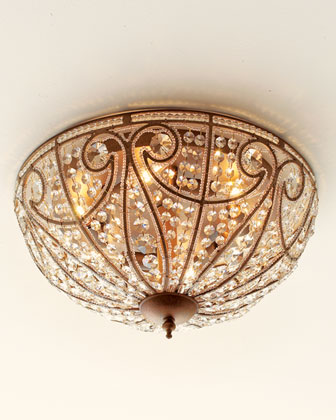 There is a wide variety of possibilities when it comes to choosing bedroom ceiling lights. At the risk of being overwhelmed by the sheer volume of choice available, it is wise to review these possibilities in detail before coming to a decision. Being that bedroom ceiling lights are crucial in achieving the desired look and feel of the bedroom, it is important that they are chosen wisely.
Types of Lighting
The three basic types of lighting are ambient, accent, and task. Most important in bedrooms is ambient lighting. This is intended to recreate natural daylight and provide diffuse light for general purposes. However, ambient lighting can appear dull and flat if not carefully arranged. It works best in conjunction with additional light sources. Accent lighting adds texture and depth to ambient lighting, forming interesting variations between light and shadow. Task lighting is directed, focused light for specific tasks such as reading or sewing.
Types of Bedroom Ceiling Light
Types of bedroom ceiling light include pendant lights, flush or semi-flush lights, track lighting, downlights, lampshades, and uplighters.
Pendant Lights
Pendant lights provide ambient and accent light for bedrooms and come in various styles, sizes, and materials, from ornate chandeliers and beautiful contemporary glass designs, to simple paper shades. Pendant lights have a single light fixture suspended from the ceiling by a cord, chain, or rod.
Flush or Semi-Flush Lights
Flush or semi-flush lights are good for ambient light in low-ceilinged bedrooms, but can get lost in high-ceilinged bedrooms. They are available in a range of contemporary designs in clear, frosted, and etched glass, chrome, steel, and other metals.
Track Lighting
Track lighting is a system where multiple light fixtures are attached along a track. Their appeal is their versatility. Lights can be run off more than one circuit, so more or fewer lights can be had on at once, and the lights can be angled to provide accent light wherever required.
Downlights
Downlights provide a truly contemporary solution to ambient bedroom lighting. Discreet and minimalist, they complement contemporary decor, but can also fit in with other styles. They come in three basic designs: fixed, gimball, and eyeball. Gimball downlights are slightly adjustable, and eyeball downlights are fully adjustable. They are usually fitted into the ceiling recess. Downlights can be dimmed to provide softer lighting when required and are available in a range of finishes.
Lampshades
Lampshades are the standard type of light in many bedrooms and provide ambient lighting. They come in a huge range of styles, colours, and patterns, with something to suit all tastes. Typically made from paper or fabric, lampshades are also available in materials such as wood veneers, natural materials like bamboo and hessian, and glass, and metal.
Uplighters
Uplighters are lampshades or other types of light which cast ambient light onto the ceiling. They are available in various materials and designs.
Styles of Bedroom Ceiling Light
Lamps suspended from the ceiling or held high in a room have been used for centuries. Early forms were candles or oil lamps. In the late 19th century, gas powered gasoliers were developed, followed by electric lights. Electric designs of the early 20th century were basic pendant lamps, but as the century progressed designs became more innovative, and exciting, reflecting changing fashions of the times. The 1920s were a time of glamour and sophistication. Modernism, with its striking geometric patterns and bold colours, was a major influence. Towards the mid 1920s, Art Deco became the key style. Other influences include the allure of Hollywood, and the fascination with foreign travel. Ornamentation featured chrome and glass, skyscraper images, nature motifs, and exotic materials such as ivory, mother of pearl, and tortoiseshell. Bedroom lights of this period were often manufactured with chrome or etched, sandblasted or enamelled glass. The 1930s were also influenced by modernism and Art Deco, as well as historical styles. Bakelite, an early plastic, was used for many items. Lights were also made from chrome, clear glass, and frosted glass. Typical modernist designs were globe pendants or tubes. The effects of modernism and Art Deco extended into the 1950s. Design of the decade was also influenced by America, with its diners, kitsch, and neon and bubblegum colours, and by surrealism. Popular materials included vinyl, Formica and other plastics, and aluminium, and lights were also made from chrome and glass. The 1960s revived Art Nouveau, with its swirling forms, and introduced psychedelic designs. Ethnic touches inspired by India and Morocco were popular. Typical bedroom lampshades were paper or decorated with beading, while globe and pendant designs in bright, bold colours continued to be popular. The bedroom ceiling light has been a typical fixture of the bedroom through various trends and fashions, and today a wide range of styles is available. Contemporary designs include beautiful glass forms, pendants in metals such as chrome, copper, and bronze, simple shades, and uplighters.
Choosing Ceiling Lights for a Bedroom
The type of ceiling light chosen for a bedroom will depend upon several factors. Bear in mind the style of room. For example, a traditional chandelier or ornate glass design may look more in keeping with a ceiling rose than a modern or retro design. Also consider practicalities. For example, downlight installation requires a large enough recess and involves removing plasterwork. The size of the room and ceiling height will also affect choice of light.
Which Type of Lighting
A mixture of soft ambient light and accent light works well in most bedrooms, but some bedrooms may also require task lighting. Ambient light is typically provided by ceiling lights and accent light may come from bedside table lamps or wall lights. Track lighting may also be used to highlight different areas of the bedroom.
Which Type of Ceiling Light
| | |
| --- | --- |
| Pendant | Provide ambient and accent lighting. The light cast can tend to be too dim or accented so they are frequently used in conjunction with other light sources. Pendant lights frequently use incandescent or low voltage energy saving bulbs, though some use halogen, fluorescent or LED bulbs. |
| Flush or semi-flush | Provide ambient lighting. Flush lights lie flush to the ceiling while semi-flush lights lie slightly flush to the ceiling. They are ideal for low ceilings. They come in models with energy saving, incandescent, halogen, and fluorescent bulbs. |
| Track | Generally provide accent lighting. To create ambient light, additional light sources may be required. May not be as suitable for bedrooms as for other rooms. Modern systems are available with energy saving, incandescent, halogen, and fluorescent bulbs. |
| Downlights | Generally provide ambient lighting. Accent lighting can be obtained by swivelling gimball or eyeball downlights to particular areas. Can be dimmed to provide brighter or softer light as required. Usually installed in ceiling recess. Use incandescent, halogen, fluorescent, or LED bulbs. |
| Lampshades | Provide ambient lighting. Transparent shades will give more diffuse light than opaque shades, which direct light downwards and upwards. Often used in bedrooms as they are economical and easy to install and change. |
| Uplighters | Provide ambient lighting. Uplighters are good at creating soft and diffuse light and reducing glare. They work especially well with light coloured ceilings. |
Which Style of Ceiling Light
The style of bedroom ceiling light will depend upon existing decor and personal taste. Contemporary bedroom schemes work well with clean, simple designs while traditional schemes might call for chandeliers,, Art Deco or modernist designs. Retro schemes from the 1950s might feature kitsch designs of light in bold colours and bedrooms inspired by the 1960s might feature lampshades with psychedelic designs or ethnic beading.
Which Bulb
Ceiling lights are available with incandescent, halogen, fluorescent or LED bulbs. Incandescent bulbs are the standard household bulb and cast a warm, yellowish light. Halogen bulbs cast a whiter light and are more energy efficient. Fluorescent bulbs are energy efficient but cast a flattish light which can be remedied to an extent by using curved tubes. LED bulbs are energy efficient, long lasting, durable, and give off less heat than other bulbs.
Conclusion
Ceiling lights for bedrooms are available in a huge range of types, styles and colours, with something to suit all tastes and design schemes. Laura Ashley offers a wide range of ceiling lights available to purchase on eBay. The main types of bedroom ceiling light include pendant lights, flush and semi-flush lights, track lighting, downlights, lampshades, and uplighters. These often work to best effect in conjunction with other light sources to provide depth and interest. Bedroom ceiling lights are available in traditional, retro, and contemporary styles. Which bedroom ceiling light is chosen will depend upon personal taste and design scheme, but also upon practicalities such as room size, ceiling height, and installation. Browse sellers and listings to find the perfect bedroom ceiling light.