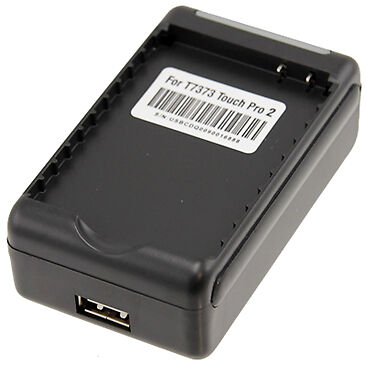 Mobile phone batteries need regular charging in order to make sure the phone can function. A charging station is a convenient and fashionable option for charging a phone. This buying guide looks into the topic of charging stations for mobile phone batteries and explains how they work, how they differ, and who can benefit from them the most. It will help with making an informed buying choice.
What's a Charging Station?
Mobile phone charging stations only differ slightly from a standard charger. They hold phones while they charge. Usually, there's some sort of opening at the back to feed through the cables from a standard phone charger. It's a handy way of maintaining a permanent charging station. Most stations have multiple outlets, so it's possible to charge numerous phones at the same time. Some companies have larger stations which charge up to 10 phones at the same time. More expensive stations can carry video and text advertisements, too, which makes them a favourite in commercial environments. Expect prices to differ widely as these are largely determined by the retailer, the different charging stations and functions it offers, and the number of phones it can accommodate.
How Do they Work?
Charging stations work in much the same ways as standard chargers, though most stations don't come with their own chargers and depend on the use of a a standard wall charger, too. In some cases, however, universal charging stations have their own special adapters, so they can work alongside multiple phone types. To charge a phone, place it in the holder and feed the charger through the back. Plug the charger into a mains socket outlet to begin reenergising the phone. After being plugged in, the AC current from the mains supply starts to filter through. Once it reaches the AC-DC transformer, the charger converts the current into a DC supply. This is slightly lower in voltage and protects the phone's battery from any harm. The charge enters the phone's battery and reverses the chemical reaction inside. This reversible chemical reaction replaces the charge in the battery, thus enabling it to work without the aid of mains electricity again. Charging stations generally all work in the same way. The differences come in what else they can offer.
What a Charging Station Offers
Charging stations offer so much more than just a place to charge a phone. They have a far superior aesthetic appeal and have a higher level of convenience. Here are the main aspects which set charging stations apart from the other charging methods available on the market.
Aesthetic Brilliance
A charging station can come in a variety of colours and themes. Companies all over the world specialise in customising these devices. It's a level of customisation which doesn't appear with a standard charger. Having something which is both fashionable and stylish can brighten up a room and serve as a great talking point. When buying, take some time to review the styles on offer.
Convenience of More
The usefulness associated with being able to charge more than one phone in the same docking station is something people shouldn't underestimate. It is hard to imagine never having a permanent docking station for multiple phones after first getting one. In a company or household, it is just a matter of slipping the phone in and letting it charge. There's no hassle with untangling all the cables for each charger and finding out which one works with which phone. Charging stations also keep the wires separated from each other. Smaller stations have small doors or openings in the back where the wires go. Just leave the chargers plugged in and the station is always ready to go with any phone. Make this a major buying consideration, but also consider if there's any additional space needed for the future.
Universal Charging
Some phone stations can charge any phone on the market. Although standardised chargers don't yet exist, companies which supply their own chargers can tailor them to work with more than one phone. It is incredibly useful for companies to have a charging station which works with any phone because it allows clients and employees from all sectors and departments to charge their devices. It is true there are always some models which don't work with the same charger. That said, however, it is possible to buy stations which work alongside multiple mobile phone families. In other words, if one charger works with models from one brand, another area of the station can utilise a charger which works with models from another brand.
Commercial Advertising
It is interesting to consider the potential of commercial advertising with phone stations. In most homes, this won't serve a purpose, but businesses large and small which want to invest in a charging station can make money back through this marketing tool. The smaller stations have places where someone can put a company logo on, or unique slogan. The larger, and more expensive, stations have the capacity to add text and video advertising. There's also space to add audio advertisements. Bigger corporations often employ these tactics to further bolster their available advertising avenues.
More Devices
Mobile phone charging stations can also charge more than just mobile phones. They can carry chargers from other devices, such as portable music players and tablets, or even laptops. These chargers work in just the same way as their mobile counterparts. Just plug them in and they will work as normal. Adding these extra devices helps with convenience in the home. Without having to deal with a tangle of wires, it offers a permanent area where everybody can charge their portable devices.
How Charging Stations Differ
Although charging stations have many advantages, it is important to know about how they differ from other chargers before buying. Being able to accurately compare enhances consumer confidence and allows them to make the right purchasing decision. Here's a table breaking down all the major advantages charging stations have over other types of charger:
| | Standard Wall Charger | Fast/Rapid Charger | Green Charger |
| --- | --- | --- | --- |
| Mobile Phone Charging Station | It offers a permanent place to charge phones. And it also works with multiple models at the same fast pace. | The mobile charging station is compatible with more than one type of electronic device. It can also work with fast and rapid chargers. | It doesn't rely on anything but mains electricity. It's also more cost-effective and efficient at charging electronic devices. |
Who Benefits Most?
The real beneficiaries of mobile charging stations are commercial companies. The fact they support highly advanced forms of advertising, for a phone charger, is a real boost. It essentially means the initial investment in the device repays itself in additional business via marketing over time. Larger families can also benefit because it removes the need for multiple chargers. Different family members tend to have different phones, and this can really help with making savings on charger costs and the convenience of not having to look for the right charger. It is also an ideal device for anyone who has multiple electronic devices. Being able to charge everything in the same place is a major convenience.
Conclusion
Mobile phone charging stations have many advantages over standard chargers. They have a number of benefits useful for both commercial entities and personal households. While there are many types of charging stations on the market, they all have the same basic features. eBay includes the latest mobile phone charging station brands and models on its site. Read through this buying guide first to find out how to buy them and what they offer.