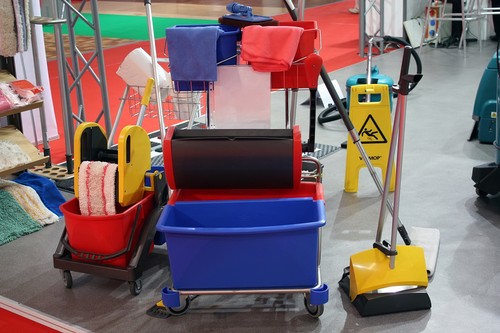 Keeping things clean in the home or office should be a normal part of a daily and weekly routine. There are many different ways to keep the home, home office, or office clean. There are also many different objects, products, and tools that can be used to make sure things stay clean, sanitised, and looking good. A good piece of cleaning equipment can make sure that a home, home office, or office stays fresh and clean.
There are a few different types of cleaning equipment that can be purchased at both brick and mortar shops as well as on the popular auction website, eBay. Most of these are electric cleaners of some sort. There are both industrial cleaners and cleaners that are for small homes and offices. First, a buyer must examine the job that needs to be done, then select the right method for cleaning, and finally, select the piece of equipment that best suits the job to be done.
A Cleaner for Every Job
There are many cleaners that are suited for a specific purpose, and then there are universal cleaners. Depending on the size of the job, the buyer should choose which cleaner suits the job the best.
Type of Cleaner

Universal or Single Job

Function

Single job

Shampoos carpet

Extracts water and soap

Some have rinse feature

Used once a month or less

Vacuum cleaner (upright or floor models)

Universal

Lightly cleans carpet

Daily cleaning

Has attachments that allow cleaning of other things

Cleans on more than one surface

Tile and carpet

Floor cleaners

Swifter

Mops

Steam mops

Universal to forms of tile and wood

Clean uncarpeted surfaces

Can be used with a vacuum or broom

Some are wet and some are dry cleaners

Squeegee

Lint-free cloths

Universal for windows, glass, and some floors

Window squeegee can clean almost any flat surface

Cleans glass

Cleans plastic

Cleans floors if extension is used

Duct cleaning equipment

Duct vacuum

Single job

Cleans dirt and debris out of AC ducts
Each of these types of cleaners suit a specific job. Some suit more than one job that may be run across during the course of normal cleaning. Many of these tools are combined to make them more useful. For instance, a carpet cleaner may have a squeegee attachment for cleaning smooth wood or other floors. A vacuum cleaner, as well as a carpet cleaner, may have a wand squeegee attachment that works on windows or other flat surfaces that a person may encounter.
Selecting the Right Cleaner
When selecting a cleaner on eBay, it is important that the reputation of the company that makes the cleaner is a good one. The reputation of a company can be checked by looking at the product reviews and feedback. By doing research on both the product and the seller a person can be assured that they are getting the right cleaning equipment for the job that they are doing. Although some types of cleaning equipment look the same, there are sometimes differences in both price and quality. When selecting the right cleaning equipment, it is important to compare cost with quality to help with the decision of which to purchase. A good place to make this comparison is eBay. This auction website offers the ability to comparison shop between the different products.
Vacuum Cleaners
When shopping for vacuum cleaners, a consumer has to look at suction, pickup, turn radius, and how it moves across the carpet. Many vacuum cleaners have issues with one or more of these things. Most people want a motorised vacuum that is easy to push and pull across carpet, but still has the pickup to pull stubborn pet hair out of carpet. Again, a buyer has to know how they want to use the vacuum before making a decision on the features that they want. Many of the features are different from vacuum to vacuum and just one may not have all the features that are needed. A cleaner may have to purchase more than one product.
Carpet Cleaners
When searching for carpet cleaners, which are often called carpet shampooers or steam cleaners, they also need to be self-propelled. They need to spray both water and cleaner onto a carpet. They also need to have enough pickup so that they can extract most of the water and cleaner out of the carpet after the scrubbing brushes are done. Most of the carpet cleaners that are used to shampoo carpets have self-propelled scrubbers as well as motorised movement. Some of these cleaners also have squeegee-type attachments that allow the same machine to clean hardwood and tile just like they clean carpets.
Floor Cleaners
Floor cleaners, unlike carpet cleaners, are used exclusively to clean tile, linoleum, or hardwood floors. This class of cleaners include buffers and polishers that are seen in more industrial settings. These machines, like the others, are generally self-propelled and easy to manueouver. Usually a wax or solvent is put onto the floor in order to make them shine.
Window Cleaners
Window cleaners are probably the most versatile type of cleaning equipment that can be purchased on eBay. From the standard car squeegee to the long, high-rise window washing squeegee, each can be used in a variety of ways. One creative way is to clean tile floors and hardwood.
Cleaning Sets
Some vacuums, carpet cleaners, and window or tile floor cleaners come in sets. These sets can be a cost effective way to get all of the features that are needed without having to pay full price for each component. If the buyer needs a lot of different components, there are auctions on eBay that sell off entire cleaning business tools.
Duct Cleaners
Duct cleaning equipment consists mainly of blowers and vacuums that are designed to keep ductwork clear and free of debris. It is extremely important to have the air conditioning ducts cleaned regularly to avoid damaging the air conditioning unit. Most ductwork can be cleaned with a series of brushes, vacuums, and other clearing equipment.
Other Cleaning Equipment
There is a variety of other types of cleaning equipment, chemicals, and other products used for a thorough cleaning. This is just an example of the main types of cleaning equipment available and needed for most homeowners and small cleaning businesses.
Finding the Right Cleaning Equipment on eBay
Finding the right cleaning equipment on eBay is not difficult. A person first has to know what they are searching for, such as a shop vacuum or a carpet cleaner. Once they decide on the job that they want the cleaning equipment to perform, and what the right cleaning equipment is for the job, it is just a matter of entering keywords into the search box, then click search. This brings up a listing of the products that match the keywords entered. From there, it is easy to scroll through the results and either choose one or narrow or widen the search. To narrow the search, add keywords to the query, and to widen the search, subtract keywords from the query. By doing this, it insures that the results that are listed are relevant to the product or products needed.
Many times, performing a search on eBay is preliminary to purchasing an item, while other times, the item is sought specifically on eBay. Many different types of cleaning equipment is available on eBay. The popular auction site offers both new and used equipment for both personal and industrial needs. Once a product is found, it can be purchased from eBay quickly and easily.
Buying Cleaning Equipment on eBay
When it comes to purchasing the cleaning equipment you found on eBay, there are some details that should not be overlooked. Before purchasing something off of eBay, take a look at the description to make sure that the product is exactly for what you were looking. If there is something missing from the description, there is the option to ask the seller a question or read other questions that people have posted. It is always good to make sure that you have all of the necessary information about the seller, the product, and the seller's policies before placing an order.
Another piece of the individual listing to take a look at is the seller's feedback. Feedback is given by those who have dealt with the seller before. This often gives you an idea of what to expect from a specific seller. On eBay, there is a special category of seller called the Top-Rated Seller. A top-rated seller has achieved consistently high feedback and strictly adheres to all of eBay's policies.
Conclusion
There are many types of cleaning equipment. The basics that are needed consist mainly of simple items, such as rags and solvents. True cleaning equipment comes in the form of shop vacuums and carpet cleaners. There is a lot more cleaning equipment available on eBay. These listings are accessible by a simple search. In order to find the right equipment for the right job you must first identify the job, the equipment needed, and the strength of that equipment. Most cleaning companies or private individuals need the basics of carpet cleaning, duct cleaning, and window cleaning equipment.
All of these things can be purchased easily from eBay, and by doing a simple search for the product that is needed. Also on eBay, reviews of both the product and the seller are available to help choose which is best for your cleaning needs or the needs of your company. Many companies have sets of the basic cleaning equipment items so that they all work in conjunction with each other.