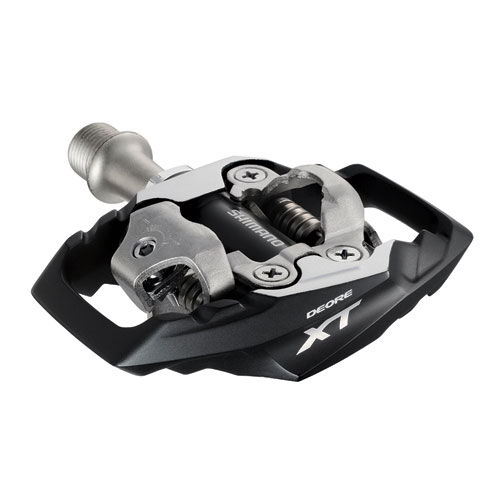 Most frequent riders use, or will benefit from using, clipped cycling pedals. Once the hard job is done of finding a bike that is suitable for the type of riding to be undertaken, it is an excellent idea to assess the pedals to ensure that they too best suit the needs of the rider. The use of clipped cycling pedals will improve cyclists' riding as they assist with transferring the rider's power to the bike.
Cycling is a well-loved sport enjoyed by professionals and hobbyists alike. As a result there are many different places to purchase clipped cycling pedals and accessories. This ranges from specialist shops on the high street to auction sites. eBay is an excellent place to begin searching. Offering a wide selection of different types of pedals, there will be something on offer to suit every sporting goods budget.
What Is a Clipped Cycling Pedal?
A clipped cycling pedal is a clip added to the pedal that allows the rider to 'clip' in their shoes to the bike. The design is aimed at assisting riders to propel the bicycle forward without their feet slipping off the pedals. They are usually seen on road racer bikes but are also used in other forms of bike riding like mountain biking.
The aim of this pedal is to stop the rider from slipping forward. This makes the rider more efficient and helps to preserve energy that can be redirected to the rest of the ride.
Who Buys Clipped Cycling Pedals?
There are many reasons why a cyclist might be looking to buy a clipped pedal.
People who most commonly purchase clipped pedals are:
Those who have not used clipped pedals before and are making the swap from no clips to clips.
Riders who have used clipped pedals before and are looking to upgrade their existing pedal.

· Cycle enthusiasts who are building a bike from scratch.
Different Types of Pedals
Despite the function of a pedal being fairly simple – there are many different types to choose from. The design and rider will determine the type. Clipped cycling pedals include:
| | |
| --- | --- |
| Platform Pedals | Platform pedals are the most common type of pedals found on a bike. They are common in recreational bike models and children's bikes. |
| Clipless Pedals | Clipless pedals require the rider to wear a special shoe that slots directly into a socket in the pedal. They stop the rider from slipping forwards, backwards and sideways. They also assist in transferring the power from the rider's legs directly into the motion of the bike. |
| Toe clip Pedals | Toe clip pedals work in a similar way to the clipless pedals. However instead of clipping a shoe into the pedal, a cage wraps around the front of the shoe (into which a foot is slipped from behind). Riders can easily slip their foot out at any given time. |
| Combination Pedal | A combination pedal can accommodate 'clipping in' as well as riding without the clip. This is great for a rider who occasionally wishes to clip in or not clip in as the case may be. |
| Egg Beater Pedals | Eggbeater pedals allow the rider to clip in to the pedal in a similar way to a clipless pedal, the difference being in the design. An eggbeater pedal is a different shape from a clipless which some riders find easier to use. |
How to Ride With Clipped Pedals
It will be different riding with the clips for the first time. As a result it is important to practise riding with clipped pedals before undertaking a long cycle.
Some points to look at when practising using the clips are:
Moving the foot in and out of the clips. This motion will vary depending on the type of clip being used. The best way to do this is with a stationary bike. If you have access to an indoor trainer bike rack – practise there. It is a good idea to do this approximately 50 times on each foot over a number of days to cement the motion.
Take the bike for a short spin around the block. This will offer you the opportunity to explore not only how the clips affect your riding but also how to stop and dismount after moving forward.
Assess and adjust the pedals. It is a good idea to look at this to ensure that all the fittings are on the right setting.
Conclusion
Clipped cycling pedals can assist and improve any rider's performance – regardless of level and ability. It is extremely important to research before purchase the type of pedal that will best suit your need. This guide offers a great overview on what to look for. Provided you follow the advice, the purchase should be an easy one.
eBay's wide collection of clipped cycling pedals is extensive. Because of this, it is a great place to begin searching. There will be a product for every budget. Alongside this, the sheer volume of bike accessories means that it is a great 'one stop shop'. eBay can provide all the products to enhance your riding experience in the one shopping experience.