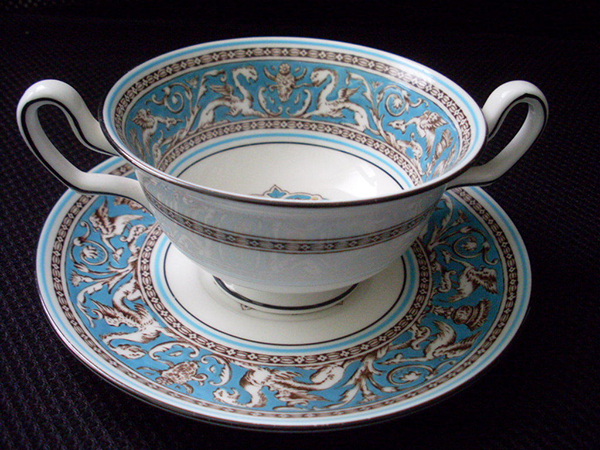 While most people may think of their tableware only as a necessity for their everyday eating habits, there is another group of people who look at it with a more discerning eye. Collectors of china and fine tableware know that these items can be much more valuable than their worth as a place to put dinner. This is particularly true for Wedgwood tableware, which is some of the most admired in the world. Collectible Wedgwood tableware may not be easy to find everywhere, but there are many different ways to look for, and ultimately purchase, these types of items on eBay, no matter which style is being sought. With listings from around the world, shopping for tableware on eBay is efficient and affordable. Buying collectible Wedgwood tableware on eBay can be a great way to contribute to a burgeoning tableware collection or to simply ensure that there is something beautiful and memorable available for whenever guests come to dinner.
Review the History of Wedgwood
Knowing the history of the Wedgwood pottery company can be a good jumping off point for shopping for the items on eBay. With the background of the company in mind, it can be easier to know which items are best suited to any search for collectible Wedgwood tableware. Pottery has been made under the Wedgwood name since 1759 when Josiah Wedgwood launched his company in England. Since that time, the company has gone through many iterations but continues to make beautiful and sought after dinnerware, as well as other items. Some of the most popular and unique Wedgwood items are known as Jasperware and imitate the appearance of cameo glass. Depending on the collector, there are many different types and styles of Wedgwood dinnerware that are attractive, unique, and collectible.
Decide Upon a Piece
Because a thorough search is necessary to find the Wedgwood tableware that is most suited to a particular occasion or collection, it is a good idea to start by identifying which pieces are desired. The term "tableware" can refer to many different types of items, and knowing which ones to search for makes the shopping process much easier. The right Wedgwood pieces for any individual depend on that person's taste, as well as any collection he or she may already own.
Wedgwood Plates
Plates are generally a focal point of any set of tableware, but simply searching for "plates" or even " Wedgwood plates" on eBay is likely to yield far too many results to be helpful. In fact, a complete tableware set usually includes many different types of plates. The following table outlines the most common tableware plates, as well as their standard dimensions and uses.
Type of Plate

Use

Typical Size (inches)

Main courses

10 to 12

Side plate

Bread

Appetisers

4 to 9

Dessert

4 to 9

Platter

Serving dishes

More than 12
Someone who is looking to start a collection may want to begin with dinner plates since they are among the most useful pieces in any set. A formal dinner, however, requires that each of these plates be used.
Wedgwood Teapots
Wedgwood teapots are another popular collectible item from this particular manufacturer. Searching for "Wedgwood teapots" on eBay, or else search for teapots, and then narrowing the search by brand, is the best way find this type of collectible item. Some Wedgwood teapots may be available in a set with a Wedgwood sugar bowl , teacups, and saucers. Other teapots are sold separately with no accompanying items.
Wedgwood Dinner Service
Depending on the individual, some people may have no interest in seeking out the individual pieces of a Wedgwood dinner service . Not only can the task be tedious, but there is never any guarantee that the set can be completed, particularly for the most highly desirable designs and patterns. In this case, it is possible to purchase a Wedgwood dinner service in its entirety on eBay. Rather than searching for individual pieces, look for complete sets. Of course, there is always the possibility that one or two items are missing or damaged, so when purchasing an entire dinner service, it is important to communicate clearly with the seller to make sure that everything is intact and accounted for.
Choose a Wedgwood Era
When it comes to collectible Wedgwood tableware, most people place a very high value on the aesthetics of the items in question. A good way to narrow down the different types of Wedgwood dinnerware available on eBay to those that are most pleasing or most aligned with the style of the collector, is to choose an appropriate era. This is because dinnerware is generally representative of the era for which is was created. For example, Art Deco Wedgwood , while still classic in many ways, tends to have colours and patterns that reflect that particular era, while Art Nouveau Wedgwood may look quite different despite the similarity in age to an Art Deco piece.
Investigate Wedgwood Patterns
The pattern of a piece of Wedgwood tableware refers to the distinctive markings and designs on the piece. A complete set of tableware has the same pattern, although it may not manifest itself in exactly the same way on each piece, due to the different shapes. Many of the most popular Wedgwood patterns are based on the original inspirations of company founder Josiah Wedgwood, including Wedgwood Edme and Runnymede Blue. Wedgwood patterns vary from monochromatic with texture detailing to very vibrantly colourful with intricate pictures from nature. Choose the Wedgwood pattern that best reflects the collector and his or her tastes for best results. Keep in mind that eBay listings should indicate the official pattern name in their listing, but check with the seller if it is not clear.
Wedgwood Jasperware
Wedgwood is perhaps best known for its Jasperware, so named because of the mineral, Jasper, that is used to make the pale blue colour commonly seen in this type of stoneware. While many Wedgwood Jasperware pieces are purely decorative, such as a Jasperware vase, there is also Jasperware tableware that can add a certain elegance to any table. Wedgwood has made Jasperware since the company's founder invented it in the 18th century and continues to make it today.
Inspect for Damage
It should come as no surprise that even durable china, like Wedgwood, can still break for one reason or another. When purchasing something like this on eBay, it is always a good idea to look closely at the photos provided and note any damage, including chips or cracks. These types of things should also be clearly noted in the item description. If there is only one item in a set that is damaged, the purchase is likely still worth making, but some collectors may rather not purchase a set with a great deal of damage or even any damage at all, depending on other factors, like price and rarity.
The Wedgwood Mark
Despite changes of ownership, the Wedgwood company has managed to stay afloat for much longer than most companies. Throughout that time, they have gone through a number of different marks designed to indicate the authenticity of the piece. Because there have been many different marks, inspecting the mark on a collectible Wedgwood piece is a good way to determine from which era the piece came. A savvy buyer can look up the different Wedgwood marks online and compare them with the pictures on eBay to get a better sense of the age of the piece that is for sale.
How to Buy Collectible Wedgwood Tableware on eBay
When you have used the information you have on both Wedgwood and your own particular desires, you can search for, and purchase, the perfect piece of Wedgwood tableware for your collection. Keep in mind that in order to get a complete collection, it may be necessary to buy pieces from multiple listings or even multiple sellers, if that is ultimately your goal. If you do find a piece that you like being sold on its own, it may be worth inquiring with the seller as to whether he or she has any more items in that particular set that they would sell to you. Many sellers are also happy to combine shipping if you purchase more than one item from them.
Regardless, be sure to ask the seller of any item that you intend to buy all of the questions that you have before completing your purchase. This includes asking about shipping rates and getting all of the pictures you want of the tableware. The easiest way to accomplish this is to contact the seller through the eBay interface, where they can respond quickly and you can get the Wedgwood of your dreams.
Conclusion
Collecting tableware is not a very common hobby in the modern era. However, collectible Wedgwood tableware is something that can never truly go out of style. Because of the brand's superior construction and classic designs and patterns, Wedgwood tableware is likely to be around for many years to come. Searching for, and purchasing, collectible Wedgwood on eBay simply makes sense. On eBay, it is possible to search through listings from sellers around the globe, some of whom have access to items that would not be possible to find elsewhere. Finding the perfect tableware for your dining room is so easy to do on eBay. Armed with the right information, such as the different tableware pieces necessary to complete a set, as well as some of the most popular Wedgwood patterns, finding beautiful tableware that can be put on display, used on special occasions, and even handed down for generations is incredibly easy and convenient because of eBay.